September 29, 2009
The Future of Food?
If the winner of this year's Electrolux Design Lab competition is right, we'll be warming genetically engineered muscle cells in an aluminum cocoon.
The Electrolux Design Lab announced the winners of its 2009 competition yesterday afternoon. As in past years, the relatively narrow brief—it challenges industrial-design students to "create thoughtfully-designed products that will shape how people prepare and store food, wash clothes and do dishes over the next nine decades"—yielded a range of interesting proposals for the domestic sphere. Top prize went to Rickard Hederstierna, of Sweden's Lund Institute of Technology, for his Cocoon meat and fish maker (above), which, according to a press release, "prepares genetically engineered and pre-packaged meat and fish dishes by heating muscle cells identified by radio frequency identification (RFID) signals." Yum?
OK, so that may not sound too appetizing, but Cocoon is intended to counteract the international food crisis, not tickle your taste buds. With the world's population growing rapidly, the demand for meat and fish is at an all-time high. And as ecosystems are destroyed to make room for intense fishing and farming, the earth's resources are disappearing at an alarming rate. Cocoon envisions genetically engineered, pre-packaged muscle cells as a solution. They would not only conserve the planet's natural resources, but also reduce carbon emissions caused by the mass transportation of food.
For more on Cocoon, check out this brief Q&A with Hederstierna on the Design Lab site. And here's a quick look at the other seven finalists in this year's competition.
Second place went to  Water Catcher, a flying rain-catcher and water purifier by Penghao Shan, from Zhejiang Sci-tech University, in China. (Read a Q&A with Shan.)
The third-place winner is an American–Louis Filosa, from Purdue University–who proposed a "smart steamer" called Renew. (Read a Q&A with Filosa.)
The Teleport Fridge–that's right, it's supposed to teleport food; we're guessing they're still working out the kinks of the technology–won the People's Choice award. The concept is by Dulyawat Wongnawa, from Chulalongkorn University, in Thailand. (Read a Q&A with Wongnawa.)
Le Petit Prince is a robotic greenhouse for Mars by Martin Miklica, from the Czech Republic's Brno University of Technology. (Read a Q&A with Miklica.)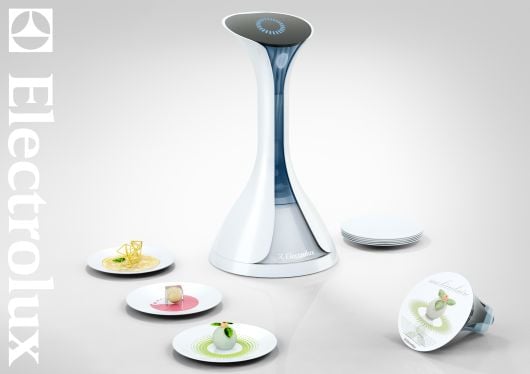 Nico Kläber–from Köln International School of Design, in Germany–proposed this 3-D molecular food printer, called Moléculaire. (Read a Q&A with Kläber.)
This is Naturewash, a waterless washing machine by Zhenpeng Li, from Zhejiang University, in China. (Read a Q&A with Li.)
And, finally, we have Bifoliate, a wall-mounted double dishwasher by Toma Brundzaite, from Lithuania's Vilnius Academy of Art. (Read a Q&A with Brundzaite.)
.
Related: In the magazine, we looked at the winning products in the 2004 and 2006 Electrolux Design Lab competitions. At the 2009 ICFF, Henrik Otto, Electrolux's senior vice president of global design, spoke about the Design Lab; watch a video of Otto's presentation here.