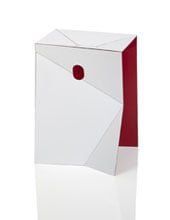 May 10, 2010
The Image vs. the Object
. Clockwise from top left: Sushir Kadidal's Tempo chair; Alexandra Pulver's Lunch Bag stool; Mike Jozewicz's Nabolis chair; Esin Arsan's 142 chair; and Jonathan Gillen's Primitive chair . Wilsonart Challenges, a competition that asks a class of design students to come up with a chair to be photographed for an ad campaign, presents an interesting […]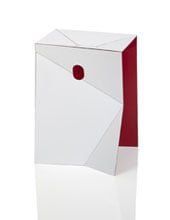 .

Clockwise from top left: Sushir Kadidal's Tempo chair; Alexandra Pulver's Lunch Bag stool; Mike Jozewicz's Nabolis chair; Esin Arsan's 142 chair; and Jonathan Gillen's Primitive chair
.
Wilsonart Challenges, a competition that asks a class of design students to come up with a chair to be photographed for an ad campaign, presents an interesting problem, because the winner is more image than object. Though a person does have to be able to sit in it (presumably to avoid nasty spills during the ad photo session), it's more important that the chair showcase the properties of laminate and bear a recognizable reference to the sample chip (you know, those colorful little rectangles with a hole on one end for a chain to go through). I've now judged several of the competitions, and I always find myself torn between what I think is the most commercial design—the one I'd want in my living room—and the one that will best serve the ad. This year that tension was especially pronounced.
A mix of Pratt Institute graduate and undergraduate students in furniture-design classes participated with strong results. Among the short list, Sushir Kadidal's Tempo chair has a form based on musical algorithms that actually moves and flexes when you sit on it—pretty surprising for a laminate chair. Alexandra Pulver's Lunch Bag stool, a sweet little origami-like object that Pulver designed with her infectious Pop Up Lunch project in mind, couldn't really carry a page in a magazine, since it would essentially disappear when sat on. The Nabolis chair, by Mike Jozewicz, is just plain gorgeous, with a lovely curving profile and a carved surface that reveals layer upon layer of laminate in sophisticated neutrals with splashes of ocean blue. But the one that blew me away was Jonathan Gillen's riff on Hans Wegner's classic folding chair from 1949. Wegner's chair had a wood frame and a cane seat, while Gillen (the only undergraduate in the final mix) wove his seat using blue and white laminate chips to create a "soft" surface. The Primitive chair is every bit as handcrafted as Wegner's, and I would love to own it and watch the sling begin to stretch and conform to the shape of my body as the designer intended—who would ever think laminate could do that?—but even with its meticulous details and nautical touches, it doesn't have a snappy visual presence like the winner does.
Esin Arsan's 142 chair (one for two) is a blatant love story, with two red bands in slightly different shades crossing and curving to hug a seated couple. When empty, the bands (elongated chips) share a heart (the chip hole). You get it the idea instantly, it's graphically bold, and it shows off the material nicely. If you are interested in seeing the chairs in person, they will be at ICFF in Wilsonart's booth—all the better if you happen to be walking the show with someone you'd like to cozy up to.
Sushir Kadidal's Tempo chair
Alexandra Pulver's Lunch Bag stool
Mike Jozewicz's Nabolis chair
Jonathan Gillen's Primitive chair
Esin Arsan's 142 chair