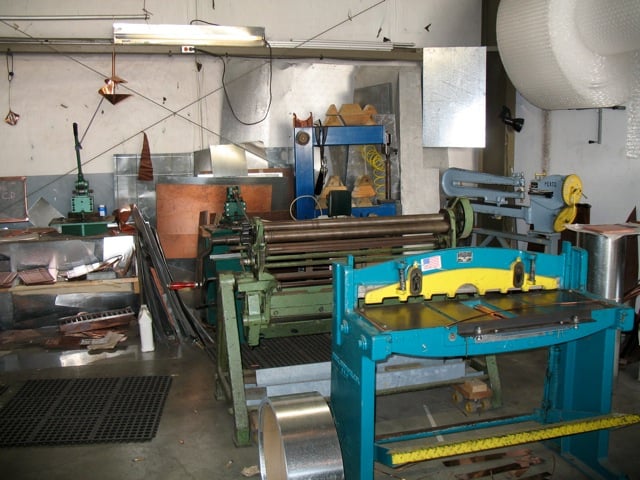 March 4, 2014
This Glamorous Bird Feeder Wins MoMA's Stamp of Approval
The Vogeli bird feeder is hand-made using salvaged copper.
Nothing says spring quite like a bird feeder, but it isn't something one generally associates with great design. The Vogeli bird feeder, which is among this season's offerings at the MoMA design store, is a notable exception. In a product category overrun with little gable-roofed wooden boxes, the Vogeli is a flight of fantasy.
"I came across the bird feeder during an online search for products and I was immediately taken by its arresting, sculptural design," says MoMA's director of merchandising, Emmanuel Plat. "Upon further investigation, I discovered that the manufacturing process was as compelling as the piece itself."
Each Vogeli—which means "little bird" in Swiss German—is made entirely by hand by Vasse Vaught at his workshop in Christiansburg, Virginia. Vaught, who trained as a metalworker in Switzerland, met his partner Peg Vaught there, while she was completing her masters in architecture. They returned to Virginia in 1998 to start up Vasse Vaught Metalcrafting, creating architectural elements in copper. "We started making objects in 2000 to use up the leftover copper from our roofing business," Peg says. "Vasse designed the Vogeli bird feeder by playing with circles cut of paper and wrapping it around a plastic straw."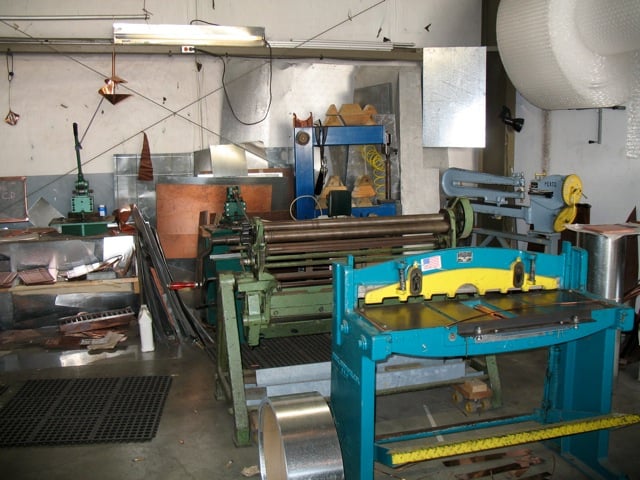 The Vaughts' workshop in Christiansburg, Virginia. Note the bird feed in the top left corner, seen in production, and the scraps of copper below it.
Courtesy Vasse Vaught
The swirls of the feeder are first cut with a hand crank circle cutter, then hemmed along the edges, and finally formed on hardwood cones created by a local woodworker. The bottom swirl holds the seed or water for the birds, while the top swirl acts as a baffle, sheltering them.
The gleaming metal curves are quite stunning, but the Vogeli's real beauty will come with time. "Copper naturally ages and produces a patina that actually protects the metal. It goes brown, then black and eventually turns green," she says. "To care for copper is to leave it alone." Which is, anyway, the perfect attitude to take with a bird feeder.