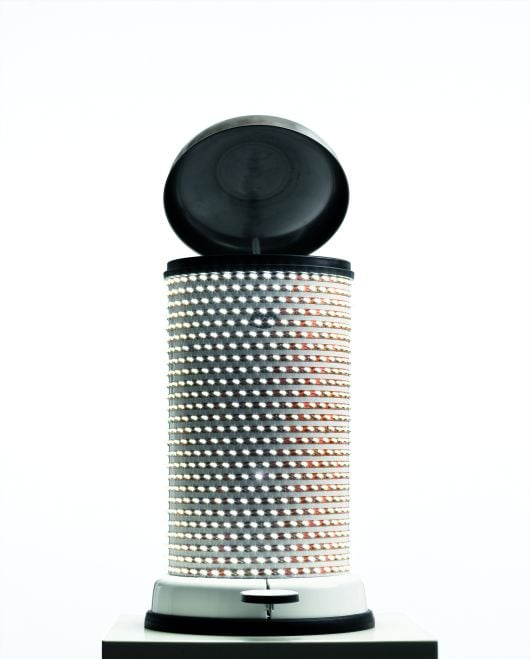 October 14, 2009
Trashy Design
Some noteworthy designers help celebrate the 70th anniversary of a Danish waste bin.
In 1939 a young woman named Marie opened a hair salon in Randers, Denmark. Money was tight so she asked her husband, Holger, a metalsmith, to help furnish the store. One of his resulting creations—a sturdy stainless-steel trash can with a rubber foot pedal—caught the eye of locals and, before long, Holger was filling commissions all over central Denmark.
Fast forward seven decades: Holger's company, Vipp, is now a third-generation family business with an international market and no small amount of design cache (the Conran Shop began stocking Vipp bins in 1996). To celebrate its 70th anniversary, Vipp has now asked a handful of art- and design-world insiders to tinker with its classic trash can (whose design has barely changed since 1939; the only major adjustment happened in 1949, when the original chromium-plated-steel lid was ditched in favor of a stainless-steel version.)
Granted, many of the people involved are not exactly known for their industrial-design chops—e.g. the supermodel Helena Christensen; the fashion photographer and America's Next Top Model judge Nigel Barker; Yoko Ono—but there are a few bona fide designers in the bunch. David Rockwell turned in a Vipp bin covered in dozens of tiny light bulbs. Yves Béhar encased his in a sloping orange shell that bears a passing resemblance to a USSR nuke.
Designs by David Rockwell (left) and Yves Béhar
More designs, by the event planner David Stark (left) and the artist John Baldessari
Two more, by the lighting designer Shelly Sabel (left) and the font designer Jonas Hecksher. Click on any of the images to view larger versions.
Sure, it's a frivolous project, but at least it's all for a good cause. The 35 customized cans will be on display for public viewing and bidding from October 15–28 at DWR's Tools for Living store; there will also be an invitation-only auction gala October 28 at the Design Within Reach flagship in Soho. All proceed go to DIFFA, the Design Industries Foundation Fighting AIDS.