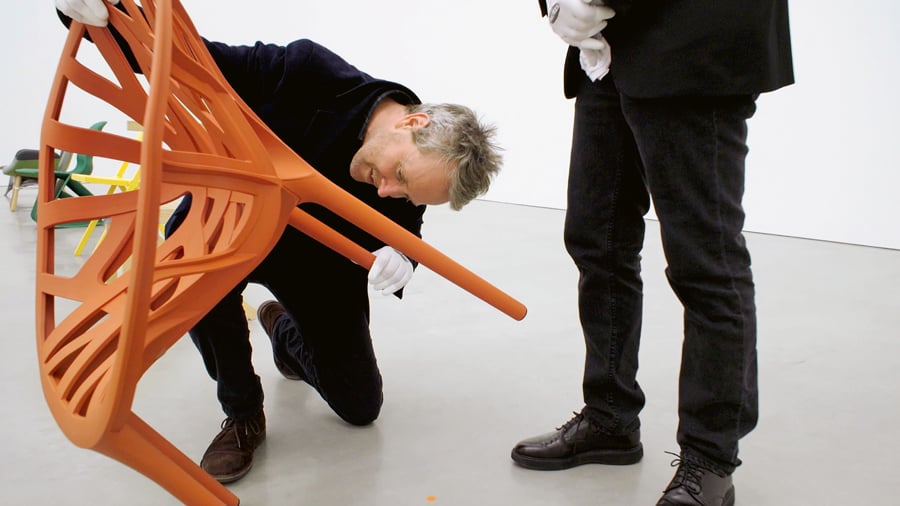 May 28, 2020
A New Video Takes Viewers Into the Vitra Design Museum's Chair Collection
"Chair Times: A History of Seating from 1800 to Today" is a white-gloved tour of the museum's encyclopedic collection of chairs.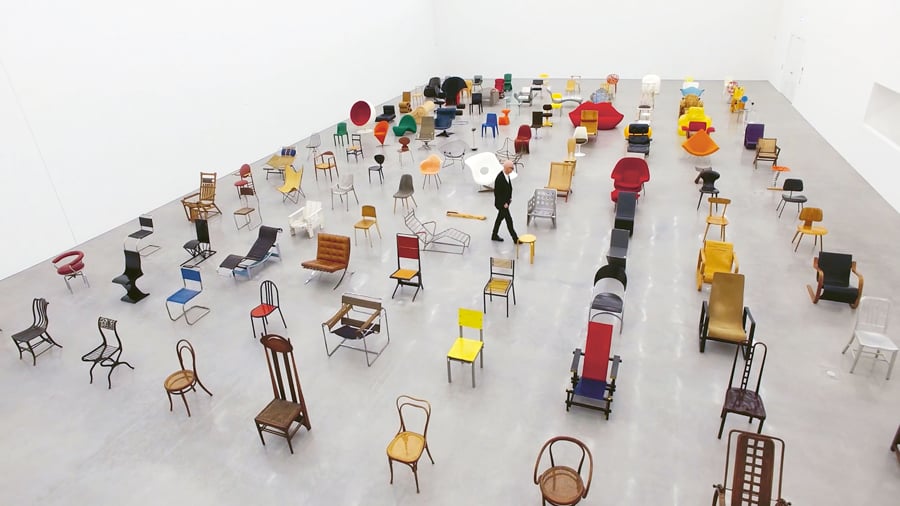 Furniture and design geeks have an enticing reason to curl up in front of the glow of their monitors: a sumptuous 90-minute documentary called "Chair Times: A History of Seating from 1800 to Today," which Vitra has made available for all to stream free of charge.
In the video, a handful of designers and architects accompany Vitra Design Museum founder and former CEO Rolf Fehlbaum, one-by-one, on a white-gloved tour of part of its world-famous collection, arranged as a "sea of chairs" in the Herzog and de Meuron–designed Schaudepot gallery. The exhibition, which highlights innovations from the industrial era to the present digital age, is a bit characteristically promotional (Hella Jongerius, Ronan Bouroullec, David Chipperfield, and Antonio Citterio have all collaborated with the company), however the objects shown arguably rival those held in other collections.
Viewers look over Fehlbaum's shoulder as he and guests handle, scrutinize, and trade insights about 125 objects from the museum's collection of 7,000, including Thonet's bentwood café chair, Gerrit Rietveld's 1918 abstract armchair, the 1928 chaise longue by Le Corbusier, Pierre Jeanneret, and Charlotte Perriand, Charles and Ray Eames' 1948 La Chaise, and numerous other icons. For the viewer's gentle edification, Jongerius at one point scans the gallery's rows of chairs and notes a pattern in the repeated emphasis on designing lightweight forms over the years. Elsewhere, Peter Noever, director emeritus of MAK Wien/Los Angeles, tells Fehlbaum that gathering chairs from so many eras may offer a view of architectural history that can't be achieved by only observing buildings, which can't be studied in "such close proximity."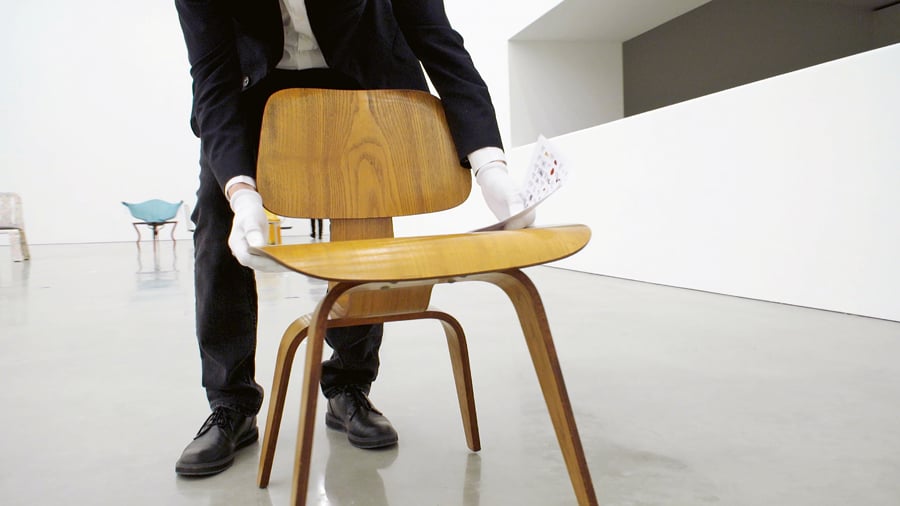 The slow, winding tour of the rows is sometimes broken up by footage of Fehlbaum examining other period originals and prototypes, or sitting in his office expounding on the genius of a particular method of construction, holding up a chair's miniature to underscore his point. Indeed, part of the documentary's charm lies in watching him marvel at larger societal and ideological shifts he feels each design reflects. Inspection of historical objects always reveals something about the time in which it was made, the person who designed it, and the society it was designed to serve.
For viewers who have not visited Vitra's campus (the gallery, completed in 2016, joined existing buildings by Frank Gehry and Zaha Hadid), seeing the stark interior of the gabled, brick Schaudepot is its own thrill. The building holds only part of the brand's permanent collection. Gehry's main building is home to the furniture, more than 1,000 lighting objects, and the estates of several designers. The items for Chair Times were curated to paint a distinct picture of innovation. Fehlbaum comments on the rhythm of progress they represent: "Innovation doesn't happen in periods of slow progress, but during times of crises or times marked by change." Given the current state of the world, today's virtual audience may be more attuned to that message than ever before.
You may also enjoy "Step Inside Water Works, WORKac's Aqueous Exhibition at Poortersloge."
Would you like to comment on this article? Send your thoughts to: [email protected]
---
Register here for Metropolis Webinars
Connect with experts and design leaders on the most important conversations of the day.