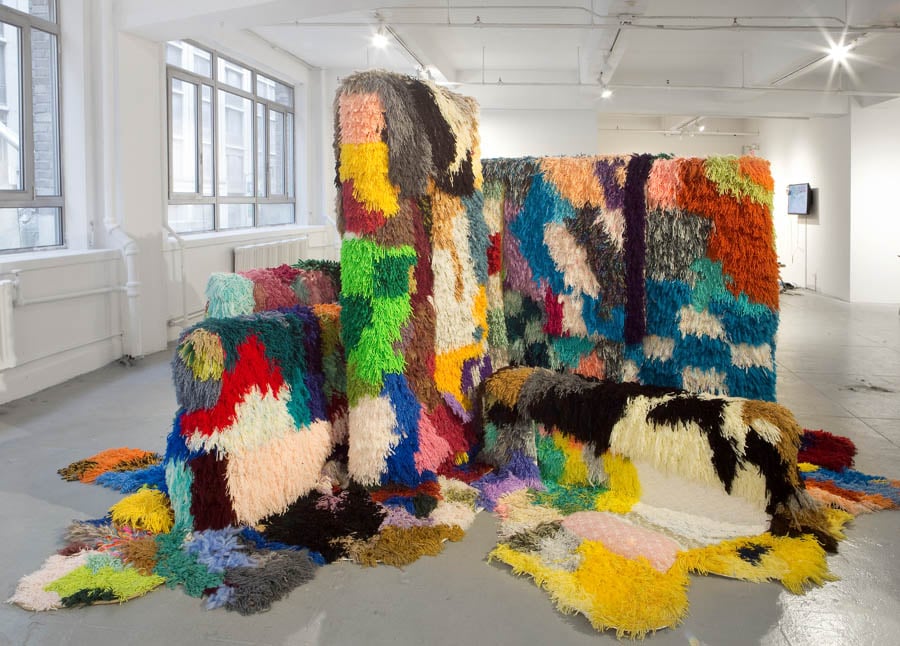 September 10, 2019
5 Textile Artists You Should Know
With works ranging from glitchy jacquard to architectural-scale quilts, these artists are pioneering wild and innovative aesthetics.
Each year in September, Metropolis dives deep into the world of textiles, profiling industry leaders, surveying techniques, and showcasing radical new projects. Here, we highlight five artists pushing the boundary of their craft.
Social Shag: Sarah Zapata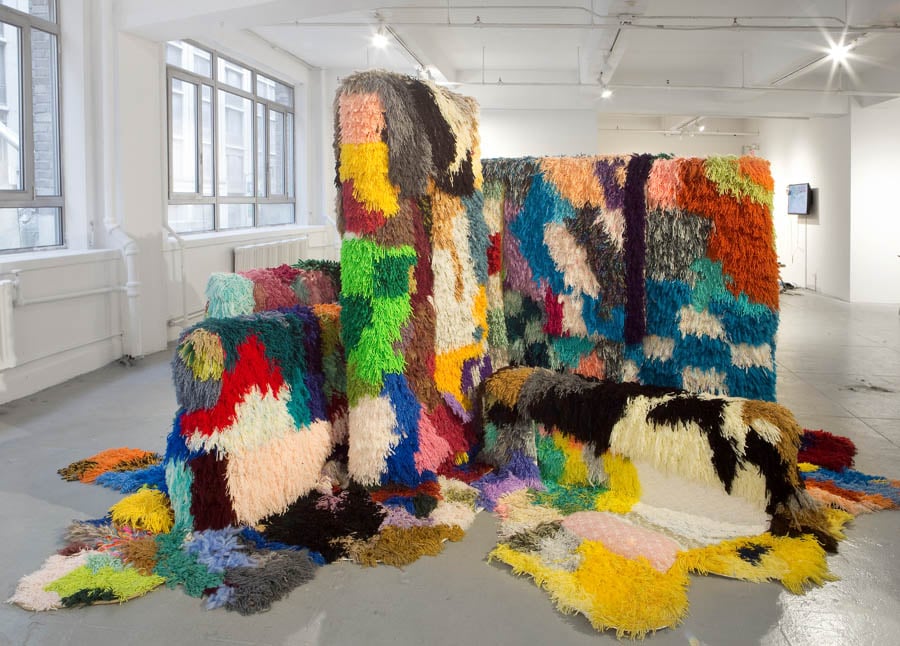 When Sarah Zapata moved to New York City, she brought with her an unusual type of cargo—phone books, big stacks of them. At the time, the artist was handweaving their air-light pages into sculptural textiles, rendering their banality fantastic.
It was an early project for Zapata, who these days knots yarns into gallery installations of loose Snuffleupagus shags. But it held the germ of a long-term interest in material excess, and in the ways that art can recast the familiar into something more evocative.
A Peruvian American, Zapata explores the symbiosis between textiles and cultural knowledge. For one show, she engineered sculptures that recalled the burial textiles of the Paracas civilization; during a residency at the Museum of Arts and Design in Manhattan, she explored arpilleras, works produced by women during the 1980s guerrilla conflicts in Peru.
What's compelling about textiles, according to Zapata, is that every person has a relationship to them. "That's really exciting," she says, "to already have that baseline with the viewer, and yet you're able to change that narrative." —Lila Allen
Scaling Up: Amanda Browder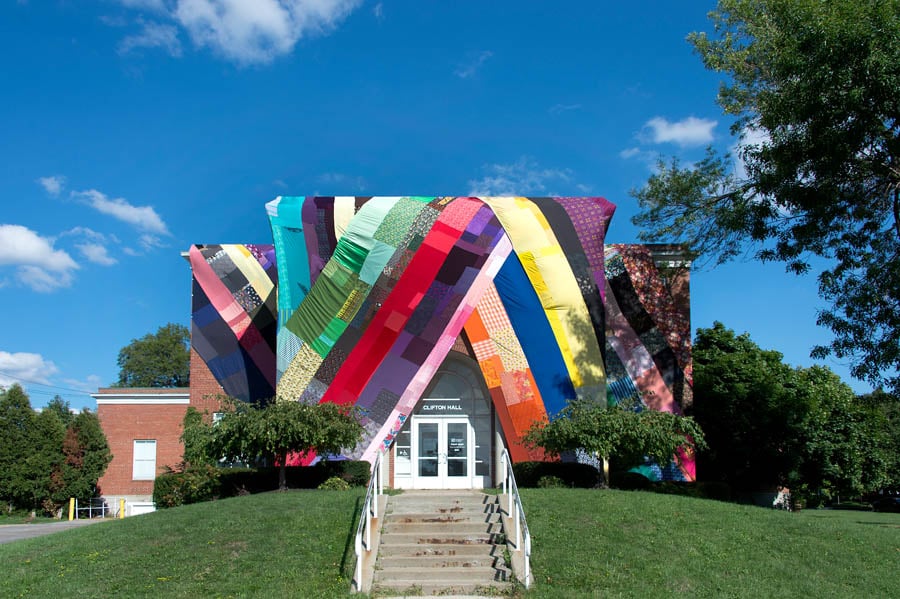 It took all of two years for Montana-born artist Amanda Browder to realize her first major work, Future Phenomena (2010). Mounted on the side of a town house in Greenpoint, Brooklyn, the piece was transportive, its alternating bands of fabric forming a psychedelic portal. It stood for exactly one day.
Scarcely sufficient time to fix itself in the streetscape. Since then, she has gone on to wrap museums, elementary schools, community centers, and other buildings across the country. Each urban "quilt"—Browder bristles at the term—has been produced by the same method, whereby locally sourced, incongruously patterned fabrics are stitched together on "sewing days" to create large tableaux.
As one of five participating artists at ArtPrize's inaugural Project 1 biennial in Grand Rapids, Michigan, this year, Browder is planning to scale up her practice. She will blanket four downtown skywalks, elevated public corridors that shield pedestrians from the worst of Michigan winters. "I hope it puts people's minds into a constant state of questioning," she says. This time, onlookers will have the luxury of time—Project 1 runs from September 7 to October 27. —Samuel Medina
Cloth and Code: Victoria Manganiello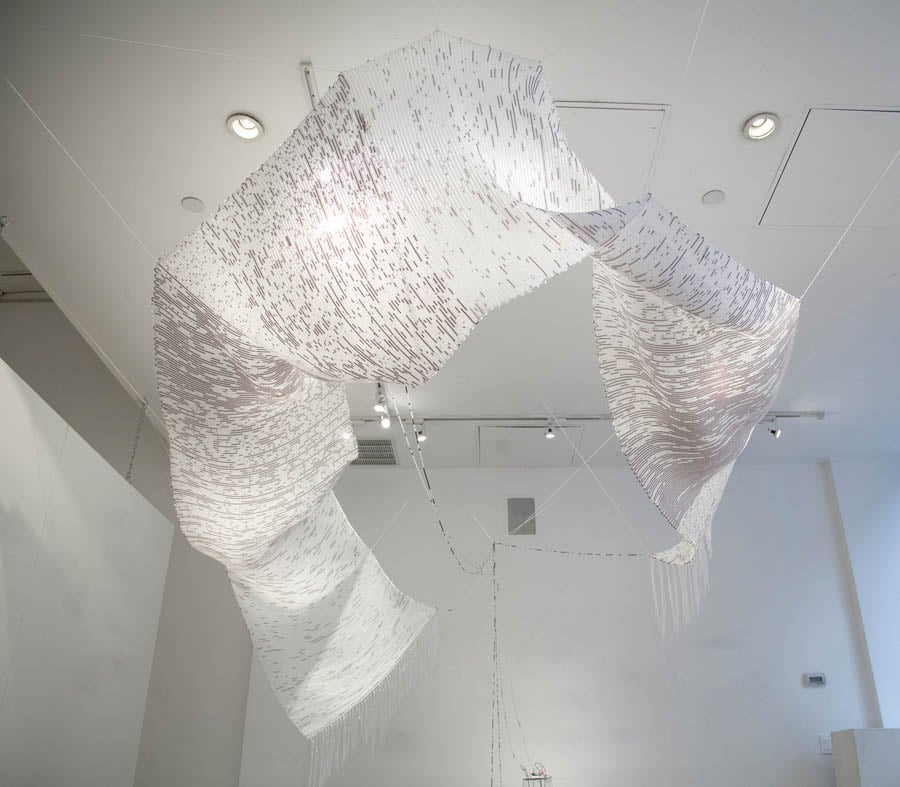 In the installation COMPUTER 1.0, which was on view at Manhattan's Museum of Arts and Design this past June, little drops of dark liquid moved through transparent tubes woven into a hanging piece of white fabric. Arduino microcomputers controlled the liquid's flow through the installation, such that the dark dashes appeared to coalesce briefly into recognizable patterns—a twill weave or houndstooth—before dispersing again into digital chaos.
"I wanted to make something that was a textile, but also a computer," says artist Victoria Manganiello, who collaborated with designer Julian Goldman on the piece. Once a staunch believer in handcrafting every aspect of her textiles, Manganiello has begun to explore the digital realm by thinking about the shared history of Jacquard looms and early computers: Both used punch cards to control binary operations (the lift and drop of warp threads and the on and off switches in computers). After her work on COMPUTER 1.0, she is now contemplating deeper connections between cloth and code. "One of the things that makes us human is that we wear clothes from the day we're born to the day we die. We all know what cloth is," she says. "And now we live in a world where digital technology plays a similar role. It's part of every choice we make, and pretty much every person on the planet is interacting in some way with modern technology." —Avinash Rajagopal
Focus on Fringe: Liz Collins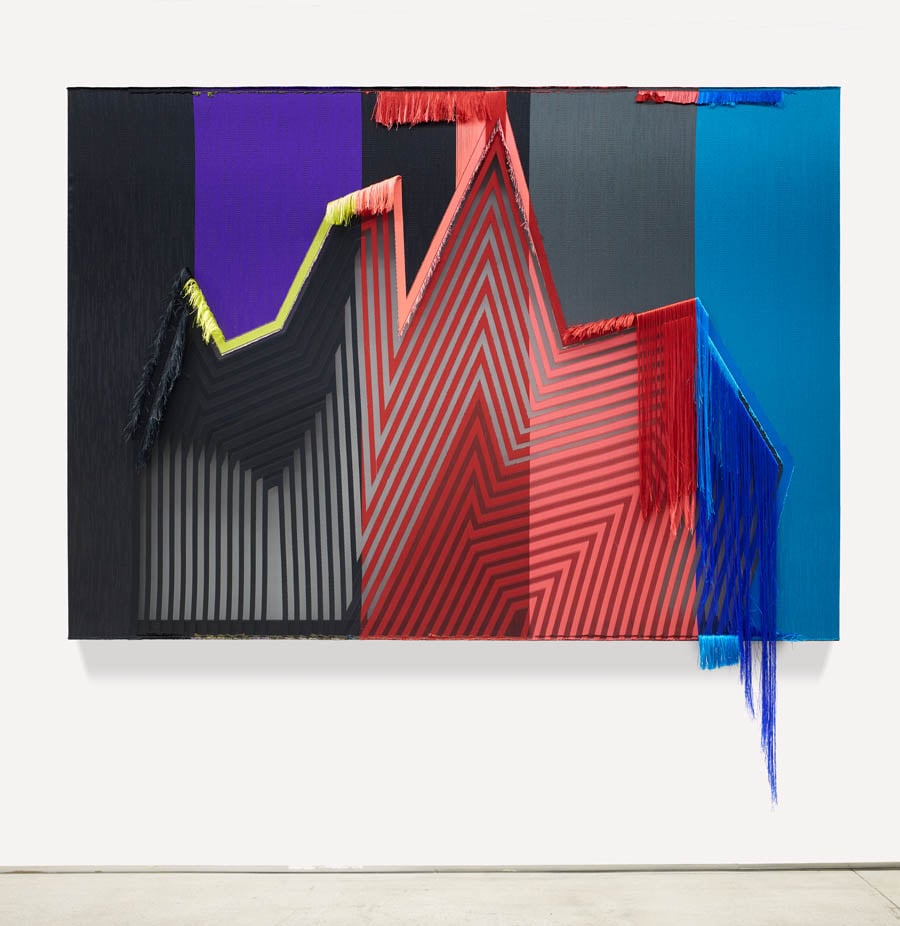 Whether she's in her Brooklyn studio or teaching at schools like Pratt or Rhode Island School of Design, her alma mater, textile artist Liz Collins is ready to dive into the unusual: She acts impulsively on ideas, transforming spaces with theatrical displays of fabric.
Collins's 2005 work Knitting Nation explored the intense labor demands inherent in textile production and kicked off an 11-year-long conversation encompassing 14 other performance-based installations. Through them, she has engaged issues of labor, sustainability, gender, and queer identities, including her own.
At Milan Design Week 2019, Collins collaborated with Ligne Roset and Sunbrella on Summit Suite, an installation that covered walls of the Rossana Orlandi showroom in fringe, using textile waste left behind by mills. Amplifying the conversation on gender identities back in 2017, she "gendered" each side of a room at the New Museum in Manhattan with furniture, wall coverings, and rugs that suggested a dark sexual energy.
Not limited by the context or outcome of an installation, Collins allows for various meanings to come from those who are affected by her work, with a creative emphasis aimed at celebrating her community. —Morgan C. Mullings
Weaving Glitches: KRJST Studio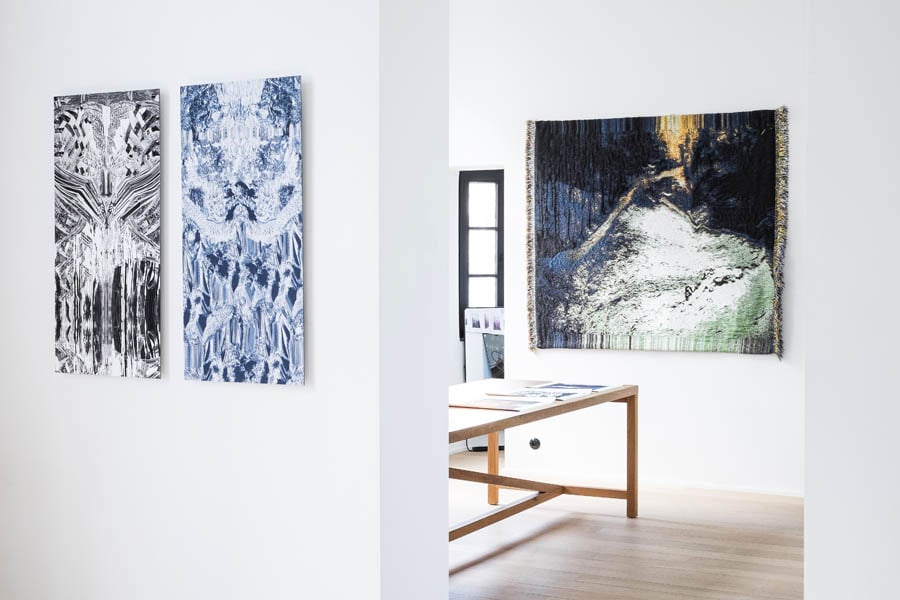 A trace of the computer isn't immediately evident in KRJST Studio's art tapestries. At first glance one sees idyllic landscapes, cascading waterfalls, melting glaciers, or streaks of light reflected in an indigo lake. Then one begins to perceive the digital manipulations rendered in natural and synthetic fibers. It's sleight of hand born of KRJST Studio's laborious creative process.
Founded in 2012 by fashion designers Justine de Moriamé and Erika Schillebeeckx, the Belgian art collective starts every project by alternating between analog and digital sketching, using traditional painting techniques as much as 3D modeling software. "Colors, shapes, and materials become a puzzle of data from which we seek combinations…to finally obtain a poetic moment," the studio says in an artist's statement. That poetry obtained, the designers develop a program for computer-operated Dornier Rapier Jacquard looms, which render it into tapestry.
The results have won the studio accolades and commissions across Europe. Its work finally travels stateside for Textiles Revealed, an exhibit curated by Lidewij Edelkoort and Philip Fimmano and opening on September 26 at Unix Gallery as part of New York Textile Month. —A.R.
You may also enjoy "Building Sisterhood: How Feminists Sought to Make Architecture a Truly Collective Endeavor."
Would you like to comment on this article? Send your thoughts to: [email protected]