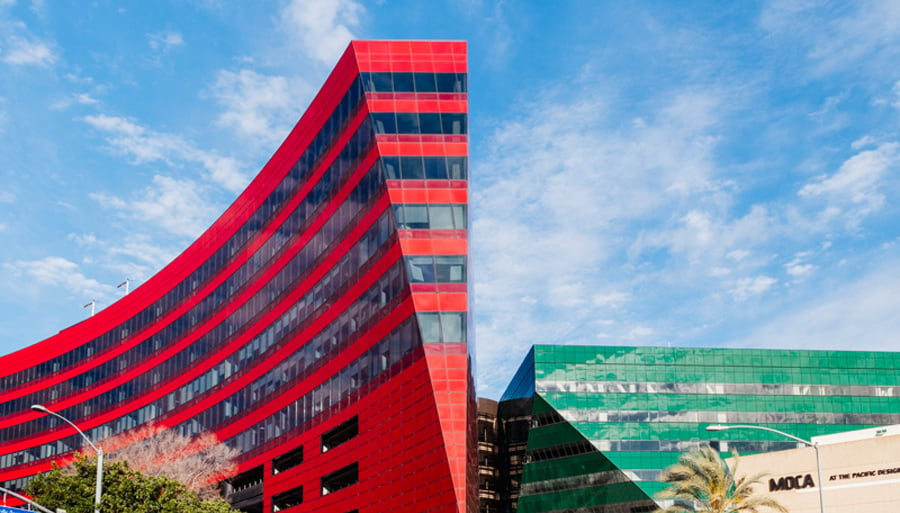 June 5, 2018
Surveying L.A. Pomo: Cesar Pelli
In this series of articles, Metropolis celebrates the diverse, innovative Postmodern architecture coming out of La La Land between 1975 and the early 1990s.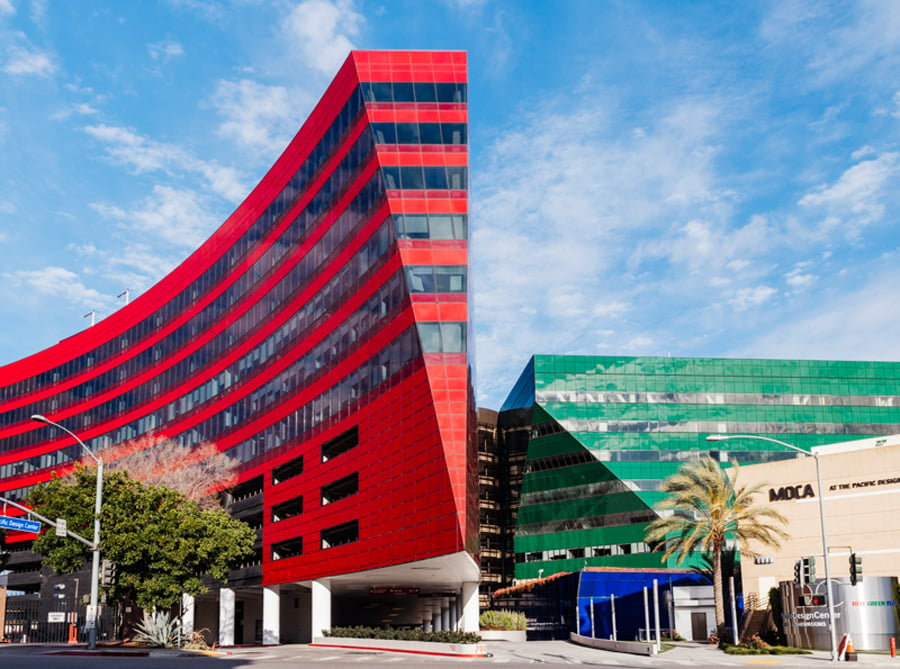 In this series from our May issue, we revisit the under appreciated architectural experimentation that characterized urban development in Los Angeles from the 1970s to the early 1990s, and discover a variety of individualistic, unconventional, and radical styles—some of which occasionally even approached "fun." Stay tuned to our homepage as we add more entries!
---
The entry for the Pacific Design Center in Cesar Pelli's slim 1980 monograph is a brisk five pages, mostly black-and-white images. A capsule description discloses little but instead revels in the showroom emporium's atmospheric qualities—its immense, eccentrically individuated interior enclosed by shimmering azure glass walls, which earned the place the nickname the Blue Whale. In the concluding line, however, author John Pastier puts forward an odd prognosis: "[I]n time the sea will rise, surely enough to make it seem more like a dolphin."
He was proved partially right. Forty-plus years after the building's opening, the oceans have risen and Pelli's whale is no longer beached. (But svelte it will never be, pending a biblical downpour.) In the intervening time, the 750,000-square-foot shed has been joined by two equally colorful giants—the Green Building (1988), containing 450,000 square feet of office space, and, at 400,000 square feet, the smaller, positively sleek Red Building (2012).
Spanning 14 acres in West Hollywood, the trio mark a momentous shift in Los Angeles. As then–Los Angeles Times critic Christopher Hawthorne noted in 2006, shortly before the start of construction on the Red Building, the "city of scattered landmarks" had come around to the civic joys (and real estate dynamism) offered by "ensemble architecture."
You might also like, "Surveying L.A. Pomo: Matlin & Dvoretzky."