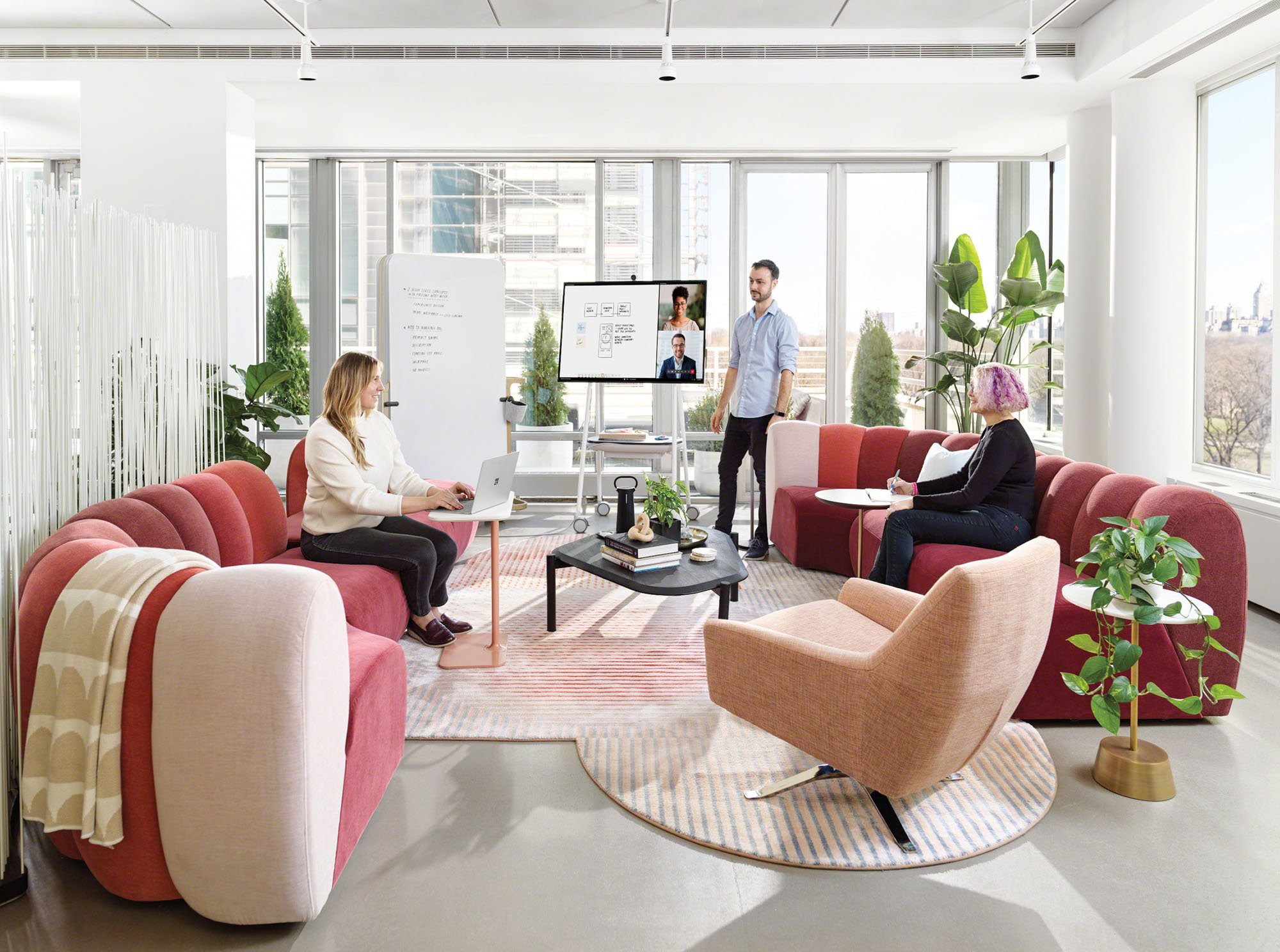 July 26, 2023
Christina Vernon of Steelcase Shares Her Tech-Led Approach
Creative Collaboration
"Just over a year ago, we created this category to think about hybrid collaboration, distributed collaboration, and different ways of creating collaboration opportunities in our spaces," says Christina Vernon, the manufacturer's director of distributed collaboration solutions and technology partners.
Consequently, many of Steelcase's latest design solutions seem to have begun to grow out of new non–design industry alliances: "We have a great partner ecosystem with Microsoft, Zoom, Logitech, Crestron, even VergeSense. We work with these tech partners early to understand some of their customers' pain points and where they're seeing their technology going in terms of road maps, and how we could be innovative and integrate tech into the spaces."
That approach, Vernon says, underscores the importance of grasping the capabilities of specific technology for everyone creating holistic interiors. "We're now focusing on routing housing and mounting technology in the spaces because they require a lot more than previous years," she explains. "You need a lot more technology to manage in the space, so we're really trying to think of room sight lines, traffic flow around tables, and how to create those collaboration moments."
Equity and Engagement
In fact, considering the orientation and shape of the room while integrating technology can solve two significant problems: One is increasing equity between remote and in-person workers by elevating the remote workers' experience so they enjoy as much access as room occupants to real-time events; the second is supporting collaboration—the number one reason people want to come into the office, Steelcase says. So far, people are dissatisfied with spaces for hybrid work.
"As people think about how they're going to work in the office or at home, we think about ease, equity, and engagement," says Vernon, adding that there are questions that need to be asked such as, "How do you keep people engaged in the actual meeting? If they're joining remotely, how do you make sure that they're staying engaged, that they can see content, that they can collaborate thoughtfully? Those are the types of issues we are trying to solve."
Steelcase is already thinking about the next iteration of tech-led interiors. Earlier this year, the furniture manufacturer partnered with Logitech on a new videoconferencing device called Project Ghost, which seeks to allow for more personal conversations and connections than traditional video meeting services.
"It's designed to help us understand how we could create better one-to-one conversations between groups that maybe have direct reports that are not in their same spaces," Vernon explains. "We are in the feedback collection [phase] right now with clients."
Would you like to comment on this article? Send your thoughts to: [email protected]
Related