June 11, 2018
Meet Dani Arps, New York's Go-To Designer for Start Ups
With a dozen-odd start-up offices under her belt—including Venmo and SeatGeek, the designer is making waves in the world of workplaces.
Dani Arps neither subscribes to nor rejects contemporary workplace design trends. She readily embraces the push to provide employees with comfortable and amenity-rich spaces. Some ideas, like the now-ubiquitous (although increasingly criticized) open-plan layout, Arps cautiously endorses, depending on the client: "It's not good, it's not bad, but it doesn't necessarily work for most offices," she says.
Still other trends, like the obsession with so-called millennial pink, Arps dismisses outright ("It's a beautiful color, but I've seen designs that go overboard. Like, why did this cotton candy ball explode all over this restaurant?").
Arps's nuanced takes speak to the project-specific design process that defines her style, which is in high demand in New York's start-up scene. Through her practice, founded in 2014, Arps has proved adept at helping young companies differentiate themselves from the pack in brand and work culture. Her synthesis of the fine-grained aspects of brand identity, daily work needs, and preexisting spatial constraints is especially valuable to many of her New York clients, who have made industrial spaces their homes. And her clients trust that they're in good hands with Arpsat the helm: "They're very much willing to just be like, 'We trust you, do what you're gonna do.'"
The Connecticut-raised Pratt alum graduated into a tough economy in 2009, when she nabbed her first gig designing the offices for online coding platform Codecademy. "That really started the ball rolling in which direction I was going to take," Arps says. Other start-ups and tech companies followed, with payment service Venmo, ticket company SeatGeek, and online fashion purveyor Gilt hiring Arps for their own office redesigns. "I was literally saying yes to every project that came my way," she recalls.
By saying yes at such an early stage in her career, Arps quickly turned good instincts into a thriving practice. Today, she prides herself on tailoring designs to her clients through a collaborative process, avoiding cookie-cutter solutions, even when many of her clients share similar challenges. Yet inescapably, certain Dani Arps signatures emerge: context-informed spatial layouts; raw and untreated materials; a palette of industrial grays and neutrals with vibrant pops of color; and always, at least some greenery.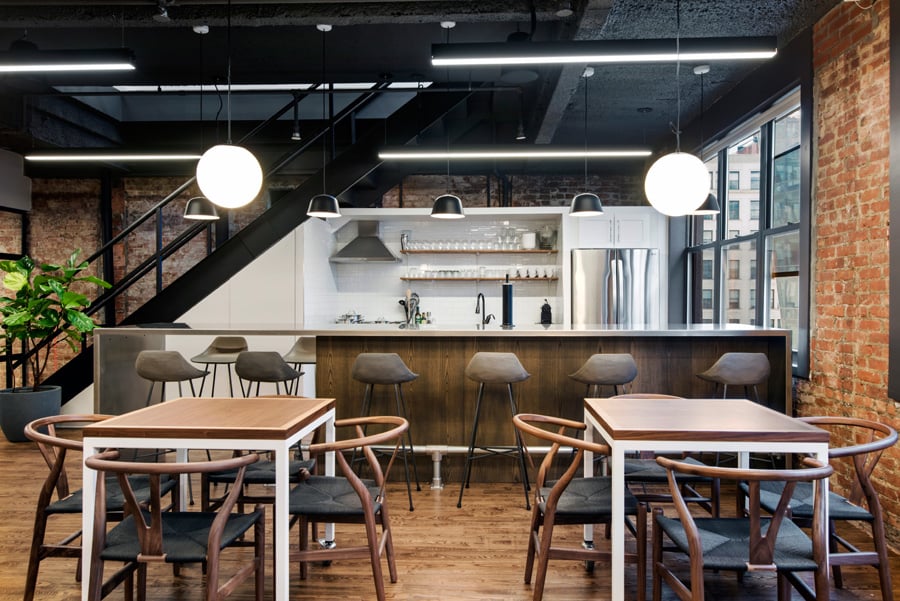 For news site Fashionista, Arps conceived a bright, compact design with white furniture, printed wallpaper, pastel accents, and houseplants. The SeatGeek office jibes with its industrial setting, featuring high ceilings, a stripped-down aesthetic, ample greenery (including living walls), and exposed brick and wood. The 33-year-old powerhouse even dabbles in product and furniture design when a project affords the opportunity: Her Dani Lounge is a wheeled plywood-frame, boothlike unit that facilitates privacy while maintaining a certain openness and mobility.
 Arps's commercial portfolio is expanding,taking her into markets in
London
and
Los Angeles
. And while she welcomes hospitality and residential projects, she's happy with her current reputationin workplace design, where she feels most free to experiment. In the start-up realm especially, a workplace project "allows me to play with different typologies," she says—whether that's a kitchen,a café, an event space, or something totally new. She admits, though, art galleries are her next target.
Asked why, she explains,"Because designing them is hard." It's this fearlessness—to try new things, challenge herself, and balance the timeless and the fashionable—that perhaps best defines Dani Arps more than any one trend.
You might also like, "Leading Designers Weigh in On the Future of Work."