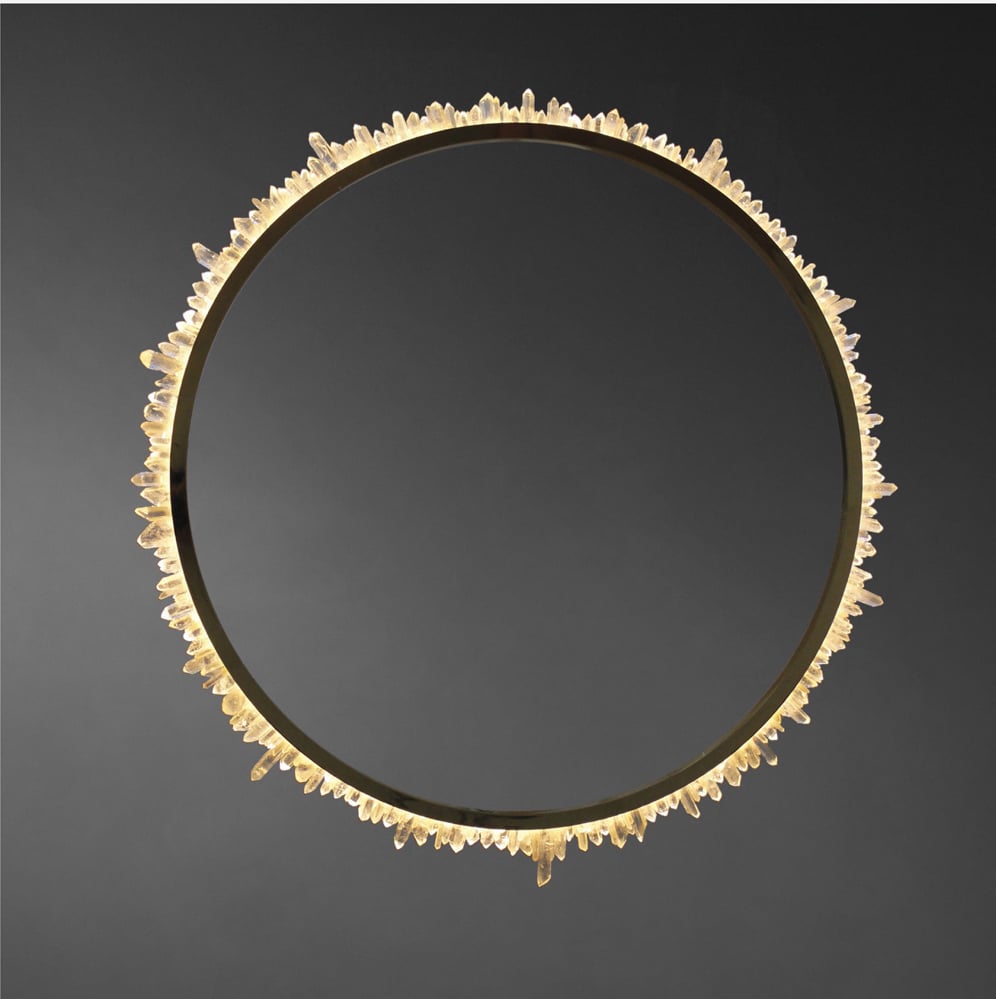 May 17, 2016
Still Just Making Stuff: The Down-to-Earth Ethos of Christopher Boots
The Australian lighting designer strives to find a balance between international expansion and remaining hands-on.
Based in Melbourne, 36-year-old designer Christopher Boots collaborates with bronze casters, coppersmiths, ceramicists, and glass blowers for his striking lighting pieces, which include the Prometheus III (above).
All images courtesy Christopher Boots
---
Sitting in his work boots, trousers, and a simple tee within the bright-white warehouse surrounds of his studio/ showroom, Christopher Boots appears more like a tradesman inspecting his work than a superhip Melbourne lighting designer. There's a reason for this—he is a true designer-maker. In fact, he was a hands-on maker long before he even knew what industrial design was. "I was always interested in making stuff," he says. "I think the first thing I made was a whole heap of concrete lights when I was 15. When I was 17, my uncle bought me a welder for my birthday, and I started welding together scrap metal to make furniture and tables."
Halfway through an arts degree, a young Boots realized that he could make industrial design his profession and jumped at the opportunity to follow his early passion. His big break came upon graduation, when he headed to the Melbourne lighting design studio of Geoffrey Mance, whose work had fascinated him during university. "I remember when we visited Geoffrey in his showroom with my class and the horror on the faces of our professors when he said, 'For me, design is going to the hardware store, picking up some rope and other things, and kind of just coming up with stuff.' Their reaction was priceless. Geoffrey had this way of absolutely devaluing the role of what they would call traditional design, and all of a sudden there was the possibility that you could just make stuff."
Joining the Mance Design family exposed Boots to the concept of hands-on design, restoring heritage lighting, and "just making stuff." The young designer had only been with the company for a couple of years when Mance became ill and passed away. To Boots's surprise, he soon found himself running the successful business alongside another young designer, continuing where his mentor had left off. "We grew it and it was fun, exciting, and crazy—and really hard work," he says. "But after four or five years, I realized it wasn't working for me. I wanted to bring on new designs and new designers—create a sort of umbrella business." When it became clear that he and his partner had diverging views, Boots sold his share in Mance Design and created his own brand in 2011.
His new company quickly found fame with his most well-known design, Prometheus. Photographed alongside classical-Grecian-like characters, the work combines LED lights and natural uncut quartz crystals of varying sizes, which are attached with "rare earth magnets" to a simple brass ring. This melding of techniques, natural materials, and the latest technology has become a signature of Christopher Boots products.
With such striking aesthetics and technical innovation, his business has grown from a small home/garage operation selling to local customers, to two dedicated premises—a shop front/showroom/design studio and a workshop—as well as an extensive network of international stockists, including Siglo Moderno (Los Angeles), Atelier Gary Lee (Chicago), the New Black (San Francisco), Jean De Merry (Dallas), R HUGHES (Atlanta), and ED'IT Showroom (Miami). The designer has also exhibited around the world and collaborated with international firm Woods Bagot at ICFF 2016 in New York.
But the 36-year-old is conscious of not growing too quickly, pushing against the natural instinct to expand in favor of staying hands-on with design and overseeing production in his Melbourne workshop. "We're limiting our range now. The value in the work is its handmade aspect and its rarity, and we don't want to be a factory of production endlessly making these kinds of things." In response, the Christopher Boots studio is now producing some pieces in limited editions each year and making others genuine one-offs. "It helps us because we're not busting our balls trying to re-create something that was made originally in the spirit of exploration and uniqueness and ingenuity. It's more like the fashion cycle. That was one of my strategies to rein in growth: to have more of a fashion take on it and do a spring/summer, fall/winter collection."
This deliberate refinement and curation of the Christopher Boots collection exemplifies the attitude of its designer. He's as comfortable behind a welder's mask working with fabricators as he is talking fashion cycles and dealing with high-end gallery owners. Ultimately, though, he's a man who makes sense of the world by picking up a pen and his tools and shaping it with his own two hands.
Boots (center) with his Melbourne team
True to its name, Boots's Portal light creates the illusion of a luminous entryway to another dimension.
The Diamond Ring incorporates dozens of quartz crystals.
The form of the BCAA is inspired by amino-acid chains.