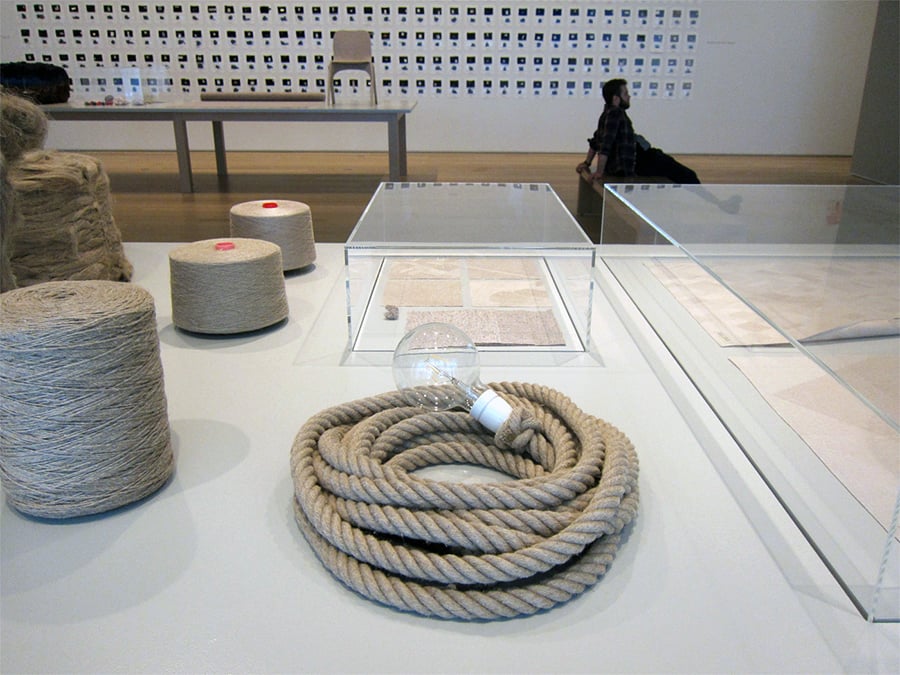 April 26, 2019
Designer Christien Meindertsma Is Pushing the Design Possibilities of Humble Flax
An exhibition at the Art Institute of Chicago shows how Meindertsma is using flax to create sustainable furniture and objects.
---
In 2012, Dutch designer Christien Meindertsma fell in love with a plot of flax in the Netherland's Flevopolder region. For months, she and filmmaker Roel van Tour followed the plot's farmer as he tended to his crop from seed to plant. The yield attracted a merchant in China, who offered to buy it all—a common scenario in Europe, where 90 percent of the continent's flax crop ends up in China. That statistic frustrates Meindertsma, whose practice investigates the convoluted journeys of raw materials as they undergo industrial processing. "I thought it would be a pity for it to disappear after we fell in love with it," she says of the harvest. "I was also curious about the local production possibilities of this plot." Intent on turning the flax into commercially-viable and eco-friendly commodities, she purchased the harvest—all 22,046 pounds of it—before the Chinese buyer could.
The results of her efforts are on view in Everything Connects, an exhibition at the Art Institute of Chicago that highlights the potential of flax. (Flax, unlike comparable plastics and glass fibers, can biodegrade.) So far, Meindertsma has made objects like a playful hanging rope lamp and a linen tea towel. The latter's woven pattern is an homage to its source: it mimics the gridded fields of Flevopolder. 
The exhibition's linear display traces the complex processes required to make these flax products. It begins with bales of flax prepared for spinning (these fill the gallery with a crisp, straw-like smell) and ends with a chair—the pinnacle of Meindertsma's plant-based designs that won her two Dutch Design Awards in 2016. Nearby, van Tour's looping films document the painstaking manufacturing stages, from sorting seeds to scutching fibers.
"Her main interest is in finding objects that allow her to emphasize the tension of flax," says Zoë Ryan, the Art Institute of Chicago's curator of architecture and design. "She's concerned about losing these locally based, very sustainable materials and modes of production."
---
Flax was a once-thriving industry in the Netherlands. Historically, wool and linen were the primary textiles in Dutch households—as illustrated by the abundance of linen chests in Dutch Golden Age paintings—until cotton came along. Now, Meindertsma works with a dwindling breed of flax processors, many based in Belgium.
"These companies are still disappearing, with all the knowledge," she says. "But talking to them about their aspirations, I found they have very high hopes of the future of composite flax."
Composite flax refers to flax strands that have been interwoven with other materials to create a sustainable and comparatively strong material. Meindertsma created her own composite flax material for her chair; the new composite consists of 100 percent biodegradable PLA (Polylactic Acid, a type of plastic) and flax fibers. The chair's seat and two V-shaped legs are cut from a single, two-by-three-foot piece of flax fabric, leaving no waste, then heat-pressed in a mold to form a durable piece of furniture. Priced at $550, the result is relatively affordable and scalable—an improvement on her tea towels, which, she admits, are economically challenging products, costing about $33.
Also on view is Meindertsma's Fibre Market (2016–present), a project that reveals the inaccuracies of clothing labels that make recycling clothes difficult. This installation also urges designers and companies to better understand the processes involved in production.
While the challenges of sustainable textiles are large, Meindertsma methodically shows there are ways to maintain control of resources (be it flax or another material) while adhering to quality design.
"There are many initiatives with flax and linen right now," she says. "I would like to see if [they help] keep some of the production in Europe. I feel it is a pity if we are so disconnected to that process."
You may also enjoy "Designer Brecht Wright Gander's Work Is Both Elusive and Exploratory."
Would you like to comment on this article? Send your thoughts to: [email protected]