July 16, 2018
New Talent 2018: For Furniture Design Company Kalon, Each Piece Starts in the Designers' Own Home
The Los Angeles-based design duo meticulously develops each of their products, fostering a unique blend of beauty and sustainability.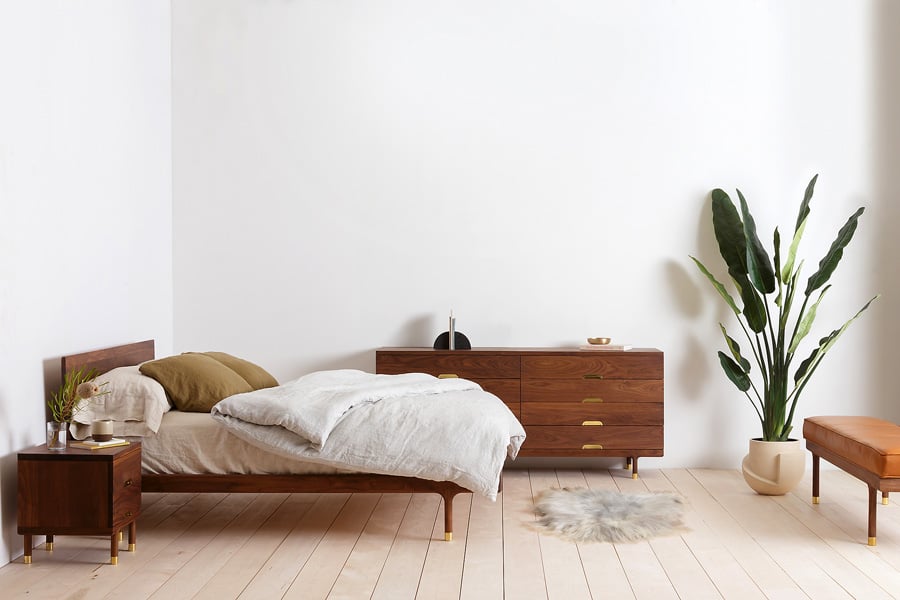 Born in 2007, during the birth pangs of the financial downturn, Kalon could have been collateral damage of an ailing economy. Focusing on high-quality American- made goods, the Los Angeles–based furniture studio faced a difficult road as consumers tightened spending and production moved overseas. It was, as cofounder Michaele Simmering puts it, "a terrible time to start a business."
But rather than flounder, the fledgling company—started by Simmering and her husband, Johannes Pauwen— thrived by tapping into an unexpectedly robust market: design for kids. In Kalon's first collection was a solid bamboo, vaguely neo-Prairie crib, originally crafted for the couple's daughter. The crib caught on with buyers and established Kalon as a design-forward brand for children's furniture. Even in a declining economy, "people continued to buy things for their children," says Simmering. "It was like a guilt-free purchase."
Aside from offering entree to the market, designing for kids challenged Kalon to meet high quality and safety standards. (Simmering refers to children's furniture–making, which is subject to a notoriously rigorous set of regulations through the U.S. Consumer Product Safety Commission, as "production boot camp.")
As the economy recovered, Kalon was equipped to set this high bar for grown-up furnishings, developing sectionals, tables, and, most recently, the Bough collection, a wooden dining suite with blackened-steel details.
"I think in a way we're moving through the rooms in the house," says Simmering of the studio's expanding portfolio. Development can be a slow process—Bough took two years—because each piece is tested within the designers' own home. "Part of that is aesthetics," explains Pauwen. "Can you stand how it looks for long enough?"
This coziness isn't just for show. It also speaks to Kalon's unique brand of sustainability—one in which the way forward begins at home.
You might also like, "It's No Basket Case: This Exhibition Wants to Show You a New History of Weaving."