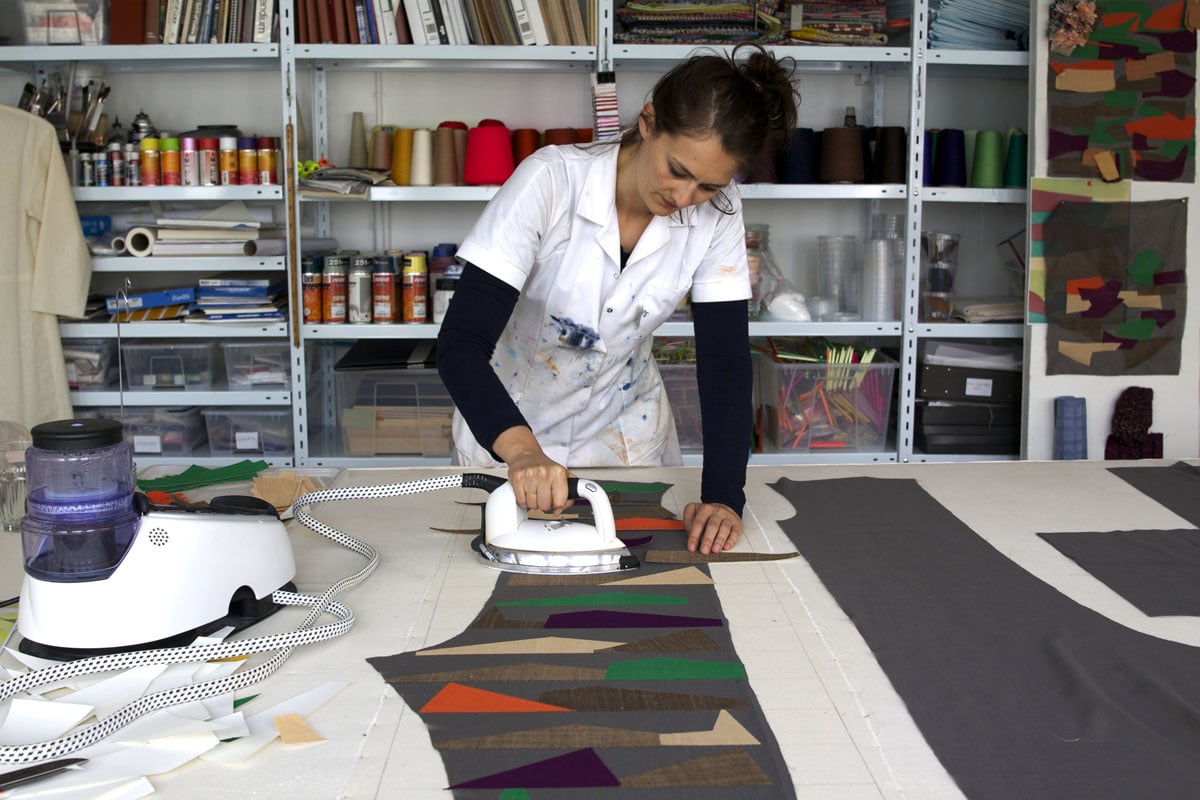 October 27, 2015
For Designer Margrethe Odgaard, Patterns Guides Our Everyday Experiences
The Danish designer uses decorative elements to illustrate patterns in everyday life.
---
Nominated by Peter Bonnén, Muuto cofounder
---
Margrethe Odgaard tends to a textile she designed for the project Palate-Palette vol. 2.0.
All images courtesy Margrethe Odgaard
Margrethe Odgaard's interest in pattern could hardly be called superficial. The Danish designer has not only been utilizing pattern as a decorative element but also recognizing it as a force that guides most of our everyday experiences. Sometimes her work seeks to illustrate patterns already existing in our lives. At other times it even dictates how we use objects, like her tablecloth for Georg Jensen Damask—which gives guidelines on how to set the table and fold napkins—or her Divan daybed, which subtly directs where to lie on its surface.
A graduate of the Royal Danish Academy of Fine Arts who also studied "I'm looking to create design that not only replies to human behavior but also interacts with it and creates some kind of difference." at the Rhode Island School of Design, Odgaard praises the role of apprenticeship in design education. "It teaches you to identify a problem where it's not about your own artistic expression," she says. "It's more about how you can find a solution to a problem with the skills you have."
Odgaard believes designers are ready to develop their own voices once they have sufficiently honed their skills. For her, this meant fostering a dialogue with other creative voices, from furniture designer Christina Liljenberg Halstrøm to chef Jakob Mielcke. "In that dialogue you refine your work and there's a greater chance that it becomes relevant," Odgaard says. "For me, collaborations are another kind of communication that makes me sharper to what my own identity is as a designer."
"I'm looking to create design that not only replies to human behavior but also interacts with it and creates some kind of difference."
The long process of gestation helps explain the impressive quantity and quality of work Odgaard has produced since officially launching her independent studio in 2012. What instantly comes across in her designs is a keen understanding of color and pattern, which nevertheless remain tightly bound to function. Particularly striking is her ongoing Fold Unfold project, where, uninspired by the idea of designing a tablecloth with a floral pattern that is disrupted by folding creases, Odgaard created a design in which color seems to be bleeding through the folds, the pattern both highlighting and camouflaging the creases.
While her work to date has spanned textile, graphic, and product design, Odgaard is now moving on to designing within the larger scale of architecture. Her first project: outfitting and color-setting the Danish Architects' Association's new headquarters, which is slated to open in December. "The way we move and what we feel in a room are both very interesting to me," Odgaard says. "For each room, I have notes from the association where they tell me what activities will be going on, and my goal is to use pattern and decoration to emphasize that energy."
But no matter the medium of expression, Odgaard's work remains firmly grounded in a social context, illustrated by her project Colour Cup—lightbulbs encased in elegant beadwork, mimicking the technique of African basket weaving. Created in collaboration with women from KwaZulu-Natal, South Africa, the light bulbs were designed to give the group an opportunity to expand their market and export their products. Since then, the Colour Cup has been acquired by both Muji and the Conran Shop. "I'm trying to engage with society in a different way and to take social responsibility," Odgaard says. "I'm looking to create design that not only replies to human behavior but also interacts with it and creates some kind of difference."
See the rest of this year's new talents here.
Collaborating with chef Jakob Mielcke, Odgaard explored how the taste palate interacts with the color palette. Dinner guests sampled five servings of food, each while wearing coveralls (above) that Odgaard designed to represent the different taste buds.
The linoleum floor Odgaard created for Holstebro High School in Denmark, which depicts a grass pasture.
For a pop-up exhibition at Designmuseum Denmark, Odgaard designed and screen printed six tables with a blueprint grid of lines for table settings, as well as damask napkins with a blueprint folding pattern.
A carpet collaboration with furniture designer Christina Liljenberg Halstrøm, exhibited at Superobjekt Gallery in Copenhagen. The carpet's pattern reflects the story of a room, representing shadows and marks left by furniture.
---
"Margrethe has a unique ability to work with material, colors, and patterns. Technically, she is very strong, but this doesn't stop her from experimenting to obtain new and surprising results. She really digs into a material to understand its properties, and this focus is always reflected in her design and plays an important role in the final result. She works on many levels and does not compromise, whether working with small textile products, big textile projects, culinary dining experiences, or the color scheme of a major architectural project. She is one to watch." —Peter Bonnén, cofounder of Muuto