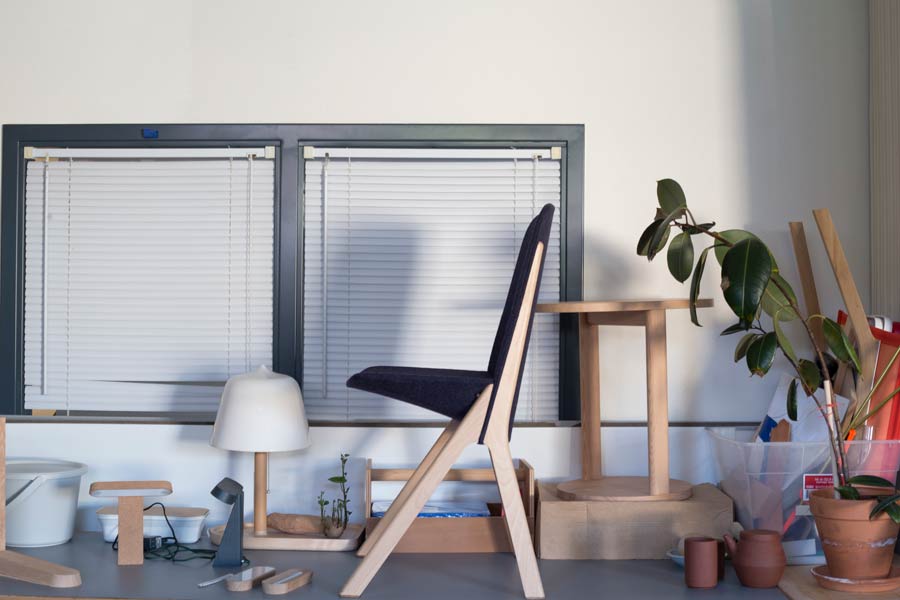 October 5, 2017
New Talent 2017: Studio Gorm's Perfect Balance of Aesthetics and Function
An appreciation of the beauty in an object's true function drives the work of Studio Gorm.
Even though they work at diverse scales, the five emerging practices that we have selected this year as Metropolis's New Talent 2017 share some fundamental characteristics. They are all open to influences from other places and professions, engage with new technologies and materials, and collaborate with others at the cutting edge of their field. Whether they're creating architectural installations in London, lighting designs in Vancouver, start-up offices in New York, a hospital in Zambia, or Shaker-inspired objects in Oregon, these practitioners have what it takes to move architecture and design forward.
---
If there's an apt description for the work of Studio Gorm, it's soothing. Perfectly rounded corners. Clean lines. Natural materials. An unobtrusive color palette. And what's more, it's all just so useful.
Utility is key for John and Wonhee Arndt—the Eugene, Oregon–based duo behind Studio Gorm—whether they're designing furniture, lighting, products, interiors, or exhibitions. Their well-curated portfolio ranges from laundry baskets and butter dishes to rockers and trestle tables, all executed with the same dedication to bare necessity.
Their appreciation of spare objects has only deepened in recent years. John and Wonhee—who met while studying at Design Academy Eindhoven and formed Studio Gorm in 2007—have immersed themselves in the principles of two "cultures of functional aesthetics": the Japanese and the Shakers.
"Those two places are very different culturally, but still have these similar aesthetic sensibilities," John says. "They're both very respectful of the material, they're very useful, and they're really considerate as far as how the thing is used in a very aesthetic and functional way."
"We also love the Mingei movement," Wonhee adds, "everyday objects made by artisans who are unknown, but those objects are shown through use without pretentiousness."
In addition to studying the principles behind the Japanese tea ceremony, the Arndts traveled a few years ago to Hancock Shaker Village in Massachusetts and Mount Lebanon Shaker Museum in upstate New York, where they discovered stunning archives of objects. Inspired, they gathered a group of designers to participate in a workshop based on Shaker principles, culminating in two collections exhibited under the title Furnishing Utopia at the last two editions of NYCxDESIGN.
The simple rules that the Shakers applied to their design have become key to Studio Gorm's processes. (One that the Arndts cite often: "Don't make something unless it is useful and necessary, and once you have eliminated what is not useful or necessary, make it as beautiful as possible.")
That approach also extends to the materials they use. "Living in Oregon, we're surrounded by the timber industry and so we've grown really fond of Douglas fir," John says. "So we think about how you can take a very nice or basic material and prepare it in a way that we're being thoughtful and respectful and celebrating the qualities of it, but also coming up with something that is fitting for a modern life."
At this year's NeoCon, Studio Gorm launched its Studio Table series, a collaboration with HBF. The simple, intuitive design of the standing-height table is reflective of a duo who appreciate a well-considered workspace. The minimalist table—which echoes their Shaker influence—combines a split rectangular top (allowing for easy access to power cords) with a curved shelf underneath for storage.
"Studio Gorm's aesthetic is at once classic yet incredibly timely," says HBF president Dan Chong. "Their pieces focus on process and craft. Most importantly, they keep humanity in their designs, making furniture that's beautiful and practical for its user—and they don't take the shortcuts."
That sense of humanity, and true understanding of an object and its meaning, are inherent in John and Wonhee's curriculum at the University of Oregon, where they are both professors in the Product Design Department. "We talk about the global context of the things we're making now and how people consider the same problems that we're facing in different contexts, like in another country or another time period," John says. "We're trying to get students to rethink what these everyday things are that they sort of take for granted—to illustrate their preconceptions about what that thing is, and what they're trying to do, and then rethink them."
"In our own work, we try to think about how to design products for longer life spans, not just in terms of being recyclable but also in their aesthetics," Wonhee says. "If it doesn't follow a trend, people want to keep it for a long time, and so it's also very sustainable."
You can find all our New Talent 2017 profiles here!