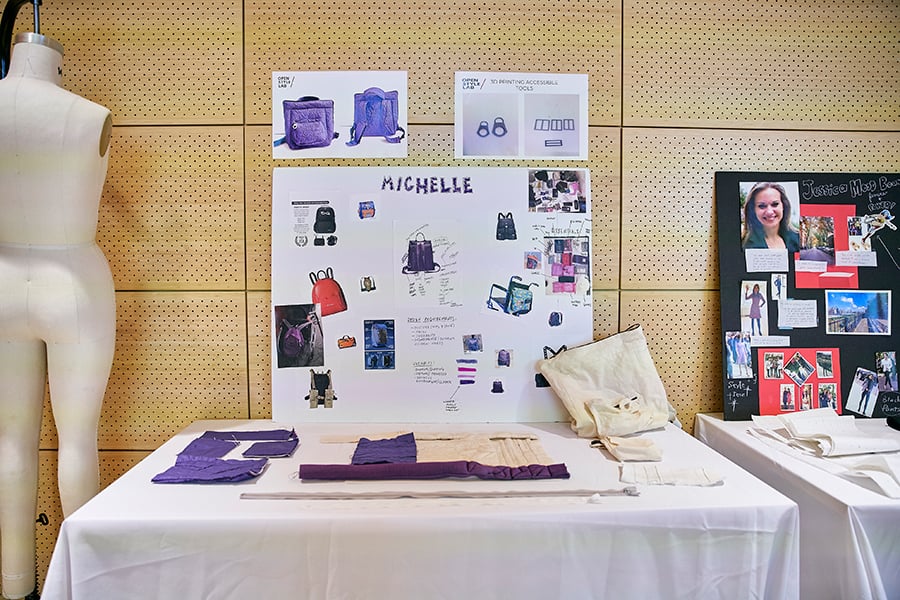 May 23, 2019
Open Style Lab, in Collaboration With Parsons School of Design, Helps Prove Accessibility Is Fashion Forward
The semester-long universal design program sees students work with a client to co-create bespoke wearables, all culminating with a showcase presentation.
---
On April 23, Open Style Lab (OSL) designers and participants, along with miscellaneous friends, family, and visitors, congregated to celebrate the culmination of the 15-week-long universal design course.
Established in 2014, OSL is a nonprofit organization that aims to make style universal for all people, regardless of cognitive and physical (dis)abilities. "Style is a form of self-expression, empowerment, and social link," says executive director Grace Jun. "We look at how this process can be for all, universal for all in the way we express ourselves through one of the world's oldest and most intimate forms—clothing."
Unlike many comparable initiatives, OSL's work is twofold: It aims to dismantle uninformed opinions surrounding disability and style while also providing wider access to educational programs and wearables themselves. "There are several stigmas surrounding disability rooted in things [ranging] from political rights to the visual culture developed in the medical fields," says Jun. "There is a perception of health that often correlates people with disabilities to poverty. Style is a big opportunity to alter those assumptions."
The program's mentorship model invites the client into the classroom as an active participant throughout the design process, as opposed to just the recipient of a product of research or scholarship. Students with diverse skill sets utilize advanced fabrication methods, performance fabrics, and innovative garment patterns to create each custom wearable. This collaborative process is beneficial for all parties involved, disseminating accessible design ideas across many disciplines.
---
For example, this semester Larissa Sehringer (an undergraduate student in the fashion program) and Kathryn Muller (a graduate student in the urban design program) collaborated with their client Michelle Mantione, a dancer, artist, and activist living with a disability, who sought a backpack that could support her lifestyle. Among other things, the backpack had to adapt easily to various modes of assistive travel technology, be ergonomically suitable, and made from materials in her favorite color—purple. Mantione tells Metropolis, "Maybe the students I'm working with are learning some disability concepts or just things about disability culture, and I'm learning I can use a newfound design language when I'm navigating the world."
For Mantione's design, one issue of particular concern was the zipper pull mechanism. Throughout, an iterative process reconciled ease of use, proper function, and user dexterity. "That's part of the reason why we were experimenting with 3D printing so much. You can custom-design anything. We would like to make the file universal," Sehringer says. Shared experiences like this have the potential to influence future projects and designers. She adds, "If we release it out there, anyone can print it. The idea is for it not to be exclusive."
People with disabilities have made strides within the commercial fashion industry in recent years, through increased conversation that spans advertising, runway shows, and capsule collections. Greater diversity not only provides visibility for those who are marginalized, but also a reference for those who have had little exposure to the importance of accessibility in all scales of design. "I find myself more often explaining to people in different industries why accessibility is needed" says Jun. "Unless it's a tangible idea that really resonates with each person and field of work, it is difficult to raise awareness about accessible style that is not purely seen as charity."
Although awareness has increased, people with disabilities should have more power to shape conversations in technology, design, and fashion. Like architecture, garments house the body and fundamentally mediate how we engage with space. Garments made with universal design themes in mind hold the potential to enhance human experience, dignity, and functional capabilities for at least 15 million Americans.
"I think the idea of wearable space is something that both professions can relate to or talk about," says Jun. "There is ADA compliance for buildings but not for clothing design, yet there is much opportunity to see how they relate to each other," she adds. "One thing we are taught in fashion is that the body is not static, there is movement, and for any urban planner, it would be important to know how that movement translates to transportation or living needs."
You may also enjoy "Announcing our Metropolis Likes NYCxDesign 2019 Winners!"
Would you like to comment on this article? Send your thoughts to: [email protected]