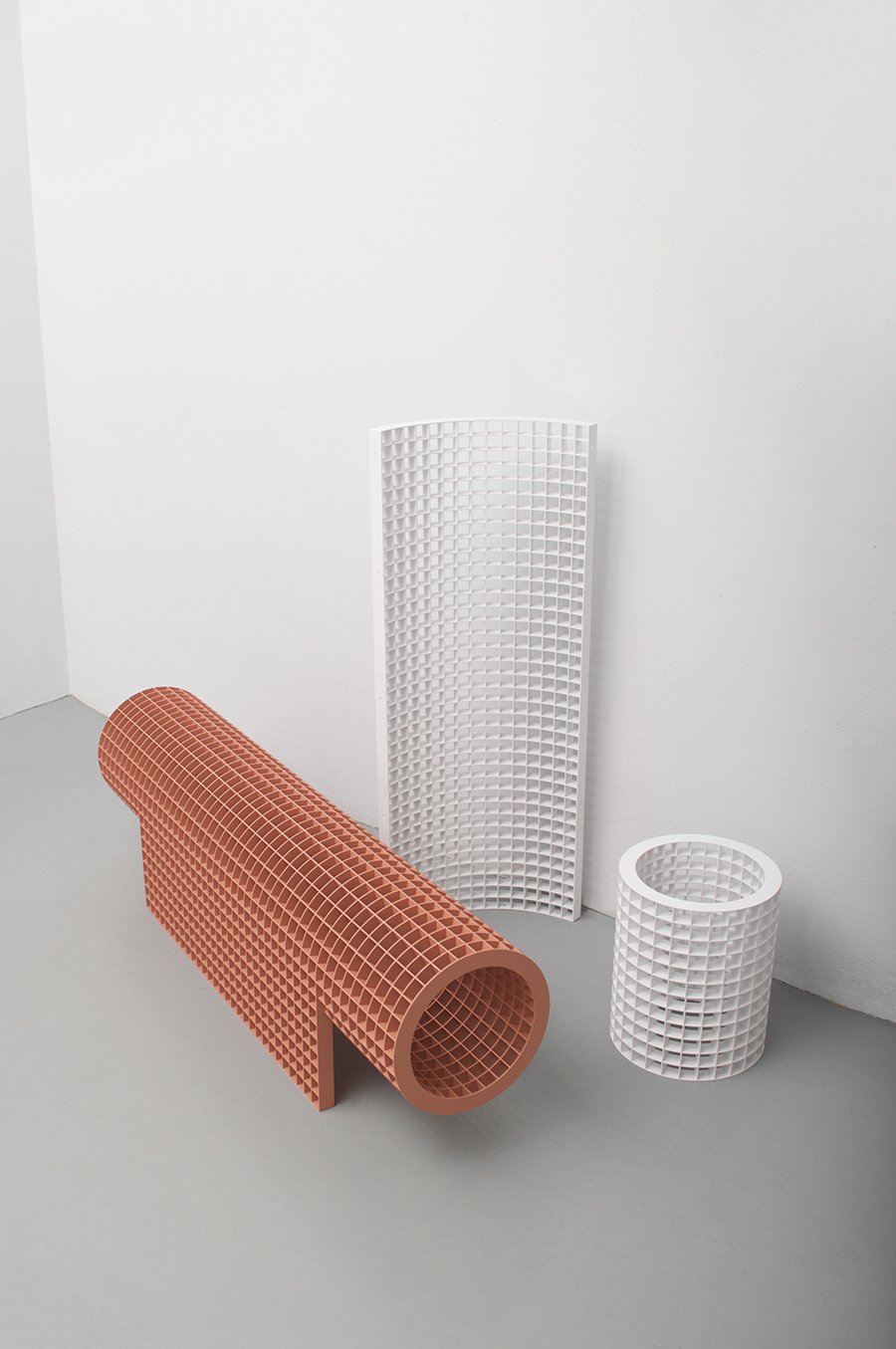 April 27, 2018
Dutch Duo OS ∆ OOS Seems to Bend Light and Space with Its Products and Interiors
Vitra presented the studio's Repeated Mirror no.2—which can create ghostly reflections—as part of the furniture company's Salone del Mobile showcase.
---
Tucked into Vitra's expansive 4 Collages, 5 News, 6 Windows *and a Whale exhibit at this year's Salone del Mobile, next to a new version of designer Jasper Morrison's Plate Dining table, was a captivating object created by Dutch studio OS ∆ OOS. The studio, led by Design Academy Eindhoven alumni Oskar Peet and Sophie Mensen, devised a mirror that uses glass and different grades of light-filtering foil to deftly manipulate light: Some reflections are clear while others, when viewed from the right angle, manifest a hazy, ghostly apparition. This design, Repeated Mirror no.2, is just the latest iteration of the duo's longtime fascination with light and transparency.
Various iterations of the Syzygy lamp series
---
For example, the studio's Syzygy lamp series was inspired by solar patterns. ("Syzygy" is a term used to describe the straight line that runs between three celestial bodies.) That series dates back to 2011, when OS ∆ OOS created the lamp's first manually-operated iteration to simulate how Earth and other planetary bodies block out sunlight.
"When starting a new project, we often begin with a concept and then search for the best materials to express that initial idea in the clearest way possible," Mensen tells Metropolis. For Syzygy, OS ∆ OOS used LED panels, layers of film-industry glass filters, and adhesive foil to simulate dawn, dusk, and eclipses. Most recently, the Syzygy concept was picked up by Italian lighting brand FontanaArte. The Heliacal lamp (as the FontanaArte version is called) debuted at last year's Euroluce lighting fair.
---
"We're not minimalists, we just like to focus on the essence of what we're trying to achieve," Peet tells Metropolis. "Every element we include has to serve a purpose." A perfect example of this philosophy is the recent limited edition Tunnel furniture concept. A play on the age-old saw horse, the new series matches structural sturdiness with new laser cutting technology. Different sized anodized aluminum cylinders are precisely cut and interlocked without any need for bolts or welds.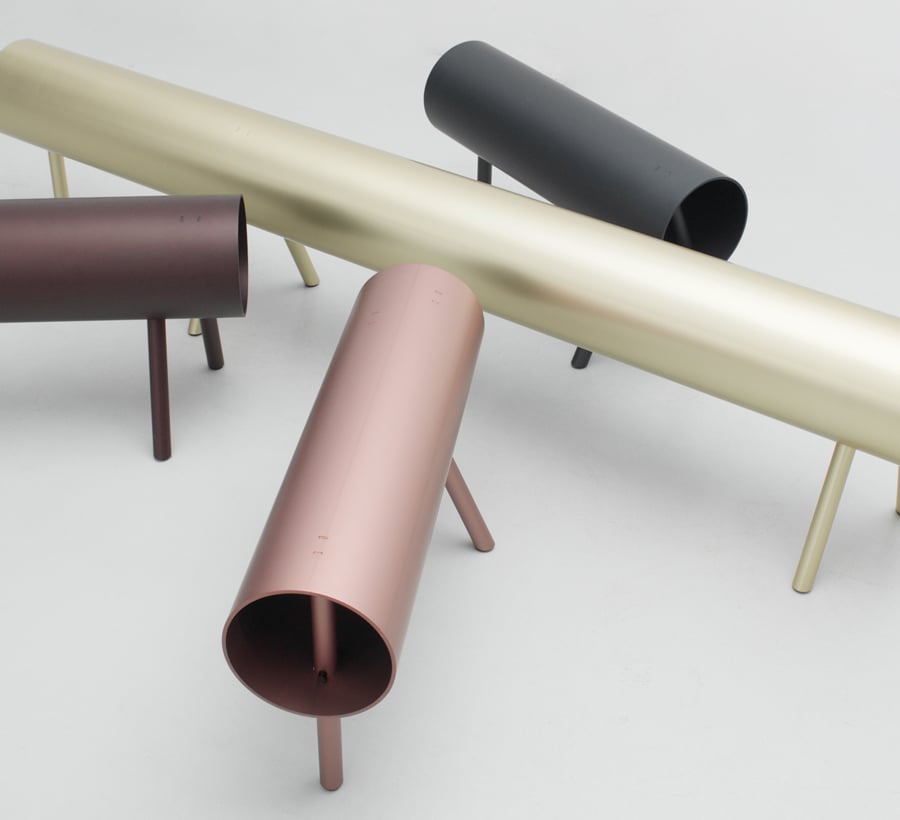 ---
That desire to play with visual perception also manifests the studio's design of the Ace & Tate boutique in Eindhoven (as well as the Matrix furniture collection that was developed from that project's interior partitions). Asked by the eyewear brand to draw from the store's urban context, OS ∆ OOS tapped into the Dutch city's rich industrial history.
Eindhoven is dotted with a series of empty factory building and, intrigued by the skeletal-nature of these spaces, the studio developed a curvilinear, open structure screen concept using a bendable steel composite. The transparency of these room dividers allows for light to flood the space. To create a unique optical effect, OS ∆ OOS curved the walls and hung multiple mirrors from them, enabling customers to test their new glasses from various angles at once.
---
Though the duo has already produced a wide range of projects, OS ∆ OOS feel that it still takes time for people to fully understand their work. "It sometime takes a year for customers to see how our designs are functional and how our industrial aesthetic could fit into their spaces," Peet and Mensen reflect. "Our goal is to work long enough that more and more people recognize our handwriting."
You may also enjoy "Metropolis's 7 Top Picks from Salone del Mobile."