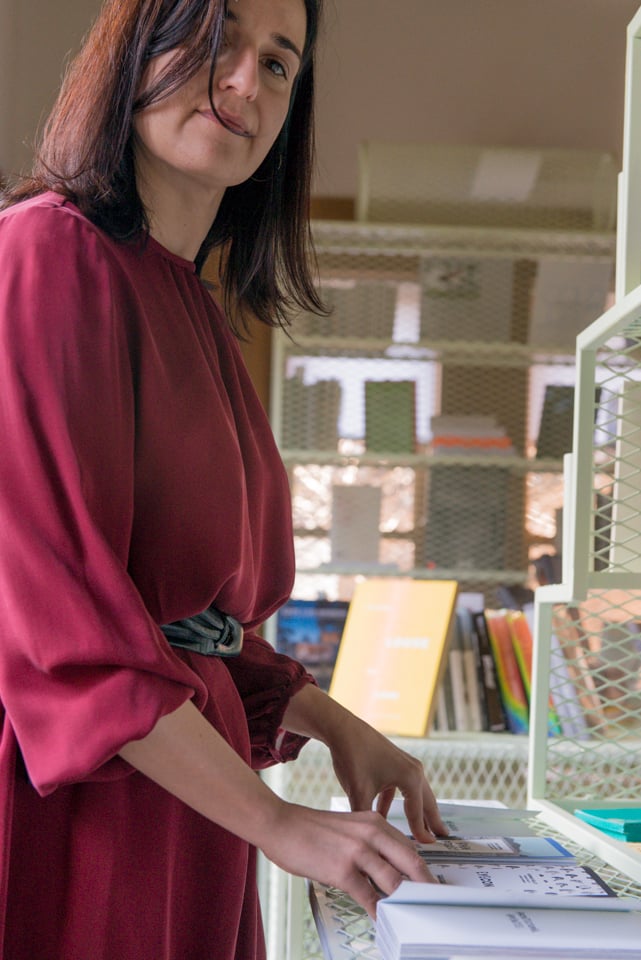 January 26, 2016
The Woman Making Chicago America's Architectural Epicenter (Again)
Administrators and curators often speak different languages. The director of the Graham Foundation is fluent in both, as she has proven by spearheading Chicago's inaugural architectural biennial.
Sarah Herda has been the director of the Chicago-based Graham Foundation since 2006. During her tenure, she has transformed the Graham from an anonymous institution to a dynamic cultural node in Chicago.
Make no mistake: Sarah Herda is not a curator. Though she organized the inaugural Chicago Architecture Biennial in 2015 and serves as director of the city's Graham Foundation, which hosts three exhibitions a year, one of which originates at the institution, Herda has long shunned that particular title. "I prefer 'exhibition maker,'" explains the inveterate multitasker, but she pauses to rethink the nomenclature. Most standard job titles fail to convey the full scope of her professional responsibilities: "I also happen to be very involved in the audits and taxes."
After years of pondering such honorifics, Herda simply created her own for the Chicago Architecture Biennial. Having worn many hats at some of the most influential nonprofits, think tanks, and galleries in the American architectural milieu, she devised a title that seemingly explains it all. In her capacity as co-artistic director of the 2015 biennial—she shared the billing with architect and editor Joseph Grima—Herda oversaw multiple facets of the exhibition. Together, the directorial duo selected the 130-odd participating architects and artists, supervised installation, and developed off-site programming. Just as crucially, they saw to a whole host of other numerous departments, including fund-raising (the pair supported Chicago's Department of Cultural Affairs and Special Events and the Mayor's Office in securing venues and raising the biennial's $5 million budget). Herda doesn't hesitate to draw on her wide range of skills in order to get things done. "I feel that's really important," she says. "Sometimes things get siloed, like there's administration and then there's curatorial. I've always worked in organizations where that's all connected."
In taking on several oft-sundered roles simultaneously, Herda has developed a holistic model for operating architectural institutions, one that mirrors the expanded, interdisciplinary definition of the profession currently gaining traction. The Chicago Architecture Biennial's varied displays—from Sou Fujimoto's potato chips arranged just so, to Tomas Saraceno's backlit spiderwebs, to numerous infographics and four full-scale mock-ups—argued that architecture does not begin or end with buildings, but rather can take on diverse forms, functions, and ideas. "We really tried to include in the biennial this full range of thinking, this full range of spaces that practitioners are occupying in the field," Herda says.
One could say that Herda has been training for this role nearly all her professional life—she has been the director of one architecture nonprofit after another since graduating from Mills College in Oakland, California. Though the Seattle native seriously considered becoming an architect, she felt she ought to understand the discipline. During a visit to the Southern California Institute of Architecture (SCI-Arc) in Los Angeles while in high school, she had an epiphany: "I just realized that I needed to learn how to read and write first." She went on to study English and got her initial training in design thinking on the job at William Stout Architectural Books in San Francisco while still a student. "I became both aware of and interested in [architectural] books and exhibitions," she recounts of her earliest gig in the design field. One summer, Stout sat her down with a full run of the seminal Arts & Architecture magazine. "Out of that, I became aware of [figures like] Esther McCoy and John Entenza, who later became the director of the Graham Foundation," she recalls. Nearly 20 years later, Herda has come full circle: Since becoming the first woman director of the Graham Foundation in 2006, she has developed an innovative set of grant-making programs, exhibitions, and publications that echo her salad days spent poring over texts and catalogues in the Bay Area.
As co-artistic director of the inaugural Chicago Architecture Biennial, Herda oversaw nearly every aspect of the event, including curatorial direction and supervising the installation of works such as MOS Architects' House No. 11 prototype (above).
---
Herda's route to the executive seat of the Graham's stately Prairie School mansion took her from San Francisco to New York. At 21—straight out of undergrad—she was hired as the director of San Francisco's Art and Architecture Exhibition Space/Center for Critical Architecture (2AES for short). Herda helped organize a lecture series and exhibitions at the tiny, now-defunct think tank and gallery, and her experience there became the basis for her impressive achievements since. "I was thrilled to be a part of something, and I just did everything . . . . I learned from other people, from looking at other organizations, which I'd say I still do today."
After two years with 2AES, Herda moved to New York to work as director of marketing and sales worldwide at Monacelli Press. Though she enjoyed the publishing world, it was, perhaps, not diverse enough for her. Thus, when the Storefront for Art and Architecture came calling in search of a new director in 1998— "a kind of lifetime opportunity"—she gladly answered. "I really love being in that space of helping produce projects, and also engaging with the public, that particular intersection," she says. Yet it was a transitional, somewhat difficult period for the Soho organization: Kyong Park, who founded Storefront in 1982, had left to pursue other projects, and the board wasn't quite sure how to continue and further develop the organization without him. Herda came on as Storefront's second director to help create an identity and an agenda, a task that involved "a lot of deep institutional work." Over the course of eight thrilling years, she oversaw 40 exhibitions, inaugurated Storefront's annual benefit gala, built a comprehensive mailing list, and executed innumerable other tasks. She organized a show about architecture of the Cuban Revolution long before the country was a hot-button topic in architecture circles, she worked with Rem Koolhaas associate Petra Blaise and other renowned designers, and she turned Storefront into a cutting-edge forum for architectural and interdisciplinary discussions on the East Coast.
"Sometimes things get siloed, like there's administration and then there's curatorial. I've always worked in organizations where that's all connected."
"I didn't even have a résumé," Herda confides when asked about her relocation to the Graham in 2006. "I was 31 or 32 when they contacted me," she recalls of the board's interest in hiring a new director. "All I did was write a list of all the shows I'd done at Storefront." In the decade that has transpired since she began her tenure, Herda has regularly looked to the Graham's institutional history to regenerate public programs and expand grant-making. "We've funded so many significant projects throughout our history, like Robert Venturi to do the research that led to Complexity and Contradiction, or Rem [Koolhaas] to work on and publish Delirious New York," she explains. One of her central goals now is "to leverage that history to support our new grantees who you may not yet know, but on whom we're making the same bets that they have an idea that is pushing at the boundaries of the field."
But while Herda is deferential to institutional legacy, she is far from timid about forging new territory for the Graham. When she started at the foundation, it had no exhibition space, and the imposing first-floor rooms were used as offices. Herda took her time rethinking and renovating the space, moving staff offices upstairs to smaller quarters and reconfiguring the lower floors as galleries and a stellar bookshop with hard-to-find architectural books. One of her greatest contributions is turning the Graham into a place that welcomes the public and treats architecture as a field open to appreciation by all, not only specialists or professionals. The Chicago Architecture Biennial amplifies this philosophy. With this show, Herda gave some of the same emerging figures whom the Graham has supported via grants—and a wide swath of young international practitioners—a global stage to further explore their ideas. (Not to mention that it put Chicago on the map in a whole new way; though the city has long been admired for its muscular 20th-century buildings, the biennial made it an important destination to discover new design.)
It is, of course, an impressive feat to develop the newest institution in American architecture and also run one of the country's oldest. Reflecting on the past decade, Herda is quick to praise everyone else involved: "I'm just a figurehead who represents a lot of hard work by incredible people. The biennial team, the Graham team—they're just incredible people." And yet, Herda deserves ample credit for her mettle and her motto: "Anything can be done," she says. "You just figure out how to do it."
Held in the 19th-century Beaux-Arts Cultural Center building, the biennial's central exhibition cast a wide curatorial net, encompassing an improbable mix of themes, histories, and technologies.
Summer Vault, one of the three pavilions to be built for the biennial, is installed in Millennium Park, opposite the cultural center.
The main exhibition at the biennial included Japanese architect Sou Fujimoto's highly Instagramable installation Architecture Is Everywhere, which depicted a pile of potato chips and toothpicks as architecture.
Perhaps Herda's most exciting programmatic additions to the graham Foundation are its exhibitions. Barbara Kasten: Stages (above), which opened to coincide with the launch of the biennial in October, highlighted the sculptor's architectural artworks on the first-floor gallery.
Courtesy RCH | EKH