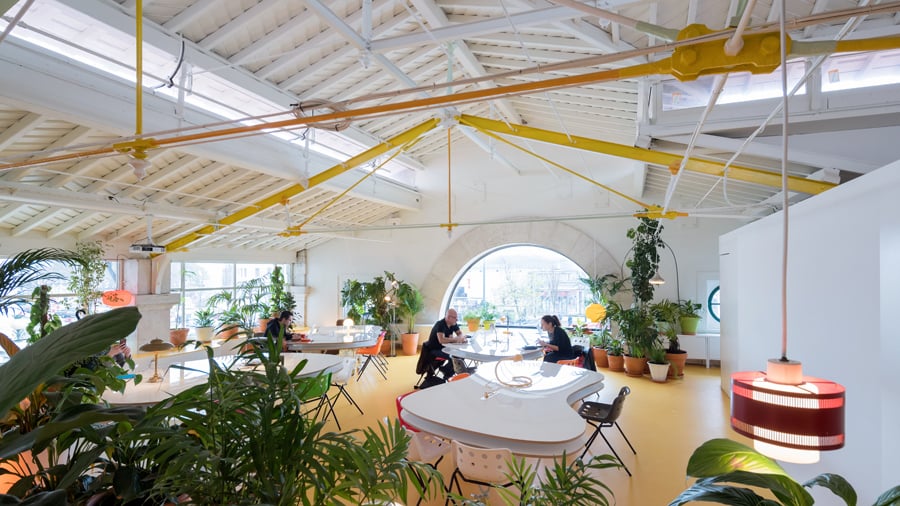 June 26, 2017
The Spanish Architects Mastering the Art of the Coworking Space
By collaborating with the start-up incubator Second Home, Spanish architecture firm Selgascano has perfected its workplace designs, in which the organic and the artificial happily coexist.
The open-plan office space has its origins in the late 1950s, when Quickborner, a German design group, came up with the concept of Bürolandschaft, or "office landscape." The firm's proposal for a workplace layout where desks were grouped into islands to facilitate human contact and a breakdown in hierarchy is now conventional wisdom. Open-plan workspaces are commonly thought to be the optimal working environments across most sectors, but particularly in the tech and creative industries, and for entrepreneurs who participate in the "sharing economy."
Selgascano—a professional and matrimonial partnership of Spanish architects José Selgas and Lucía Cano, known for their amorphous, avant-garde proposals for conference centers, a skate park, and the 2015 Serpentine Gallery Pavilion—has garnered something of a fan base within the free-wheeling, design-savvy digital workforce for its wildly imaginative open-plan office spaces. The couple's lack of formalism and penchant for low-cost materials, color, and curvaceous lines are highly apt for cloud-based industries, where days are long and companies fold, expand, and morph overnight with every takeover and funding round.
But Selgascano's popularity may be due to the fact that its spaces have a tangible organic feature. Biophilia is the belief that human beings have a profound innate need to connect with nature. When applied to design, it aims to bring nature into the built environment, and research at the University of Manchester (U.K.) has shown that in the workplace, biophilia results in better performance, a sense of community, and enhanced well-being.
Selgascano first tested out these ideas in its own studio space. Situated in La Florida, a verdant suburb on the outskirts of Madrid, it was constructed on the same gently sloping plot as the couple's private home. The Plexiglas-enclosed space, built over various levels, is surrounded by a woodland of oak, chestnut, elm, and citrus trees, not one of which was altered or removed to accommodate the structure. The studio occupies a spot originally allotted for a pool, and is also partially sunk into the terrain.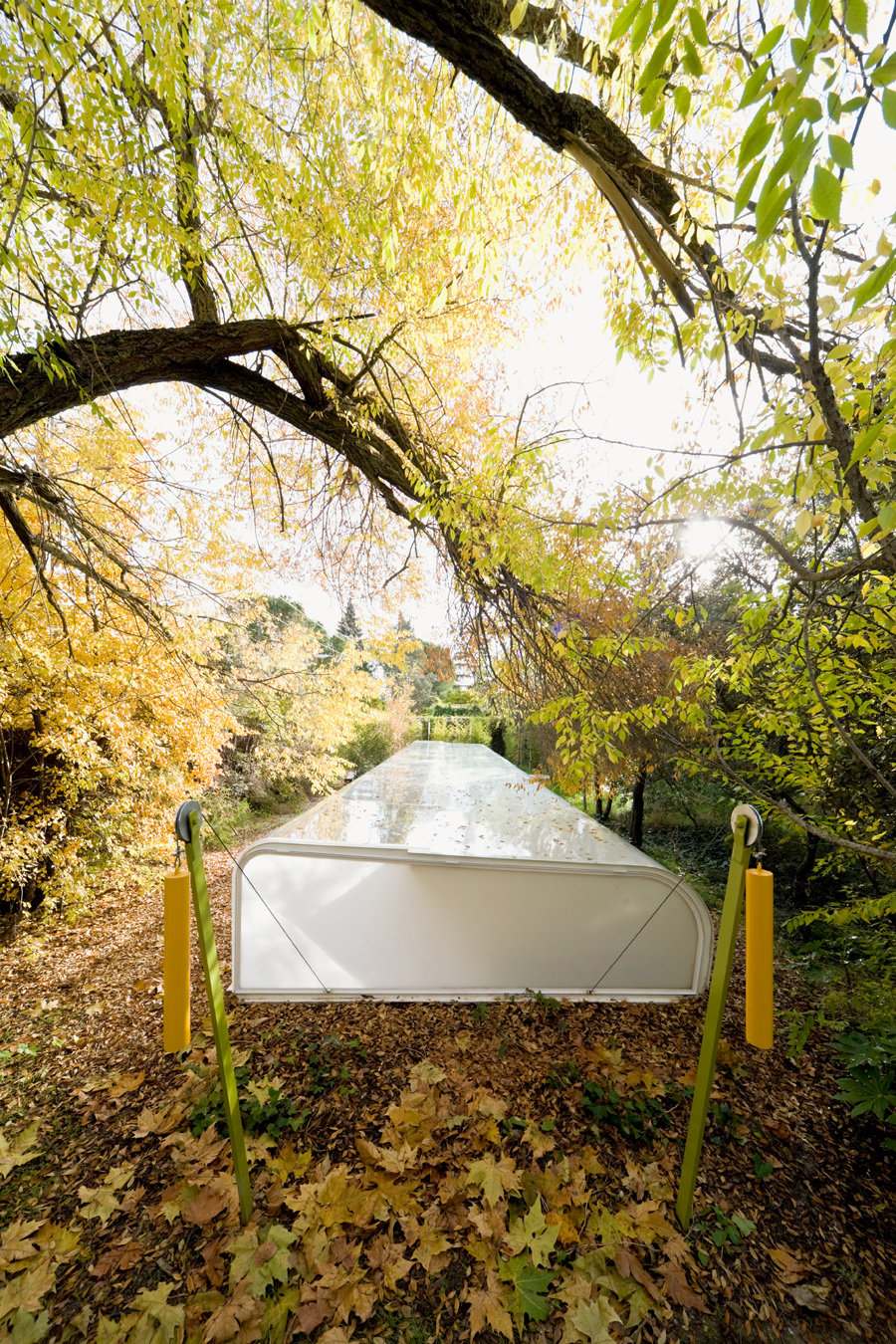 The starting point for the project was elegantly simple: to work under the trees. To do that, the pair needed a roof that was as transparent as possible, but they also had to shelter the desk areas from the harsh Spanish sunlight. They created what they have termed a "sandwich"—a pavilion composed of curved sheets of Plexiglas supported by a steel frame on the north side and a double sheet of fiberglass and polyester on the south side, which receives the most sunlight.  The fiberglass element proved to be the most problematic, as local companies were not interested in producing it for such a small project. So the architects contacted a manufacturer of railway carriages, which eventually provided the piece when the company could integrate it into its production line. The structure is half buried to give horizontal views of the surrounding landscape, and the Plexiglas sheets can be opened and closed via a series of pulleys and counterweights to let air and nature in. "It's very wild here," says Selgas, who has stated that the best part of living in a city is being able to disconnect from it. "But we love it. Now ivy is creeping in."
The project caught the eye of Rohan Silva and Sam Aldenton, cofounders of Second Home—successful incubator and cultural spaces that accommodate start-ups, innovation teams of blue-chip companies, and social enterprises, and whose philosophy is built on good design as a support for creative synergy. "We were drawn to Selgascano because they have a deep understanding of the forces of nature and environments that are better for us," says Silva. "I think we also wanted to lay to rest the idea that it's only big corporations like Google and Apple that are able to recruit the best architects. Small teams and orgs like us can also do that. One of our aims is to democratize beautiful spaces."
For its part, Selgascano was attracted to Second Home not just for the challenge of creating beautiful and functional coworking spaces—there are plenty of those in Europe already—but because of the client's genuine commitment to enlivening local communities and bolstering the arts. "With them it's not only about commercial space," Selgas explains. "It's space that is meant to be shared, with debates, events, and music. That aspect was super important for us." The partnership has been extremely fruitful, with two projects now built, another due to be completed in London by the end of this summer, and a branch in Los Angeles in the pipeline for 2018. Selgascano's colorful, retro-futuristic concept for Second Home has become integral to its brand.
The first branch, located in Spitalfields—a revitalized area of East London that has developed into a hub for contemporary creatives—is situated in an old art-supply warehouse. Flexibility for  different types of clients (who range from single workers to midsize start-ups) was a key consideration, along with areas for yoga classes, film screenings, presentations by the likes of Richard Rogers and Stella McCartney, and relaxation, where workers could socialize, cross-pollinate ideas, and enjoy great food. Every nook and cranny had to serve a function—or several—be bathed in natural light, and keep sound levels to a minimum. The overall challenge was how to organize a potentially chaotic program and still gain maximum leverage in terms of occupancy.
The architects did this by using two devices: constant visual and physical fluidity, which stops users from feeling lost or hemmed in by a particular space, and control over noise levels through sound-absorbing carpets and greenery, along with curved surfaces that scatter sound in various directions. The undulating transparent and reflecting partitions; a palette of cheerful yellow, orange, and green tones; and thousands of plants growing in hydroponic conditions create a unifying landscape, not just in visual terms—your gaze effortlessly flows from one end to the other, from top to bottom—but also for the clients, who can move around freely while deciding where to lay their laptops.
A new Second Home in Lisbon employs the same lighthearted inventiveness and "house of fun" ethos on a much smaller scale. It is situated in an L-shaped former storage facility on the second floor of the handsome Mercado da Ribeira, the city's oldest food market and now a major tourist attraction. It could well prove to be a model for other European fresh produce markets looking to downsize and reutilize excess space.
"To divide the space would have amounted to destroying it," says Selgas. "And our main concerns were to preserve the original elements—the trusses, the structural cast ironwork, and windows that look out onto the market traders below." Ducts were discounted, as they would have interfered with the harmony of the space. Instead, a radiant floor was installed that provides heating and cooling with base temperature and cross ventilation.
A huge table sits in the longer arm of the L. Resembling the offcut of a giant sheet of cookie dough, circular niches sawed into the perimeter act as individual workstations. Privacy is provided by a mass of more than a hundred different plant varieties, including wisteria, croton, and philodendron, which must be watered by the workers themselves, facilitating, as Selgas says, a sense of togetherness. In contrast to this area, which has been freshly painted in white with splashes of canary yellow and pale green, the communal area (in the shorter arm of the L) has been rendered a powerful YSL blue. Mechanical systems and electrical hubs are tucked behind a plastic curtain of the same shade, and nearby workers sip craft coffee on a sinuous yellow banquette.
Like the Spitalfields address, the decor is an eclectic mix of hi- and lo-fi: The furniture and lamps were sourced by the architects in flea markets, and denote midcentury Modernism. A homey touch, for entrepreneurs whose domestic and professional lives constantly blur at the edges.