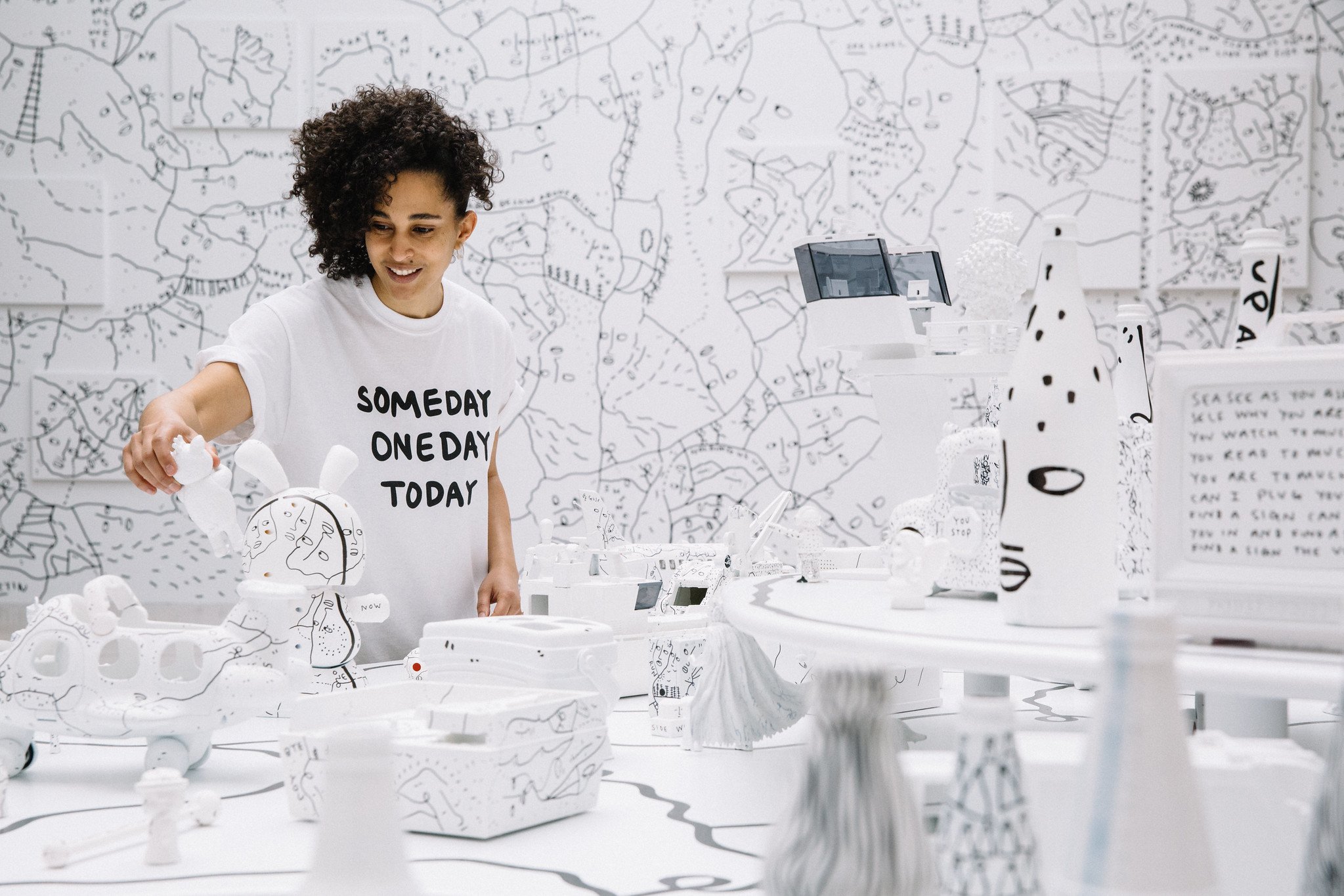 October 3, 2022
Shantell Martin Shares the Stories of Music and Scholarship Behind Her Artwork
But there's more left to learn about Martin, like her music and the fact that she has taught the complex process behind her simple line art at New York University. She elaborated on these and other facets of her practice during a recent phone call with Metropolis editor Kelly Beamon. What follows is the first of that two-part interview.
KB: Besides your spatial work, you've done product collaborations with B&B Italia, Kelly Wearstler, Tiffany and Company. I'm probably going to miss some stuff. Nike, Adidas, Puma, and textiles. Is that right?
SM: Momentum Textiles.
KB: Yes! And now you're launching a line of snap-together tables with furniture company Hoek.
SM: Yeah, now Hoek. I've also worked with a couple of other furniture companies Vitra, Artech. A little bit with Ligne Roset.
KB: Oh, what did you do with Ligne Roset?
SM: We took my textiles for Momentum, upholstered [Michel Ducaroy's] Togo seating and displayed that in my show at the New Britain Museum of American Art.
KB: Those commercial projects barely scratch the surface of your total projects, which is so expansive. Would you take our audience on a deeper dive into your practice? Like you're class at NYU in the Tisch Interactive Telecommunications Program (ITP). That is something I didn't expect.
SM: I've had this kind of side path in academia that I'm not sure a lot of people know about. But, quite early after I moved to New York from Tokyo, I started to speak at some of these motion graphic conferences or these kind of more nerdy types of conferences. And through that I got invited to teach at ITP.
I ended up being an adjunct professor there for probably seven plus years. My class was called "Drawing on Everything."
KB: What a great title.
SM: It was about drawing metaphorically and physically: Drawing from your own abilities, drawing from your own identity, drawing from your own signature, your internal core. And the final goal of this 12-week semester was that we would do a performance piece hosted by the Museum of Moving Image.
KB: Forgive the pun, but how did that draw on your process of 'performing' your drawings in front of people in real-time?
SM: I came [to New York] from Japan [where I was] performing and doing things live, so I know the benefits of doing something in public and [letting] something live creatively. . . . This [final performance] meant we had a goal and a destination and something that the students could build towards.
But during the course of the class, we were looking at a lot of different exercises that were time-based.
KB: What were those like?
SM: Almost like a boot camp or a series of these exercises—individually, groups, pairs, smaller groups. My stipulation for the performance piece is that it has to have a foundation in drawing, but that drawing can take many different thoughts. It could be code, it could be puppetry, it could be dance, it could be actual drawing, it could be something else in between all of those.
We'd do all these sorts of drawing and moving and creativity exercises, so that I could get them in a place where they're just making, just writing, just drawing, just moving. And what happens is, over time when you create all these exercises and save the results, you get to look back and say, 'Hey, there's some recurring themes here.'
And those themes might take the form of the types of density that a student's using. Maybe there's words that appear, maybe there's no words, but maybe there's a color, maybe there's thickness of the type of tools that they're using.
KB: Hmm. It sounds like a way to achieve more authentic work.
SM: There's this power of reflection and looking back at work you've made consecutively over a long period of time, and then extracting the common threads throughout that work. And then I would be like, "Well, this is your style. This is your identity."
KB: That doesn't seem like something you'd expect to learn in a class that's part of "interactive telecommunications" studies.
SM: Of course, the program is very tech driven. [Students] are learning how to code and all this really fun tech-y stuff. But then they get spat out at the end of that course, not really pulling any of them themselves or their identity into the work. How do you stand out, when you are one of very many people graduating from a course like ITP at different schools? They're all trying to apply for [jobs] at these startups or different companies. What makes you uniquely you, and allows you to stand out a little bit? You need to infuse that into the other technologies that you're learning.
Would you like to comment on this article? Send your thoughts to: [email protected]