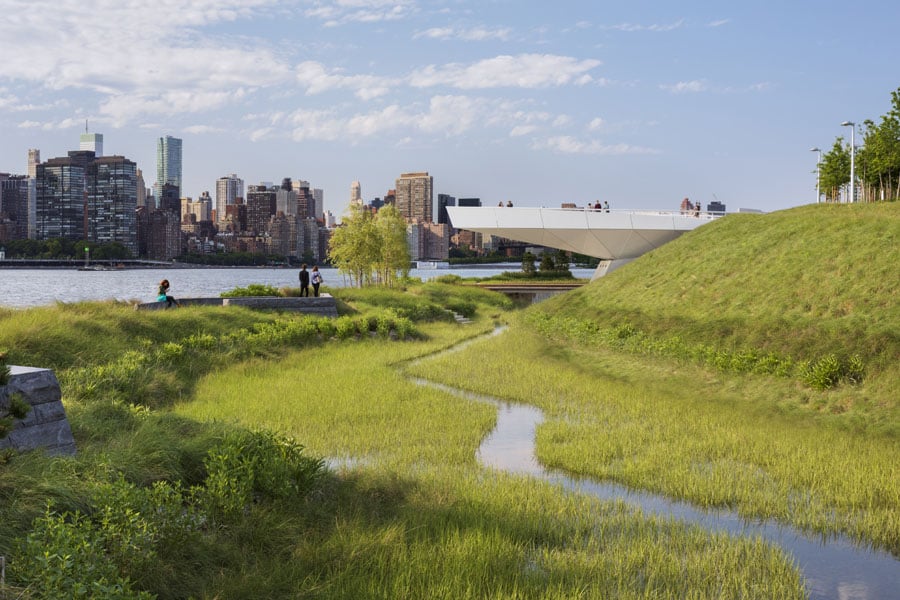 October 30, 2020
For Thomas Balsley, Public Space Is the Truest Form of Democracy
The landscape architect discusses transforming New York, designing for resilience, and creating places for the people and the planet.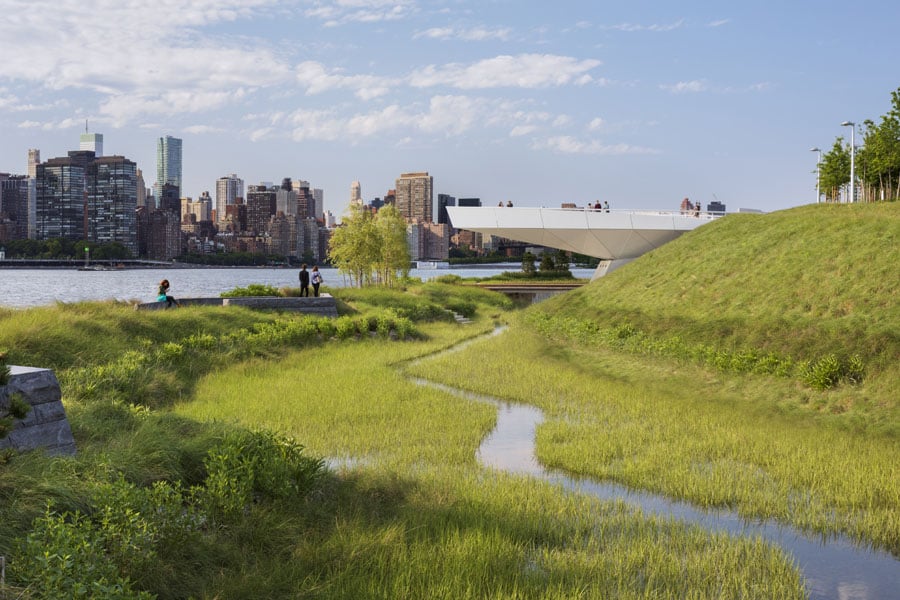 The Summer of 1969 was at its height when a young landscape architect named Thomas Balsley arrived in New York City to start his own studio. It was a place he'd been dreaming of since the age of 12, but the reality he stepped into was a world away from the magical metropolis of his imagination.
"The greatest city in the world was literally graffiti-covered, burning, and bankrupt," Balsley remembers half a century on. The malaise was encapsulated by the city's architecture. "Design was at its lowest point. Public spaces were stigmatized as the receptors all of the city's ills, and there was no aspirational contemporary design conversation."
Looking back from 2020, few can underestimate the impact Balsley has had on New York City—where he's designed more than 100 parks, plazas, and waterfronts. A long-time practitioner of holistic, social, economic, cultural, and design sustainability, Balsley argues that public spaces "are among society's truest forms of democracy."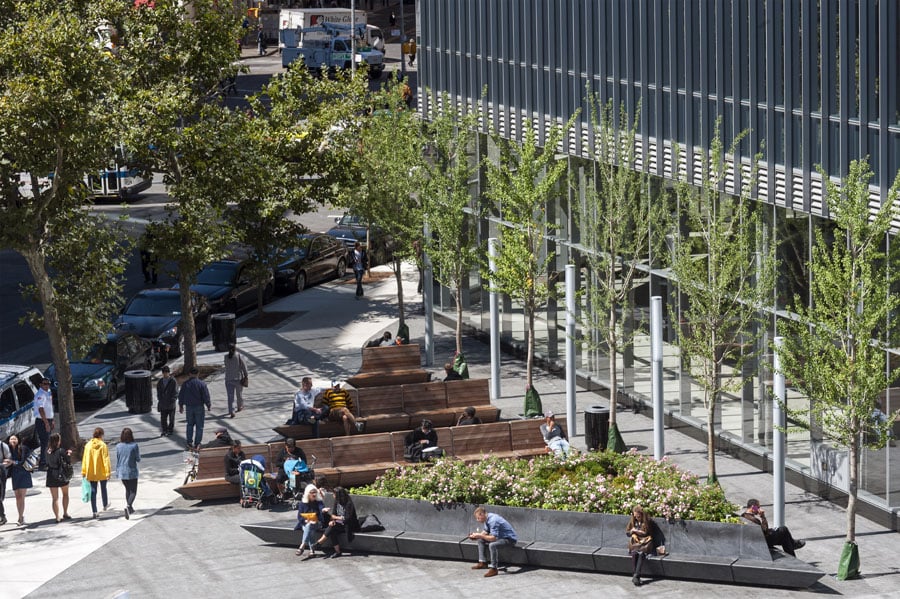 Where Public Meets Private                                          
Balsley credits much of his early success to the emergence of New York's incentive zoning bonus program in the 1960s, which encouraged developers to build higher, which not only offered great views but boosted their profits in exchange for public plazas (which they would pay for and maintain in perpetuity.) "Lacking teeth in the city's guidelines, the initial plazas were flat, empty spaces," he explains. "They were barren foregrounds to buildings and typically in the hands of architects who had little interest in how the public was going to use these so-called public spaces…and so the public didn't use them."
Urbanists were suddenly in demand, and Balsley, ambitious and raring to go, made sure he was in the right place at the right time. He has been designing privately-owned public spaces (POPS) ever since. He concedes that when it comes to developers, some are enlightened and aligned with a city's public benefit goals, while others have "only a bottom-line interest." His approach is to convince them that he can deliver both for them, and the public.
"I point to the city's guidelines and say 'I need to do what is required here for you to get your bonus. I can add value to your front door if this is a successful public space, so the public's interest is in your best interest.'" As a result, says Balsley, there are now 95 acres of public open space in the middle of Manhattan that weren't there before, created at no expense to the taxpayer.
Social Observations
Anthropology is an important consideration in Balsley's work. "Usually most studios begin a project by doing site analysis with respect to natural systems," he says. "Of course we do that also, but we're just as interested in the social systems of that space and its neighborhood. I'm a big disciple of Holly Whyte, so I look at our work through the lens of a sociologist."
He cites the example of Capitol Plaza on West 27th Street in New York, just a block away from Madison Square Park, whose restoration has transformed the neighborhood into trendy 'NoMad'. "1850s Madison Square was aimed at the well-heeled class who would promenade past long rows of benches," he says. "This model simply doesn't resonate with the collaborative creative class of today who is seeking social interaction. Capitol Plaza was designed as an alternative that would appeal to the 21st century of recreation."
These days, Balsley says his greatest design satisfaction is to take his family to Balsley Park on 57th Street—named in his honor—or to Perk Park in Cleveland "and to see it teeming with people from all walks of life."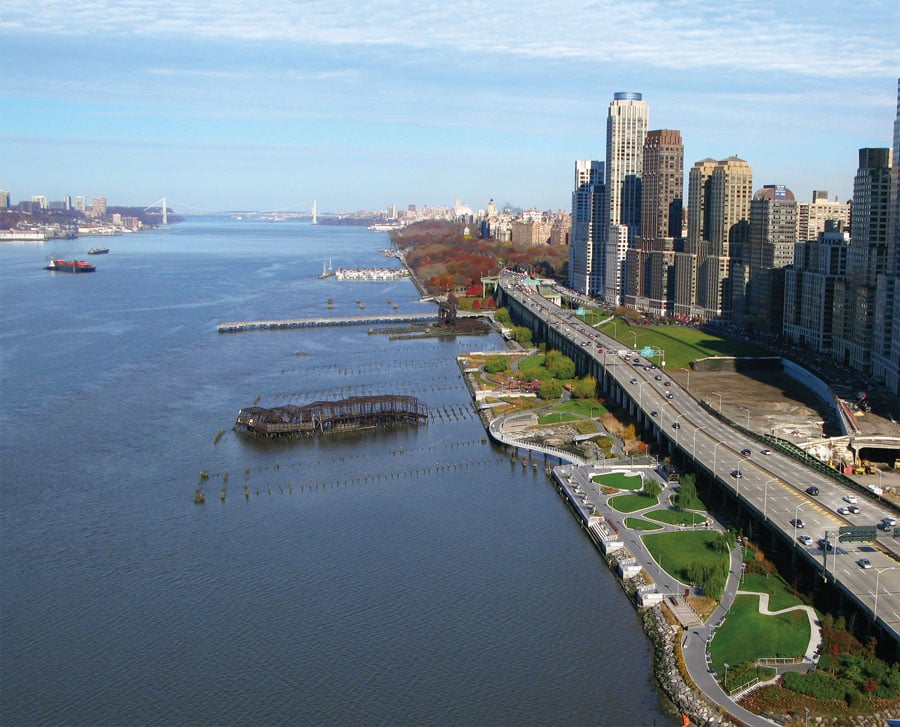 The Urban Frontier
It's not just designing in the densest parts of cities that appeals to Balsley, he is also fascinated by the spaces where cities meet water.
He explains, "There is a worldwide revitalization phenomenon of abandoned post-industrial waterfronts that were once the lifeblood of cities but now have no chance of industrial revitalization and continue to deny public access to the river."
His first waterfront project arrived in 1991 when he was given the chance to lead the Riverside Park South 30-year Masterplan, which has transformed the city's industrialized West Side Yard into 26 acres of parks and public space along the Hudson. This plan boldly calls for the relocation of an elevated highway through new at-grade tunnels, which in turn will be covered with a new park. Inaccessible railyards will be replaced by overlooks, tidal marsh, promenades, cafes, piers, and maritime landscapes where Westsiders can now connect with their river habitat and each other.
Balsley, along with Weintraub di Domenico, also oversaw the design of a new park system for Queens West; the massive waterfront revitalization of a forgotten brownfield site in the shadow of the U.N. on the East River. "More than others, this project became a model for a holistic and collaborative approach to social, cultural, historical, and environmental challenges such as gentrification, inequity, storm surge, and long-term care."
The last component of that vision, Hunter's Point South Park, has won over 30 national and international medals and was finally completed in 2019. It has been widely hailed as a global model of urban ecology and innovative resilient strategies. In addition to its community park and village green, remnants of the site's rich industrial past and riverain habitat have been cleverly integrated into a sloping landscape with a dramatic cantilevered overlook.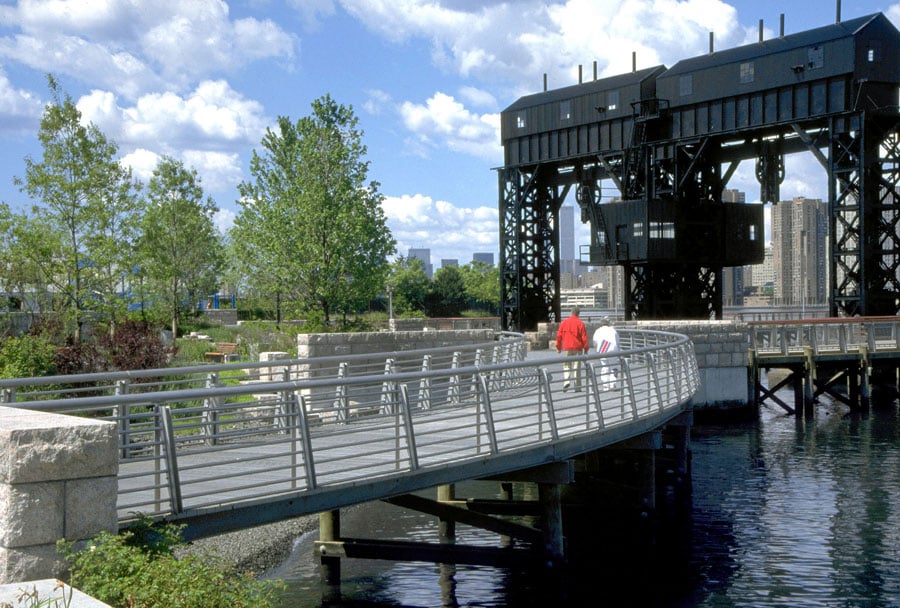 Resilient and Safe Public Spaces
Resiliency was at the forefront of Hunters Point South Park's planning and multi-discipline designs. Sophisticated landscape engineering employed the use of tidal marsh and grasslands to catch, absorb, and release storm flooding. The approach was vindicated in 2012 before the first phase had even been completed when the park withstood a four-foot storm surge brought by Hurricane Sandy without damage.
According to Balsley, environmental resiliency should be considered more holistically to include social, economic, and cultural resiliency. "Our job is not just to protect the communities from flooding," he says. "It's much broader. It requires all our disciplines–architects, urbanists, civil and marine engineers–to collaborate and put aside egos and turf protections for the sake of this once-in-a-lifetime calling. Landscape architects are the generalists who should be at the head of the table to bring all these thoughts to bear while ensuring that the public benefit and enjoyment portion is given its due."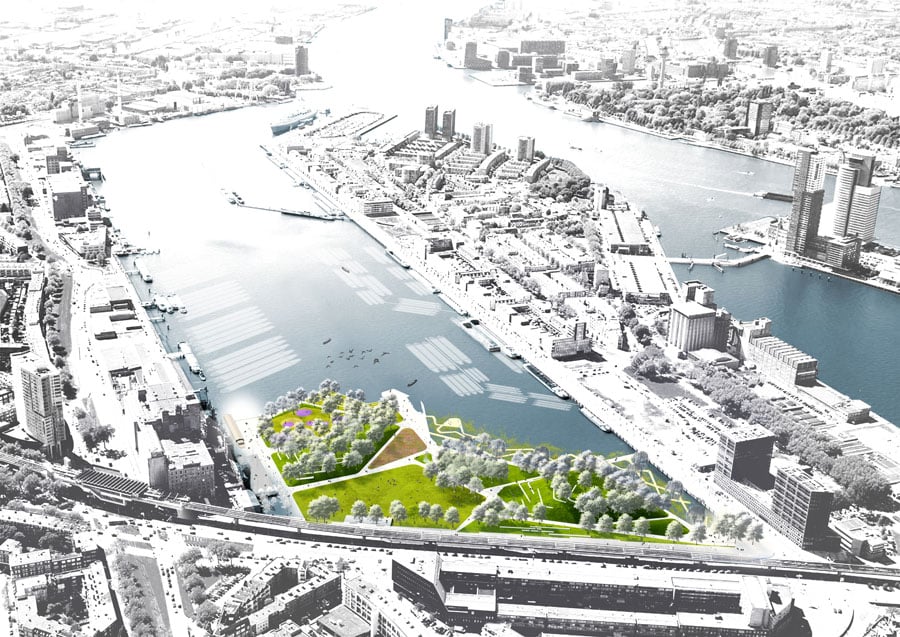 Looking to the future
In 2017, Balsley's practice joined forces with SWA, the largest landscape architecture firm in the United States, with a network of nine studios worldwide. In 2019, SWA/Balsley worked with 5+design and won the international design competition for Paveletskaya Plaza; a new civic destination in the foreground of Moscow's historic train station.
In parallel, Balsley is working on a new park in Rotterdam. "We're filling in the city's Maashaven quay with a new park for a largely underserved immigrant community," he explains. "Rotterdam city officials visited Hunter's Point South Park, flush with public life, and concluded they needed the same."When finished, Maashaven Park will feature multi-purpose lawns for community events, dramatic landforms, shaded all-age play areas, a cultural center, a marsh walk, tidal pools, and wetland habitats.
"The aim of the project is the same as all my projects," says Balsley. "To creatively and strategically fuse design, art, urbanism, environmentalism, and a social conscience into public spaces that are good for people and the planet."
One thing remains clear: Balsley has no plans to slow down. "The fire has burned in my belly for 50 years and is still going strong," he says. "Why would I stop now?"
You may also enjoy "For Thomas Woltz, Soil Is the Most Important Surface There Is"
Would you like to comment on this article? Send your thoughts to: [email protected]
---
Register here for Metropolis's Think Tank Thursdays 
and hear what leading firms across North America are thinking and working on today