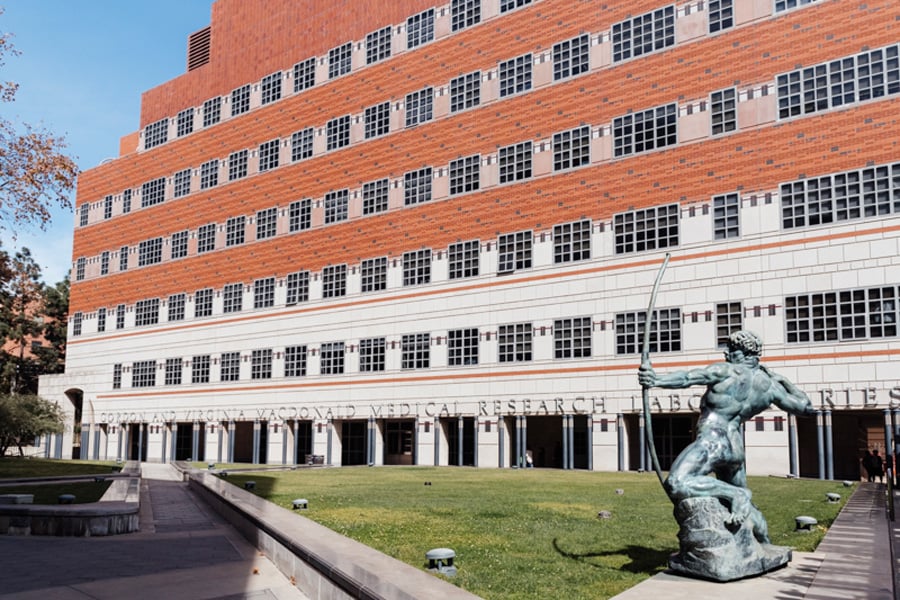 June 1, 2018
Surveying L.A. Pomo: Venturi Scott Brown & Associates
In this series of articles, Metropolis celebrates the diverse, innovative Postmodern architecture coming out of La La Land between 1975 and the early 1990s.
In this series from our May issue, we revisit the under appreciated architectural experimentation that characterized urban development in Los Angeles from the 1970s to the early 1990s, and discover a variety of individualistic, unconventional, and radical styles—some of which occasionally even approached "fun." Stay tuned to our homepage as we add more entries!
---
To talk to Denise Scott Brown is to listen to Denise Scott Brown. To talk to her about laboratory design, a too-often-neglected architectural typology, is to pull at a seemingly endless string of subjects, including campus planning, Ricardian rent theory, and—quickly now—Postmodernism. The design of laboratories, she states somewhere along the way, "is an honorable problem"—one she and partner Robert Venturi tackled throughout the '80s and '90s, when the two built a string of them, first at Princeton, then UCLA and UPenn.
Among the buildings' commonalities are their "honorably squat proportions" and patterned brick facades that are right at home in their Romanesque collegiate settings. Scott Brown is particularly proud of the UCLA tableau, which features, on the building's street-facing front, a playful sequence of Renaissance double arches. "I was thrilled," she says, "when they had the opening [of the lab] because they gave out pins with that theme of the double arch on them."
But what she would really like to talk about is the project's urban siting and the way it inhabits its sloped perch. The two "big shoeboxes" of the Gordon and Virginia MacDonald Medical Research Labs and the Gonda Neuroscience and Genetics Research Center commune over a central quad, cranked up a couple of stories to accommodate an underground parking garage. The green is crisscrossed by diagonal footpaths that connect the complex to the Westwood Plaza thoroughfare via two grand stairs at the short ends of the lab block. It's a seamless itinerary and attests to Scott Brown's skill in planning.
You might also like, "Surveying L.A. Pomo: Franklin D. Israel."