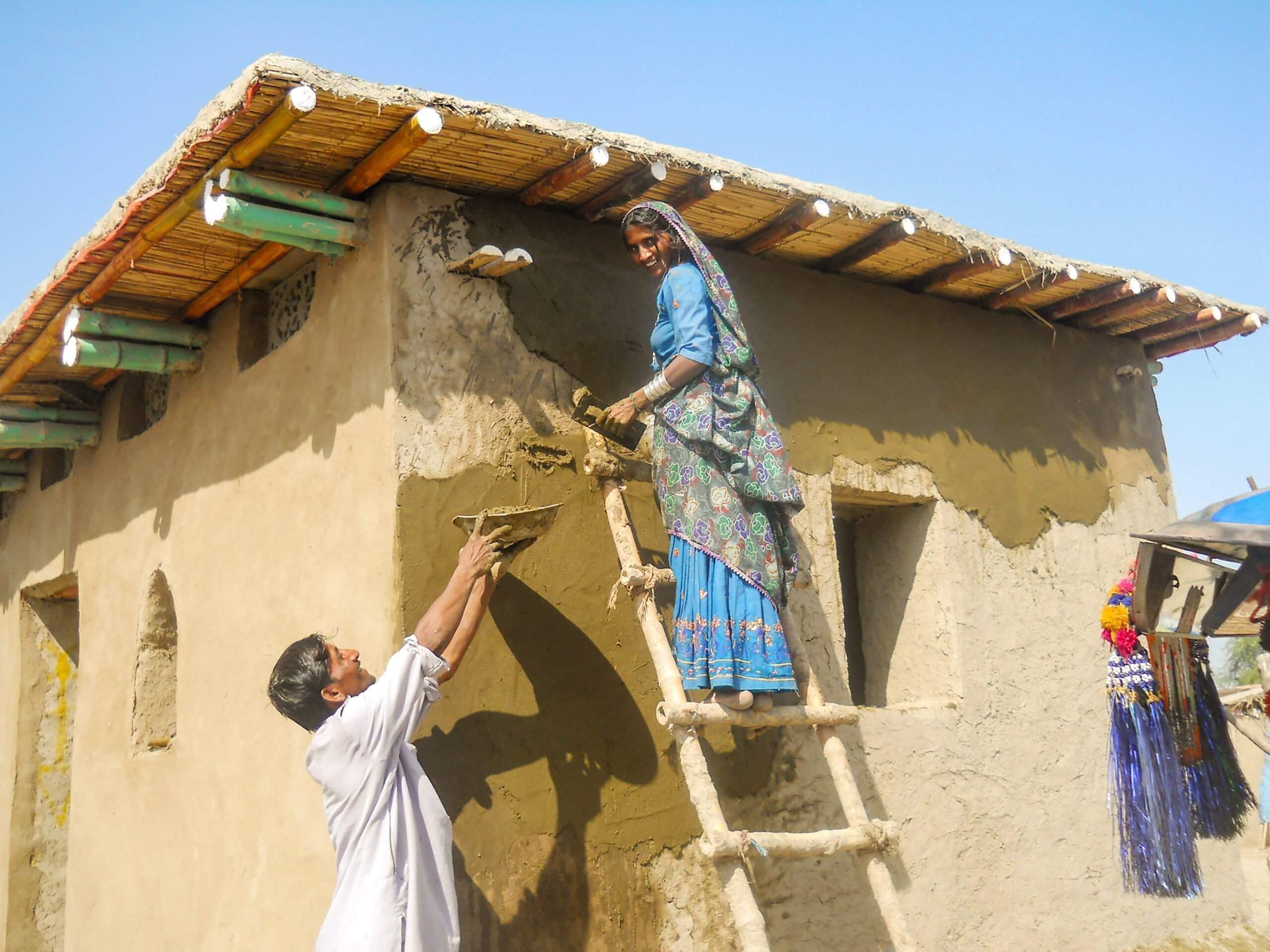 March 23, 2023
Yasmeen Lari: Starchitect Turned Climate Activist
"I think architects can no longer work for just the one percent, because that doesn't allow them to really serve humanity as well as they could," says Yasmeen Lari. Pointing out that serving humanity is just what architects are trained to do.
Strong words from a strong woman who, throughout her life, has been on the road less travelled. Naturally, it's been a long and rocky road for Pakistan's first female architect. She rose to prominence in the late 20th century, designing office towers and social housing for Pakistan's growing cities, until a series of natural disasters shifted her attention to architecture's role in the climate crisis. Since then, she's peeled away those luxury layers to return to the root of architecture—leading a movement for the global poor to build zero-carbon buildings with traditional materials like mud, lime, clay, and bamboo.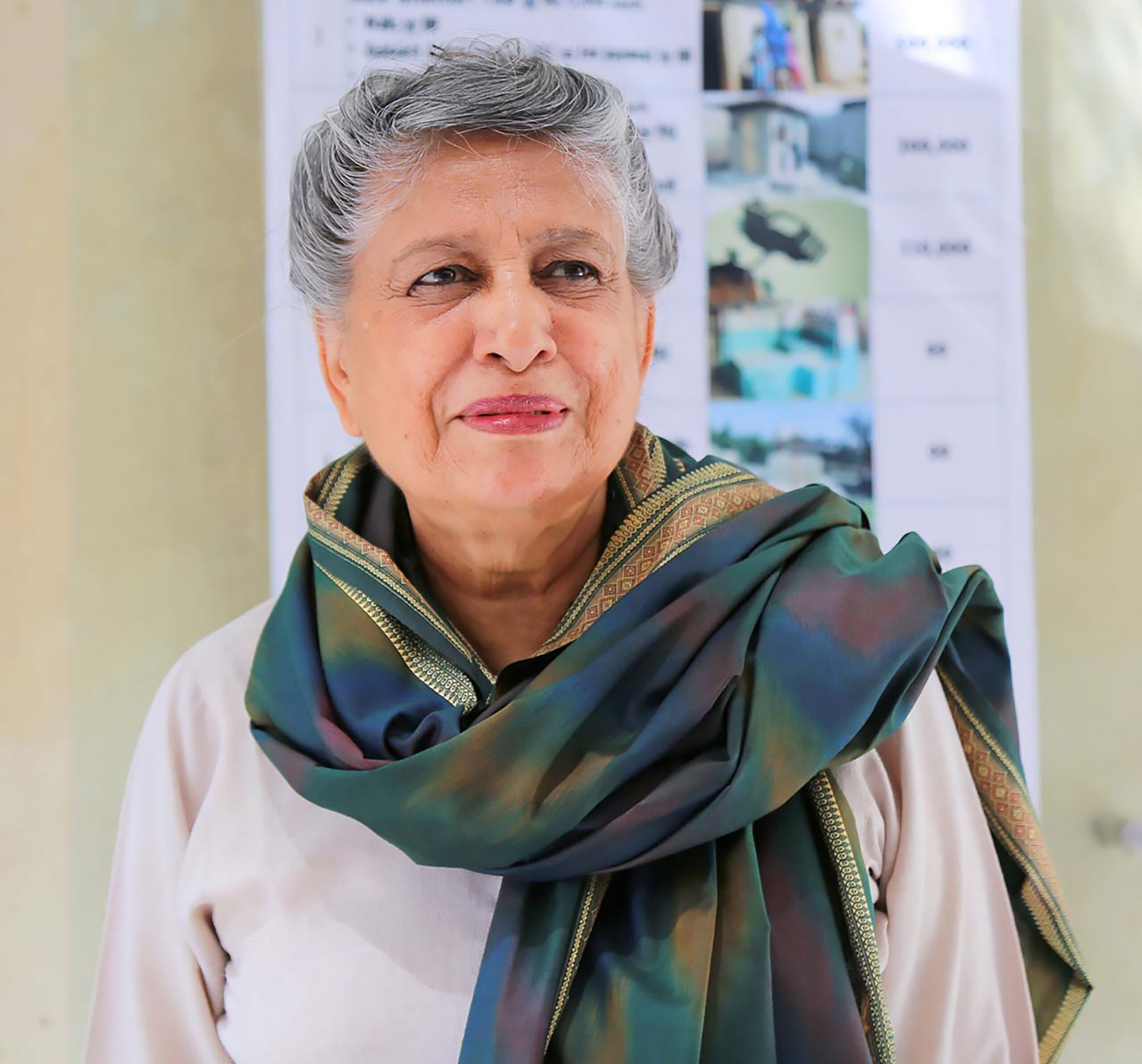 Yasmeen Lari: Architecture for the Future
Paying homage to the ground-breaking Pakistani designer, the Architekturzentrum Wien in Vienna, Austria, is currently showing the world's first monographic exhibition of Yasmeen Lari's life and work. Running until August 16th, the exhibition Yasmeen Lari: Architecture for the Future celebrates her extraordinary work, featuring the world's largest zero-carbon, do-it-yourself design movement in Pakistan, itself one of the countries hardest hit by climate catastrophe. This May, the MIT Press will publish a book by the same title edited by Angelika Fitz, Elke Krasny, Marvi Mazhar, and Architekturzentrum Wien. The volume offers a biography of Lari and and contains previously unpublished photographs and drawings from the architect's extensive archive along with 11 essays by international authors.
Yasmeen Lari (born 1941) received her training in England at the School of Architecture, at Oxford Brookes University. Returning to her home in 1964, she was the first woman to open an architecture office in Pakistan.
Lari belongs to the country's first generation of post-colonial architects. In 1947, the end of British colonial rule and the separation from India turned Pakistan into an independent nation. For the new country, building meant nation-building: new houses, infrastructure, neighborhoods, and entire cities were planned and erected typically with glass, concrete, and steel
"As far as I was concerned, I was trained to become a star architect. And that's what I was, and I enjoyed it," Lari says about her attitude in those days.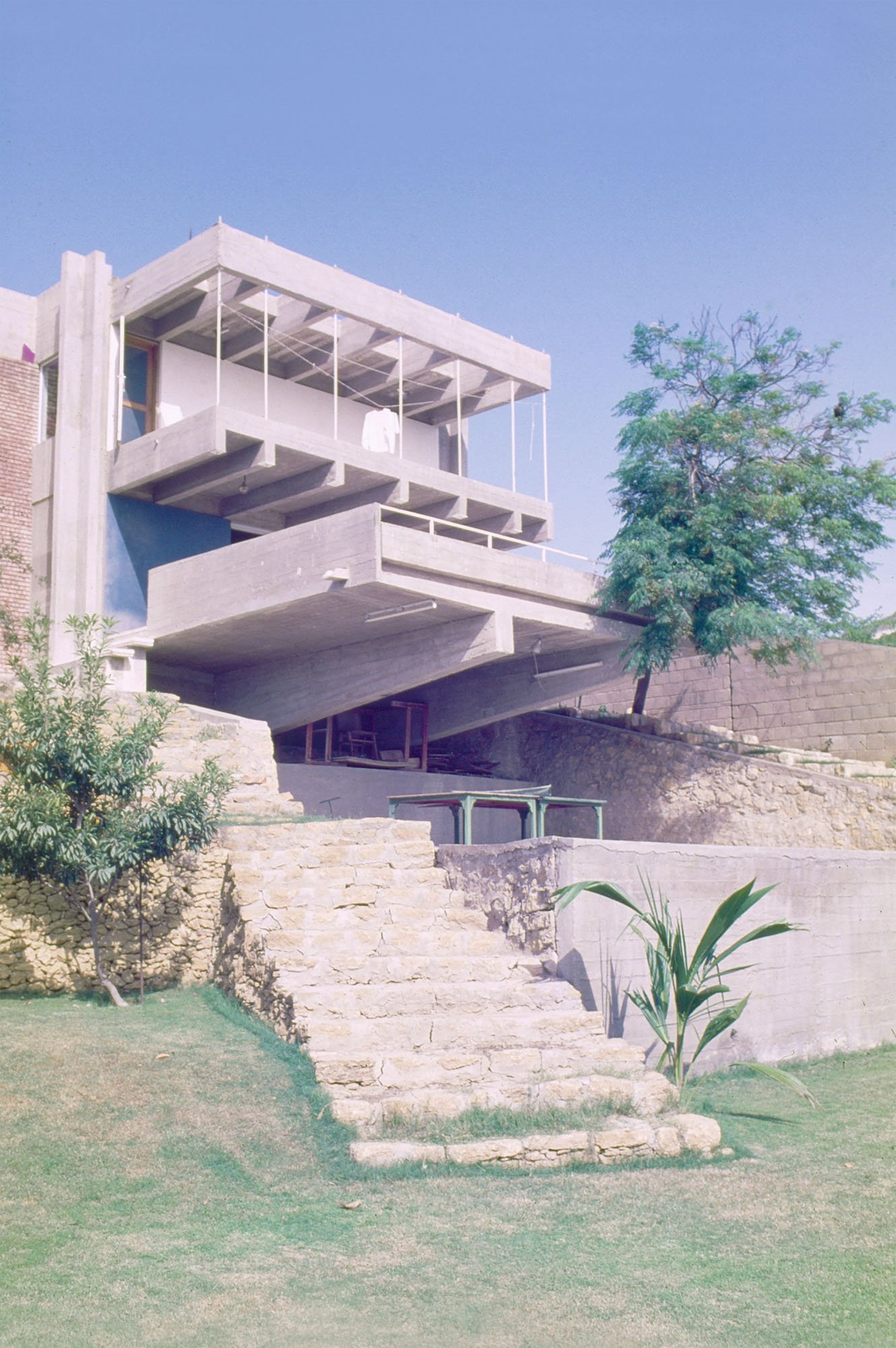 The Carbon Costs of Starchitecture
Lari has designed landmark buildings such as Pakistan State Oil's headquarters, the Finance and Trade Center in Karachi, the Amro Bank in Karachi, and the country's first social housing complex in Lahore.
"I used a lot of reinforced concrete, I've used a lot of steel, I've used a lot of reflective glass," Lari says, "and, you know, I enjoyed designing those buildings. But now, when I look back, obviously the carbon footprint was very, very high."
Her own house, completed in 1973 and where she still lives and works today, is considered an international icon of brutalism.
However, doubts about her way of designing began to stir. "I felt that I wasn't getting anywhere," Lari says, questioning, "How many beautiful buildings can you build? How many icons can you create?"
While Lari hit crossroads, natural disasters struck her country. The 2005 Kashmir Earthquake was the watershed moment. Measuring 7.6 on the Richter Scale, slightly below the 1906 quake that leveled San Francisco, the disaster killed more than 79,000 people and destroyed 32,000 buildings.
"The disaster was something that really shook you. The experience is something that you can never forget," Lari says about the seismic event that left millions homeless in Pakistan, Afghanistan, and India.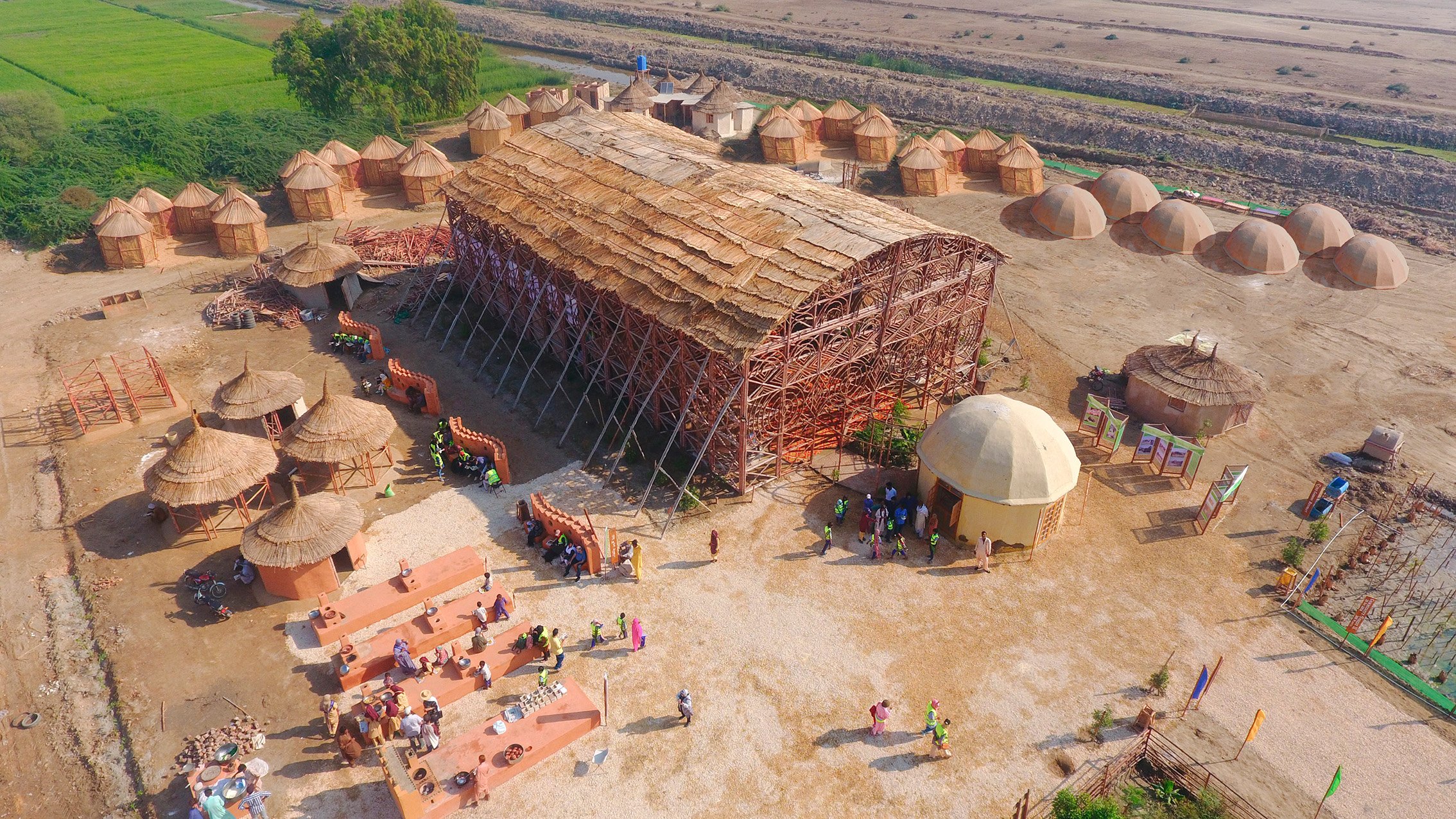 A Build-It-Yourself Movement for Climate Change Victims
The earthquake's destruction, along with catastrophic floods that struck Pakistan in 2010 and 2022, led the architect on a humanitarian and climate activism mission, focusing on low-cost solutions to regional problems.
Her most important concern was preserving the environment and providing dignified living conditions for climate-disaster victims. Tens of thousands of flood and earthquake-proof houses, sanitary infrastructure, and community facilities made of climate-neutral materials were self-built according to Lari's plans — by people who had lost their homes, many of them landless and living in poverty.
Building on traditional architecture, Lari redesigned the Pakistani Chulah into a low-smoke cooking stove made of sun-dried mud bricks. Fueled by cow dung and sawdust blocks, it consumes only half as much fuel as traditional stoves. In addition, it allows the women to sit upright, protects their eyes and prevents them from inhaling toxic smoke.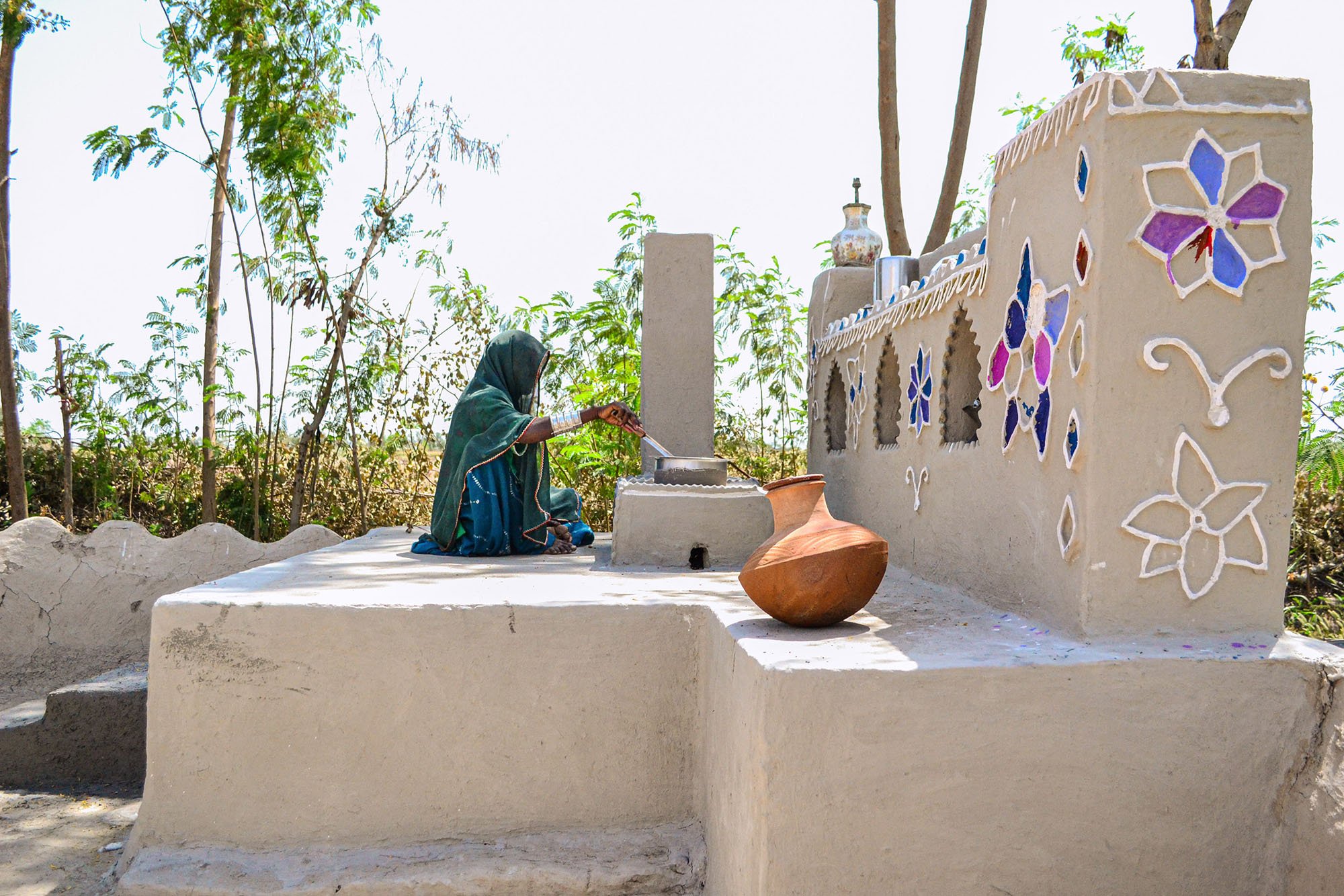 "Over time, I understood that if I want to build for the poor, then I have to use local and sustainable materials," Lari says.
"It's about which method is the most cost-effective, safest, and most ecological, and then to implement it en masse," Lari says about relying on prefabrication and low-tech mass production from low-carbon materials.
For her do-it-yourself program, she uses traditional technologies and local materials such as bamboo, lime, and clay. Lari already explored clay as a building material in the early 1970s, studying the work of the Egyptian architect Hassan Fathy, who worked to reestablish traditional adobe and earth dwellings.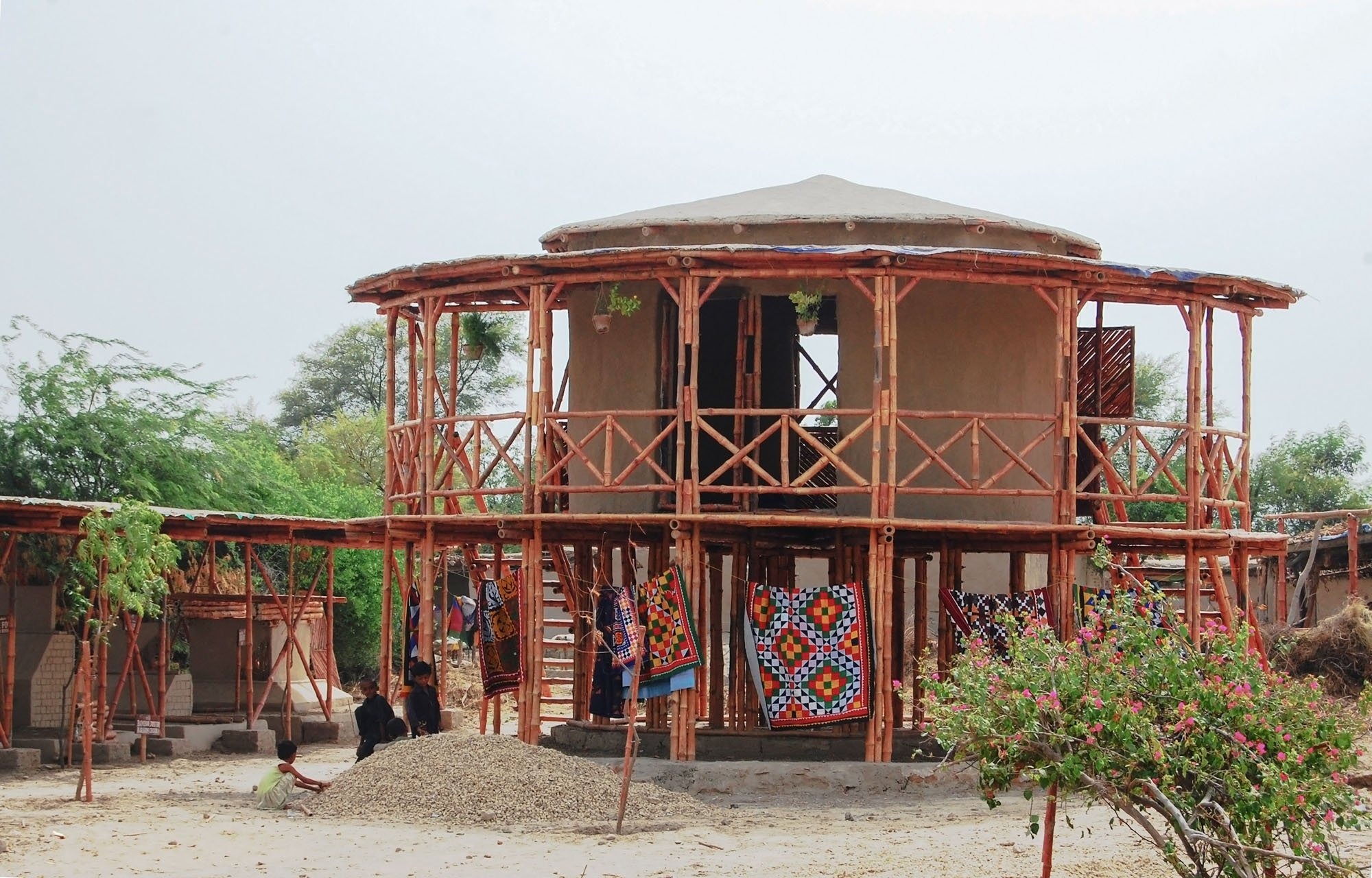 Reshaping Architectural Pedagogy for the Climate Crisis
"I needed to unlearn many of the teachings that had been imparted [at Oxford] because of the conditions that were so different in my country," Lari says about developing her interest in heritage building.
A significant concern for Lari is to further develop heritage building knowledge internationally in architectural teaching. That's why she has taken up a visiting professorship at the University of Cambridge.
"The misleading thought is that you can't call yourself an architect unless you have the most inflated ego and can design the most fabulous building," Lari says, adding that good design doesn't have to be impressive.
She points out that also in Pakistan, everybody wants to become a star architect.
"This attitude has to change, and it must come from the universities," Laris says, "because we know what's happening."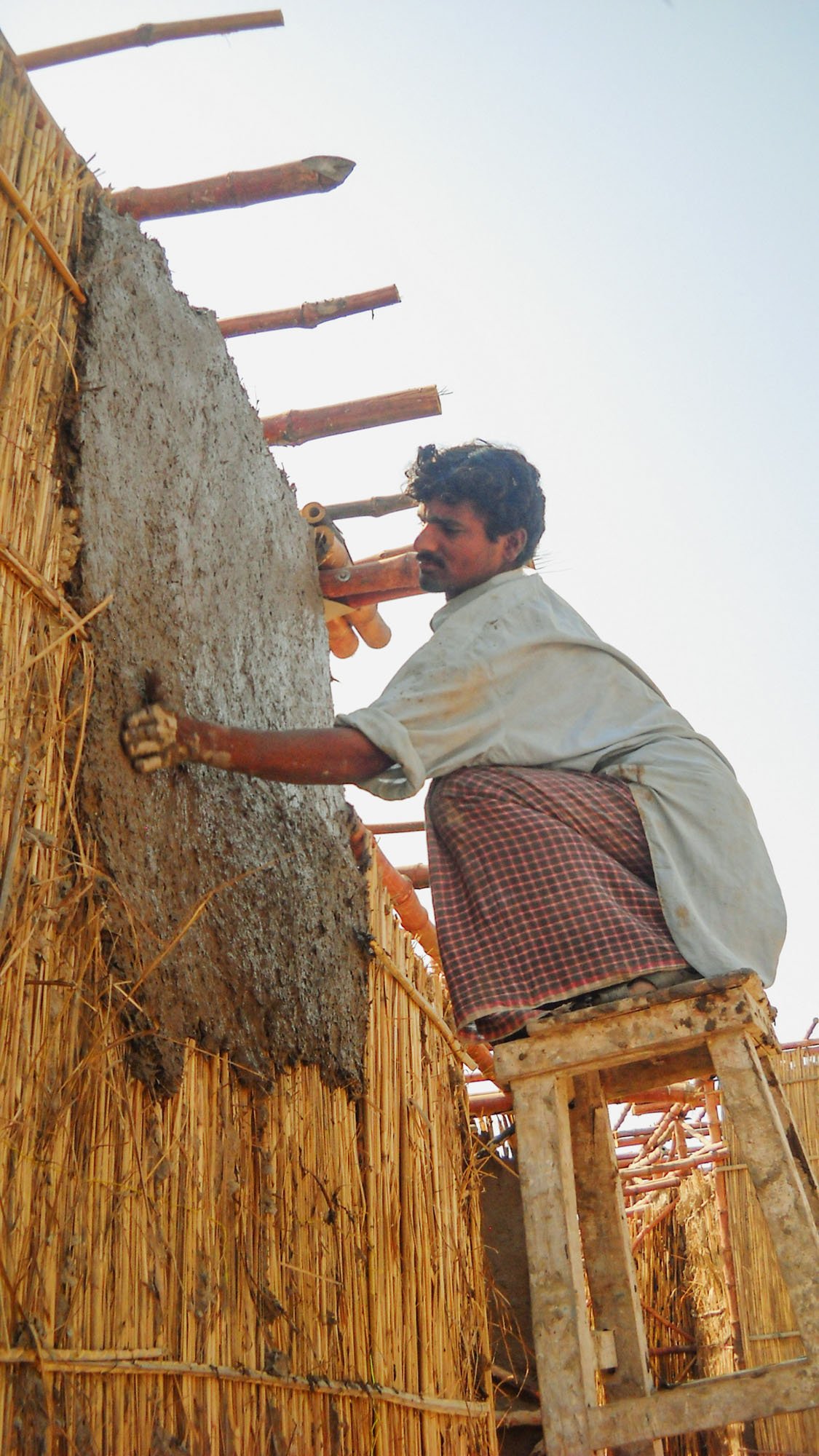 Would you like to comment on this article? Send your thoughts to: [email protected]