July 13, 2009
A Day at the Glass House, Part 2
More on last week's preservation symposium at Philip Johnson's iconic residence
This is the second of two reports from a recent daylong retreat at Philip Johnson's iconic residence. Click here to read part 1.
Photos: Belinda Lanks
A small cadre of design professionals came together last Wednesday at Philip Johnson's Glass House to discuss the thornier issues of Modern preservation. The site was a perfect setting for such a conversation: Johnson guaranteed the survival of his 47-acre compound in New Canaan, Connecticut, by transferring it to the National Trust for Historic Preservation, which opened the grounds to the public in 2007. Among the compelling questions raised were: What steps should be taken to ensure the survival of important postwar structures, and how can architects find new lessons in those buildings while respectfully moving beyond them?
The symposium, organized by the Architects Retreat, is part of a larger goal of continuing the tradition begun by Johnson and his longtime partner, David Whitney, of bringing interesting people together, most often over cocktails, for bright banter. Headliners of the day's event, held symbolically on Johnson's birthday (he would have been 103), included Maurice Cox, the director of design at the National Endowment for the Arts, leading a panel on public-interest architecture; Metropolis's editor in chief, Susan Szenasy, who facilitated a conversation on new technology and Modern preservation; and Chris Luebkeman, Arup's director for global foresight and innovation, who spoke of the leadership role designers should play in addressing environmental devastation.
One of the standout speakers was Work Architecture Company's Amale Adraos (an OMA grad), who underscored the value in applying some of the principles that drove midcentury Modernism to contemporary practice to build modestly scaled buildings with a strong connection to their surroundings. She showed how Paul Rudolph's famed Umbrella House served as partial inspiration for Work's design of Diane von Furstenberg's headquarters in New York's Meatpacking district. Rudolph's gesture of bringing the outside in (by shading the pool with a wooden trellis) informed Work's "stairdelier," which showcases the sky and, through the use of Swarovski crystals, collects and distributes natural light throughout the space. (In a later discussion, Thomas Fisher quipped that some structures, like the Glass House, should be preserved as reminders of "what not to do ever again," referring to the costly renovations required to keep Johnson's magnum opus standing.)
From left to right: Michelle Addington, an associate professor of architecture at Yale; Anna Dyson, the director of the Center for Architecture, Science, and Ecology; and Amale Andraos, principle of Work Architecture Company, discuss new applications for technology in preservation.
The final discussion, "Citizen Designers," focused on opportunities for public-interest design. But while everyone seemed genuinely interested in the cause, only one speaker seemed to be effecting change: Public Architecture's John Carey, who through his organization's 1% pro bono design program, recruits architecture and design firms to pledge their time and services to nonprofit groups and communities in need. All agreed that in order to make architecture seem relevant, one must cultivate awareness among the public of what design is. (At times, the discussion devolved into something resembling a group-therapy session of misunderstood designers bemoaning the fact that they must constantly explain why they're so darn important.) They concluded that education must begin with students, but no one offered a good way of integrating design education into early learning. Cox, who teaches architecture at the University of Virginia, remarked that he had become convinced that the twentysomethings have the answers–which made me wonder why so few young architects were invited to this debate. Maybe next year.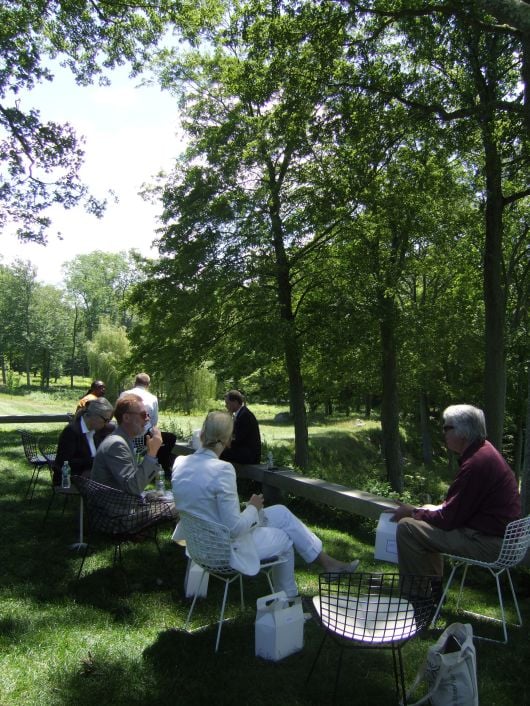 Attendees enjoyed box lunches–cocktails were to come later–between panel discussions.
From left to right: Michael Bell, professor of architecture at Columbia; Anna Dyson; John Carey, executive director of Public Architecture; Michelle Addington; Amale Andraos; and Maurice Cox
Tours of the Glass House are limited to ten people (tickets must be purchased in advance, and there's a waitlist) and begin and end at the off-site visitor's center located across the street from the Metro-North train station.