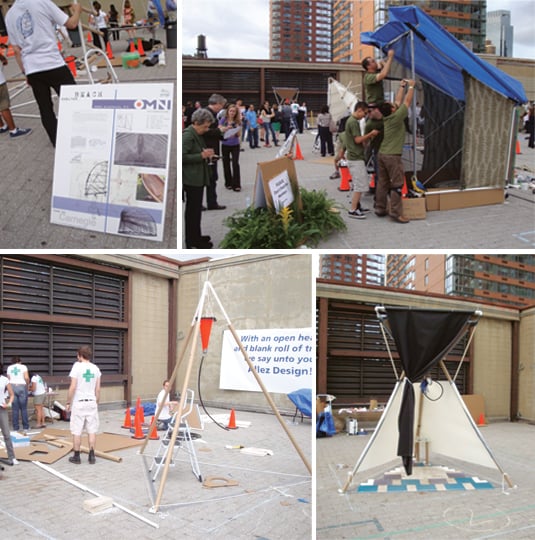 June 21, 2010
A Recipe for Disaster Relief
Considering that we've seen some of the century's worst catastrophes in the past few years, it is only natural that design for disaster has been on all our minds. I've seen reconstruction plans and pre-fab shelter designs galore, but a recent event in New York takes the cake for bizarre inventiveness.  Last Thursday the Urban […]
Considering that we've seen some of the century's worst catastrophes in the past few years, it is only natural that design for disaster has been on all our minds. I've seen reconstruction plans and pre-fab shelter designs galore, but a recent event in New York takes the cake for bizarre inventiveness.  Last Thursday the Urban Assembly School for Design and Construction (UASDC) hosted an "Iron Designer" fundraiser—yes, like Iron Chef, only for design—challenging contestants to build a full-size emergency shelter in three hours.
Instead of dicing onions, the ten teams—some of the city's biggest architecture, construction, and engineering firms working alongside USADC students—got busy chopping up PVC pipes on UASDC's rooftop. Not exactly prime-time television material, but the audience, comprised largely of colleagues and families of team members, seemed fascinated as some really strange structures went up. Turner Construction's shelter, for a post-apocalyptic world being taken over by robots, looked rather like the Sydney Opera House rendered in cardboard and PVC; and I watched in utter disbelief as Perkins + Will constructed a "Rumble in the Jungle," complete with tropical plants and a multicolored (fake) parrot. Ultimately, however, my vote for the People's Choice award went to Omni Architects, who pieced together a fancy, boat-inspired structure for a beach shelter.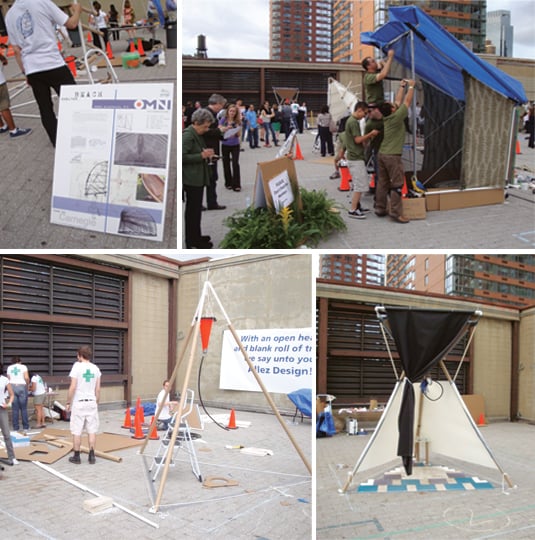 Images, clockwise from top left: Omni Architects' boat-inspired concept; Perkins+Will's "Rumble in the Jungle"; Gensler's "Second-Aid" shower tent; the Gensler team at work
This being Iron Designer, there was, of course, a secret ingredient—not coconuts or mangos, but Plexiglas.  The teams were obviously flummoxed: little tiles of plastic are not what come to mind when you think "disaster relief." Since no power tools were allowed, there was no way to cut or bend the plastic, and most teams ended up using them as floor tiles.
Unfortunately, there were no rain clouds in sight, so there was no way of really testing the finished shelters. The jury —David Burney, the commissioner of New York City's Department of Design and Construction; Gregg Pasquarelli of SHoP Architects; Joel Towers, the dean of Parsons the New School for Design; and Caroline Payson, the director of education at the Cooper-Hewitt, National Design Museum—judged the designs on creativity, structure, and best use of the secret material. My favorite, the Omni Architects' beach shelter, won a prize for best structural innovation. But the Gensler team carried the day with their modular, tetrahedral, "Second-Aid" shower tent. They also won the People's Choice award, and were declared the Iron Designers.
The architects clearly enjoyed the challenge, but the ones who got the most out of it must have been USADC's high-schoolers, all of whom aspire to careers in design and architecture, and who got a chance to work shoulder-to-shoulder with professionals on a quick, challenging project. The proceeds of the evening's ticket sales and silent auction will go toward keeping them in the school's design program, and pay for their material supplies, field trips, portfolios, and college visits. Now that's a truly worthy cause.
.
Previously: Michael Silverberg reported on a 2008 architectural duel in  Brooklyn.