September 22, 2008
A Restored Beauty Emerges
Visitors of New York's Guggenheim finally get face time with the iconic structure.
A 2006 visitor to NYC found the Guggenheim all wrapped up.
Photo: Barrett Calhoon (Creative Commons)
New York's Guggenheim Museum has finally emerged from its chrysalis of scaffolding after three long years of restoration. While the scaffolding's overhangs may have occasionally come in handy to partygoers on rainy First Fridays or tourists seeking refuge from the sun as they mapped out their Museum Mile trek, the newly freed building is a stunningly beautiful improvement to the neighborhood.
To celebrate, tonight Mayor Bloomberg flips on the switch of For the Guggenheim, a site specific light installation by Jenny Holzer that projects on the building's spiraled exterior.
For the Guggenheim, 2008
Text (pictured): "Tortures," from View with a Grain of Sand by Wisława Szymborska, translated by Stanisław Barańczak and Clare Cavanagh. © 1993 by Wisława Szymborska. English translation copyright © 1995 by Harcourt, Inc. Used/reprinted with permission of the author. © 2008 Jenny Holzer, member Artists Rights Society (ARS), NY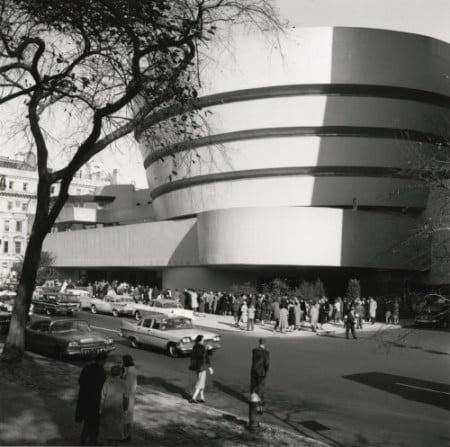 Crowds lined up at the opening of the Solomon R. Guggenheim Museum, October 21, 1959
Photography by Robert E. Mates/Copyright Solomon R Guggenheim Foundation, New York
The museum's iconic structure was originally commissioned to Frank Lloyd Wright in 1943. After 700 sketches and sixteen years the museum finally opened to the public in 1959. Surface cracks have been a problem ever since. Fixing the cracks as well as some other structural issues involved the removal of 12 coats of paint, filling exterior cracks, extensive laser surveys of the structure inside and out, treating corroded steel structures, and repairing and reinforcing the concrete.
First Friday attendees are shielded from the rain but their sightlines are highly restricted
Photo: Vincent de Lagabbe (Creative Commons)
The restored façade is timed perfectly for the museum's 50th anniversary in 2009. The golden anniversary exhibitions include: Kandinsky; The Third Mind: American Artists Contemplate Asia, 1860-1989; and Frank Lloyd Wright. Currently on view through Sunday is Louise Bourgeois.