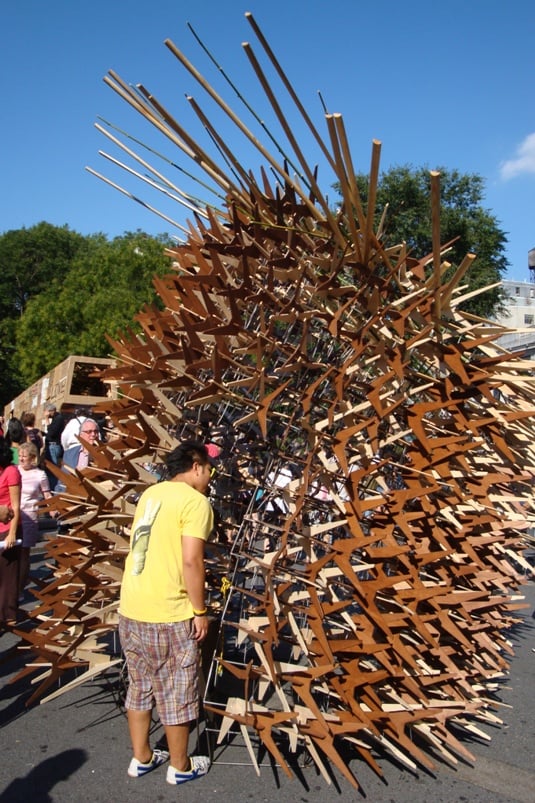 September 20, 2010
A Sunday in Sukkah City
New York City's Union Square is always full of people on a sunny Sunday afternoon, but it was positively buzzing with activity yesterday. Earlier this year, 600 designers responded to a call to re-invent the sukkah, which organiser Joshua Foer characterises as "a space to ceremonially practice homelessness." Twelve finalists were chosen, and their structures […]
New York City's Union Square is always full of people on a sunny Sunday afternoon, but it was positively buzzing with activity yesterday. Earlier this year, 600 designers responded to a call to re-invent the sukkah, which organiser Joshua Foer characterises as "a space to ceremonially practice homelessness." Twelve finalists were chosen, and their structures were on display yesterday , for a popular vote to choose a final winner. Cameras were clicking, and kippah-ed heads were bent together in serious discussion, as New Yorkers went about voting for their favorite sukkah.
Matthias Karch's wooden porcupine had people intrigued. The explanation on the caption — that it was based on the "universal knot" invented by the German-Jewish engineer Konrad Wachsmann — didn't really help. More than one kid cautiously touched its spikes to see how sharp they were.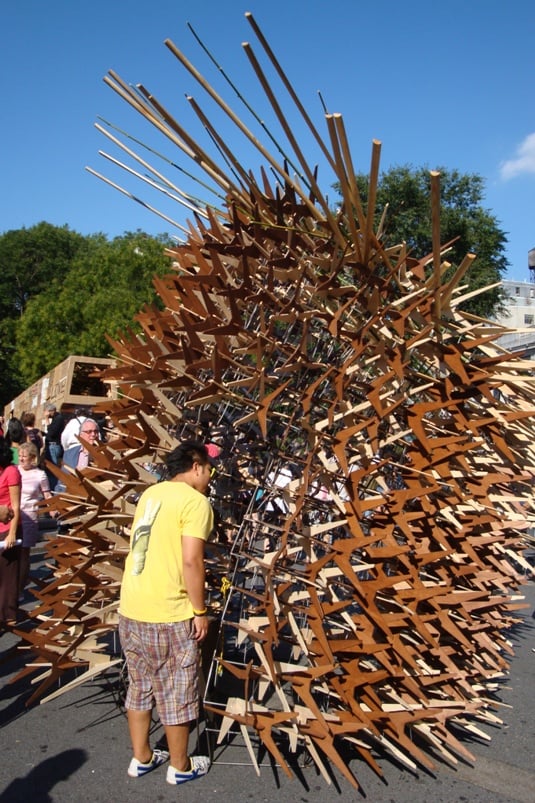 Nonetheless, it was probably the most photographed sukkah.
The prize for most puzzling sukkah should definitely go to Blo Puff, designed by the Brooklyn design firm Bittertang. The rendering in the competition entry showed a beautiful futuristic blob glowing at night. In the afternoon sun, however, it looked more than a little bizarre.
The sure way to catch people's attention, apparently, was to make a bristly sukkah. Henry Grosman and Babak Bryan's Fractured Bubble was very popular with the crowd.
Unfortunately,  you couldn't get inside most of the sukkot, and see whether you actually felt "ceremonially homeless." The architect Babak Bryan was trying to make up for it by describing in great detail the experience of standing inside his sukkah.
One structure you could examine closely was Tinder, Tinker's Shim Sukkah. The rather beautiful shelter was made entirely of wooden shims — normally used on construction sites to fill gaps and level uneven surfaces.
The thin strips of wood were stacked to create columns, and rotated to create openings.
And obligingly, the designers also displayed the machine used to make the shims out of blocks of waste wood.
Also made of wood, but completely different in feel, was Peter Sagar's rather solidly built Time/Timeless.
All lattices and angles, the sukkah didn't really look like a temporary shelter. And though the interiors were spacious, you couldn't go in and test that seat out.
Kids seemed to love walking up the ramp of Matter Practice's Single Thread, made out of a single spool of wire. The adults, though, were having a bit of an argument about whether it was kosher — the roof had more wire than the traditionally botanical schach.
"But it is kosher, Mom," one teenager argued, clearly enamored of the structure, "Look, there's flowers!"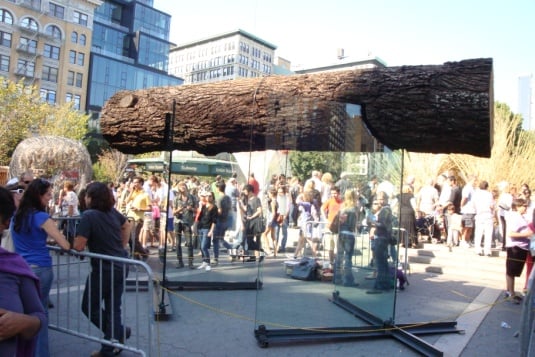 There is no doubt that a huge log of wood qualifies as schach. Dramatically supported by panes of glass, Kyle May and Scott Abraham's Log was a high modernist version of the sukkah.
SO-IL architects' In Tension had more plastic than organic material. But as one observer astutely pointed out, "It is interesting. It's all about the structure, see?"
Volkan Alkanoglu's Star Cocoon was all-organic — a form that curved in on itself, constructed with bent cane.
Another visually dramatic sukkah was Gathering, designed by Dale Suttle, So Sugita and Ginna Nguyen.
Several people wanted a closer look at how this "calculated yet unpredictable structure" was held together.
The one sukkah that literally celebrated homelessness was Ronald Rael and Virginia San Fratello's Sukkah of the Signs, "clad with cardboard signs purchased from desitute individuals across the US."
It was the most provocative of all the structures on display, an uneasy reminder of hard times that seemed very much in the spirit of the festival. People spent a lot of time poring over signs that they might have ignored on the street, and a cloud of quiet contemplation hung over this sukkah.
What seemed to be the most technologically inventive sukkah, Theverymany's P.YGROS.C, wasn't up at Union Square when I was voting.  So I finally cast my vote for Shim Sukkah, for using a single, organic, humble material in a visually arresting way, and for conveying a definite sense of lightness and impermanence.
You can cast your vote online, at www.nymag.com/sukkahcity, but the structures will be up at Union Square all day today, so I strongly suggest that you go and see them for yourself. If you miss the opportunity, an exhibition of all the entries for the Sukkah City Competition will open on 22nd September at New York's Center for Architecture.