September 15, 2008
A Tale of Two Cities: Part Two
What happens when 27 landscape architects come to a small town on Lake Michigan? Click here to find out.
In my post on Friday, I compared the Xtreme LA landscaping charrette to a reality television show: 27 up-and-coming landscape architects were flown in from firms around the country by event host Landscape Forms. They were split into teams of three and each had just 24 hours to concept a masterplan for New Buffalo, Michigan, a city in the midst of an identity crisis. After years as a small railroad town and modest beachfront retreat, new development—including the Four Winds Casino—has come to New Buffalo. A new Amtrak stop scheduled to open soon promises additional foot traffic. It is a town on the cusp of change and the local leadership hoped the designers could help them forge a vision for the future. The local paper ran a short story announcing the charrette (and alerting New Buffalo's 2,200 full-time residents not to be alarmed by the camera-wielding young people wandering the streets.)
So here are the basics: New Buffalo is located off Exit 1 in Michigan along the I-94 Corridor between Chicago and Detroit. The exit feeds you onto a rather unremarkable entry to town, with a smattering of local businesses and fast food joints. Buried on 600 acres of wooded land is that new Four Winds Casino. Visitors attracted to the gambling would never know that just a few miles away sits a pristine lakefront beach. Whittaker Street, the main road into New Buffalo, slices through large swaths of undeveloped acreage before hitting a paltry main street where the asphalt and car parking take precedent over the pedestrian experience. The sidewalks are rather anemic:
The landscape architects walking through town.
Just beyond this main street area is another bridge leading to the marinas and the beach (where even more surface parking comes right up to the dunes.) The locals kept saying that on a clear day, you could see the skyline of Chicago across the water.
Susan Everett, Executive Director of the Landscape Architecture Foundation, and Tom Oslund stand near a rock jetty on the beach during a tour of New Buffalo. Across the water is Chicago.
Sea grasses on the dunes.
New development thus far has not had to follow any kind of guiding principle. The town has no master plan and no design standards.
"We're letting developers dictate their own vision of New Buffalo, and that's not ideal," said Mayor Gary Ramberg about new structures, like the one pictured above.
On Friday morning, after only a few hours of sleep, the teams presented their recommendations to a room of New Buffalo civic leaders. While the plans vary, there were two similar concepts running through each: One, let nature be your guide. Two, don't squander your potential.
Team A was led by Minneapolis-based Tom Oslund who opened for his group by saying that their plan was grounded in the history of New Buffalo and its unique natural systems, but that they took the words of architect Daniel Burnham to heart: "Make no little plans; they have no magic to stir men's blood." Or, as Oslund put it, "Go big or go home."
Their presentation, called New Buffalo 20/20 Vision, provided an ambitious plan to put the town on the map by 2020 with a series of high-impact architectural nodes that crescendo with a signature piece on the beach.
At the entry off of I-94, Team A recommends an iconic bridge and a vistor's center (with bike rental for the short ride into town). From there, the plan encourages the pedestrian experience by shrinking the roadway, and making main street a truly walkable amenity. The Amtrak stop would be encased by a swooping, sculptural structure, while the second bridge from town to the beach would mirror that first entry ridge. The big "TaDa" moment would be a large landform piece that would replace the existing rock jetty (pictured above) and would also help remedy the silt issue in the town's harbor. Out in the water, several sculptural wind turbines would not only generate energy, they would light at night and create a focal point on the water. The team ended to rousing applause when the final slide stated: "You can see Chicago from New Buffalo, but more importantly, you'll see New Buffalo from Chicago."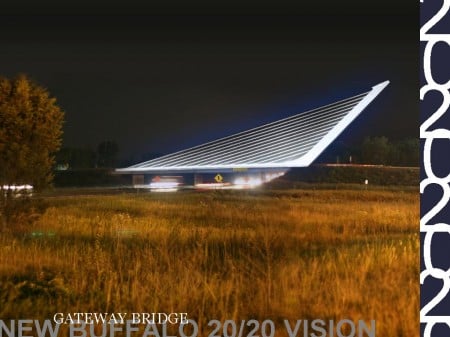 A rendering of a bridge into town off of I-94. Image from the team's PowerPoint Presentation.
The final slide showing a sketch of the wind generators lit at night on Lake Michigan.
The team led by architect Alexander Lamis and landscape architect Kendra Taylor of Robert A.M. Stern Architects was inspired, in part, by Frank Lloyd Wright's 1932 Broadacre City concept, where agriculture was integrated into the city. They envisioned expanding a popular summer farmers market into a year-round event and turning those unused acres on the edge of town into food supply for the city and the busy casino. They suggested New Buffalo capitalize on its other natural resources, like nearby orchards and vineyards, to attract year-round visitors. They advocated a nature loop around the water, that allowed access through the existing marinas, and that ended with a new nature center on the beach. A transit loop should include a tram that led visitors from the casino into town, and free bike rental to encourage less car use. The main street area would be reworked to accommodate pedestrians, and vegetated swales would double as landscaping and a water filtration system.
Whittake Street as it looks today.
Transforming Whittaker Street into a pedestrian-friendly road with vegetated swales for water filtration.
Concept for shutting down Whittaker Street for a monthly farmers market.
The team led by Kathleen Garcia of WRT mirrored many of the sentiments of the other teams. They recommended five bold moves that would merge the natural environment with future development and suggested ways to create places for the community to stop and gather along the way to the beach. Perhaps most compelling, was the slide that showed an alternate future, a future that could happen if the city doesn't generate a thoughtful master plan. "Huge brands that are already an identity will come in and steal your identity," said team member Megan Holder, from HOK's Atlanta office.
This slide shows a worst case scenario of what could happen to that undeveloped land near the casino.
Landscape Forms will gift the powerpoint slides and the audio of the presentations to the town of New Buffalo. Oslund summed up the success of the event this way: "After working with these young designers, I realize that our profession is in really good hands."