January 4, 2012
All Together Now: Part II
Coming from a farm on Martha's Vineyard off the coast of Massachusetts with one day of "down time" in Portland, Oregon before beginning the design-build process was something I could not have prepared myself for. Yet I cannot imagine my transition going any better. In many ways that it is due to the experience I […]
Coming from a farm on Martha's Vineyard off the coast of Massachusetts with one day of "down time" in Portland, Oregon before beginning the design-build process was something I could not have prepared myself for. Yet I cannot imagine my transition going any better. In many ways that it is due to the experience I want to relate here.
I remember walking into the Applied Craft and Design studio space the first day, feeling nervous and unprepared. Thinking back now to the faces I saw then, it is hard to imagine that we were once strangers.
While the experience began for us by introducing ourselves, like, "I'm Meghan, I'm from Andover, I work in clay, what's a fun fact about myself?", the real orientation manifested itself in the design process itself.
Group ideation around collaboration
After splitting into groups, we discussed the pros and cons of working collaboratively.  It can be difficult to work in groups. But we found that honoring every voice in the decision-making process created the bonds we needed to realize this ambitious community-based project.
MFA students Eric Trine (above) and Dan Jamieson (below) presenting initial concepts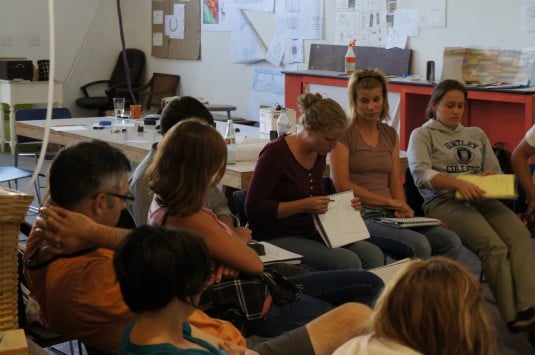 MFA student Tally Locke describing preliminary sketches
The initial, ideation phase of the process was arduous as well as rewarding. Dynamic "speed-dating" brainstorming sessions generated multiple drawings and 3D mock- ups; every student contributed to every proposed scheme, resulting in a shared ownership and understanding of ideas among all of us. I worked with a team that developed the idea of creating dioramas that depict scenes from well-known books.
During this process I was able to integrate input from other classmates I had worked with in prior stages of the process. This simultaneously enabled us to form a better sense of the project at hand, and with those who were also embarking on this graduate school journey. Through working for one community, we built our own community.
When we presented the first round of ideas to our clients, supervisor Kevin Hunking and manager Craig Bachman at the Donald E. Long Juvenile Detention Center, we were gratified to see their reactions. Their expressions of appreciation were moving, and made more real the work that we were doing. I recall, in particular, Craig being nearly choked up, while being excited by the ideas which, he said, went far beyond his expectations.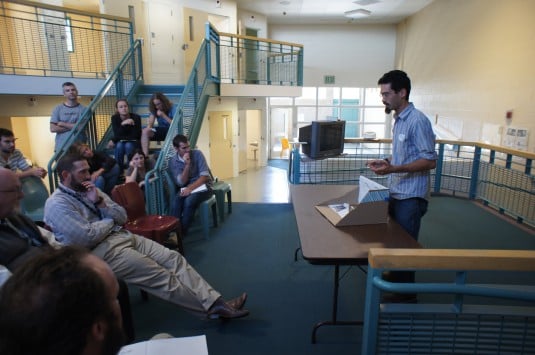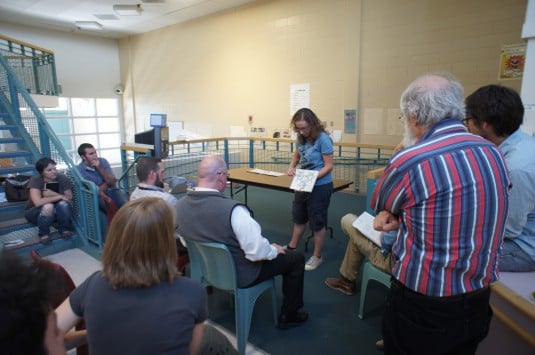 MFA students Josh Unterman (above) and Zeina Hamady (below) presenting schemes to Long Center supervisor Kevin Hunking and manager Craig Bachman
Detail of one of the sketch models
One of the most memorable experiences of the design-build process was meeting with several detainees from the Long Center.  We talked about what they would like to have in the space we were creating for them, and for this I am grateful. I felt there was an honest and profound exchange occurring in that room. I was thankful to be involved. I could see that I would walk away from this design-build experience feeling that I had made connections with my peers, and that I helped create something lasting and beneficial to young people who are marginalized, all too often. This gave the whole endeavor a meaning that continues to endure for me.
Series Posts:
Meghan Morris (along with Kyla Mucci and Coren Rau) is a 1st year student in the MFA in Applied Craft and Design, offered jointly by Oregon College of Art and Craft and Pacific Northwest College of Art.