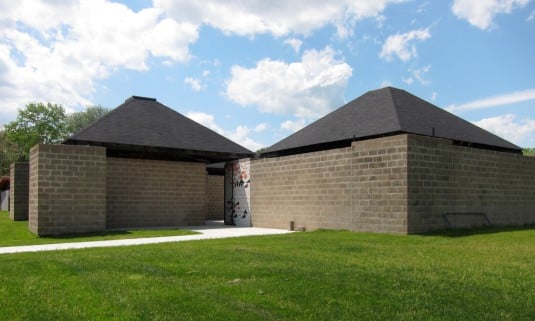 September 21, 2011
And You Call Yourself an Architect
On a Saturday morning last May, Ben and I took a tour of Louis Kahn's Trenton Bath House, recently restored by the contractor, Kirby Wu. It was the first time either of us had visited the site, even though Ben had been an architecture student at Penn while Kahn's legacy was still quite potent there, […]
On a Saturday morning last May, Ben and I took a tour of Louis Kahn's Trenton Bath House, recently restored by the contractor, Kirby Wu. It was the first time either of us had visited the site, even though Ben had been an architecture student at Penn while Kahn's legacy was still quite potent there, and I had been an architecture student at Princeton before Kahn's death in 1974. Princeton had something of a split personality those days; both the New York Five and the Philadelphia School reigned. In the decades that passed, we never got to Ewing Township, south of Trenton, New Jersey to see one of the seminal masterworks of one of the greatest architects of the twentieth century.  No excuses.
Kahn loved the bathhouse. For him there were no small commissions. "I discovered myself after designing that little concrete block bathhouse in Trenton. From this came a generative force which is recognizable in every building which I have done since," he once wrote. Completed in 1955 the Bath House was part of a larger commission for the Jewish Community Center and Day Camp, both unrealized, serving the outdoor swimming pool.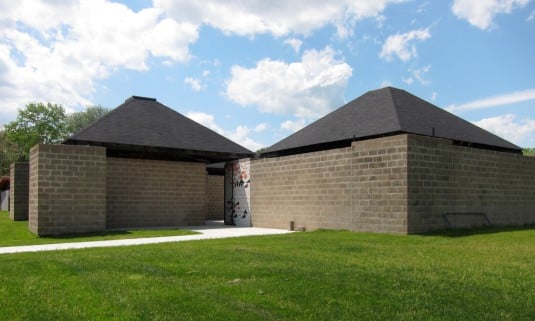 In architecture school during the 1970s, we thought we knew the sweet little plan of the bathhouse. Four square concrete-block chambers, with hovering, truncated pyramidal roofs arranged in a cross with a void in the center.  Boys on the left, girls opposite, changing rooms, showers, and toilets; a little bit of storage and a desk to hand out towels. Concrete block walls, asphalt shingle roof. We also knew the canonical photographs that appeared in our books. Mind you, at Princeton, we were far more familiar with Le Corbusier's Oeuvre Complete, than the handful of books that appeared on Kahn prior to his death.
We would have seen the bathhouses in Vincent Scully's book on Kahn. Ben, being from Penn, would have heard of them from Anne Tyng, one of his professors and Kahn's collaborator, perhaps claiming credit for the geometric clarity of the plan. I guess we thought we didn't need to see the building in the flesh. We were so wrong.
Did the arrogance of youth and a reliance on theory and book learning keep us from the humbling experience of a visit to Kahn's epiphanic moment? I wonder if we even knew enough then to appreciate it.  After all, architecture, like orchestra conducting, is the rightful purview of old men (and women).  Ben is 57. I'm 58. Kahn was 53 when he designed the Trenton Bath House.
Curiously, even though I now manage the Center for Architecture in New York City, I had really lost interest in architecture as a practice, which I left five years ago. My life has become one of fund raising, lining up speakers, creating exhibitions and, always, raising more money. Today, for me, architecture is content for display, not a means of self- expression or professional aspiration. For a brief moment in 2001, when Ben and I renovated our house in New Jersey, I felt like an architect again. But for most of my reasonably successful career, I never found meaning in my work. I was solving clients' problems, providing good service; I was well organized and could put together a bang-up set of construction documents; I could provide direction for teams of young designers; and I could communicate with our clients, persuading them to, yes, build that butterfly roof or that white marble circular stair. It was a respectable professional career.
The visit to Kahn's Bath House galvanized something for me. I felt ashamed that I hadn't bothered to visit this important work before now. Then I started asking colleagues, Princeton classmates, and random others, if they had seen it. While all had expressed a passing academic interest in the architecture, none of them had seen it either. In fact, many acted as if they were afraid to go see it.
"Seeing the deterioration and blaming the architect for that kind of technical failure, put me in the difficult position of decrying my own limitations," said one respected architect with a thoroughly Princeton pedigree. But now you don't have to worry about being put off by the mildew and efflorescence. Now the Trenton Bath House is sparkling and perfect once more. Even if Kahn wanted the crude construction to deteriorate with time, his poetry was not one to reach the educated masses.
I found that the Trenton Bath Houses seemed to summarize the entire architectural endeavor: inside/outside, enclosure, elemental geometry, procession, materiality, solid/void, columns/walls, theme and variation, orthogonal/diagonal, monumentality and, in a crazy blinding way, a summary of architectural history to date.
I remembered every cruciform plan—from the Romans through Brunelleschi, Bramante, and Palladio. And then there are the pyramids.
The framing of the roof is a little symphony of geometry, rotated squares, and restatement of the cruciform figure. The circle in the center reduces the domed vault of heaven to a footprint in gravel, with an ineffable, unachievable center point.  Nobody in bare feet walks on gravel. All those half naked and active bodies are captured in the mural at the entrance. It's not just the Baths of Caracalla, it's the Platonic notion of the communal experience of the water element.
That's what really got me—how totally elemental it all is. The square rooms, the square columns that are both solid and void at the same time; the voids that hold up the roof; the pyramids both solid and void; the upward sweep to the pool; the stair between the two axial spaces, the entry along the surface of one axis, and the implied diagonal. Isn't the Trenton Bath House like the first Canto of the Divine Comedy–a prefigurement of all that is to come? I wondered.
And all of those slots—slots of light, slots of space, every kind of little person sized slot; the slot that you enter, like a maze to swish past the baffle into the changing rooms—just for you. Dark, roofed, concrete all round; of the earth, like a sarcophagus, and the darkness within a brief death, and then, bursting into the light on the diagonal, into the chamber of changing. You are in the pyramid and it is a void. The roof funneling light, and the clerestory slot admitting air and light at once. Personal, naked scale juxtaposed with civic institutional scale.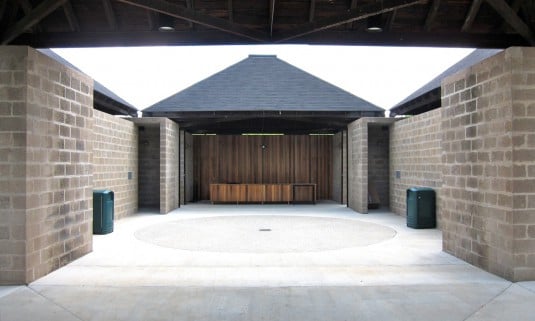 When I returned home that evening in May, I went to our library to see what I had forgotten. I read Anne Tyng's letters, Vincent Scully's 1962 book, the Brownlee book, the whole wikipedia entry,  Susan Solomon's book (it delves deeply into the social history of the project, but carries none of the poetry of the architectural experience).  But then that's what got Kahn in trouble in the first place, too much poetry.
At the Center for Architecture I constantly grapple with how to exhibit architecture. We tend to go for the super-sized magazine article approach, with gigantic photographs trying to take the place of actual spatial experience.  Sometimes we have shop-drawing samples, mock up fragments, models. We have built full size mock ups of curtain walls and we assembled Buckminster Fuller's Fly Eye dome across the street for a month.
But architecture? Not really, none of the photographs of the Trenton Bath House convey the architectural content of that project. Yes, you really have to see the real thing to get its complex message. You had to be there.
Photographs: Benjamin Kracauer, AIA
Cynthia Phifer Kracauer, AIA, received her Master of Architecture from Princeton University in 1979, where she met husband Benjamin D. Kracauer, AIA, a transfer student from the Graduate School of Architecture of the University of Pennsylvania.  Ben received his undergraduate degree in biophysics from Johns Hopkins University, and Cynthia received an AB in Architecture from Princeton University in l975.  Prior to joining the staff of the Center for Architecture in 2006 as managing director, she was a partner at Butler Rogers Baskett, after many years at Swanke Hayden Connell. Early in her career she worked for Philip Johnson as a draftsperson on the Transco Tower in Houston and the "Lipstick Building" in New York. She has taught at the University of Virginia, NJIT, and Princeton.  Ben is the founding principal of Archimuse, an architectural practice dedicated to working with art and cultural institutions; he is currently the architect of the Hudson River Museum and Yonkers Amphitheater.  Cynthia is spearheading ARCHTOBER:  the first month-long festival of Architecture and Design in New York City.