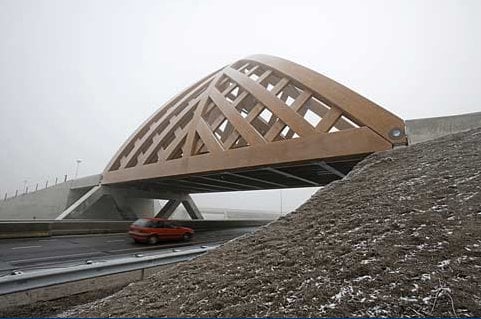 October 23, 2009
Building Bridges
Everyone knows that Amsterdam is a city of bridges, but lately some other Scandinavian Northern European cities have been getting in on the action too. Here are three noteworthy bridges recently built (or announced) in the region: . Butterfly Bridge, Copenhagen Dietmar Feichtinger Architectes The Paris- and Vienna-based firm recently won a competition to build […]
Everyone knows that Amsterdam is a city of bridges, but lately some other Scandinavian Northern European cities have been getting in on the action too. Here are three noteworthy bridges recently built (or announced) in the region:
.
Butterfly Bridge, Copenhagen
Dietmar Feichtinger Architectes
The Paris- and Vienna-based firm recently won a competition to build two new bridges in the Danish capital; its Butterfly Bridge is the most eye-catching of the pair. A "tri-bridge," it will span two docks and connect pedestrian and bicycle lanes in three directions. According to a press release, two of the three arms will be operable by "a discreetly hydraulic mechanism situated under the bridge," allowing large boats to pass by.
.
**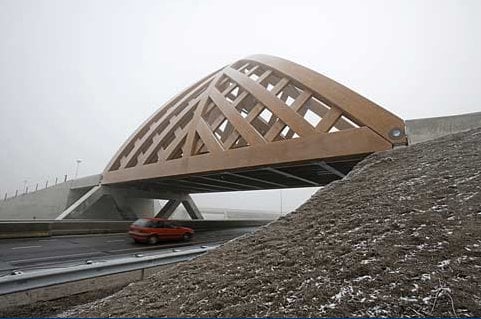 Wooden Bridge, Sneek, The Netherlands
Achterbosch Architecture and Onix
The other month, I sat down with Hans Achterbosch to learn about what he claims is the world's first wooden bridge designed to handle heavy traffic loads (of up to 60 tons). Completed earlier this year, the Sneek bridge is made of Accoya wood planks that have been double-bent and glued together to form the curving lattice structure. The bridge is not entirely wood, at least not quite–to satisfy the local government, the team ended up having to put steel plate under the road surface. But Achterbosch insists that the wood is carrying the entire load, and he already has two new, 100-percent-wood bridges planned for the region.
.
**
Bruggenhoofd Chabot, Rotterdam
Snodevormgevers and Paul Segers
OK, so this temporary installation has a slightly less rigorous program–its transports pedestrians from a garden to the street, traversing a medium-sized hedge–but, gee, it sure is cute; it looks like a cross between a Shigeru Ban and a lunar lander. Alas, the Bruggenhoofd has already decamped its launchpad outside Rotterdam's Chabot Museum; the designers are currently seeking a new installation venue. If you know of a good hedge or hedge-sized obstacle in need of traversing, e-mail [email protected].
.
Know of another new bridge that we neglected to mention? Leave relevant links in the comments form below, or e-mail examples to [email protected].