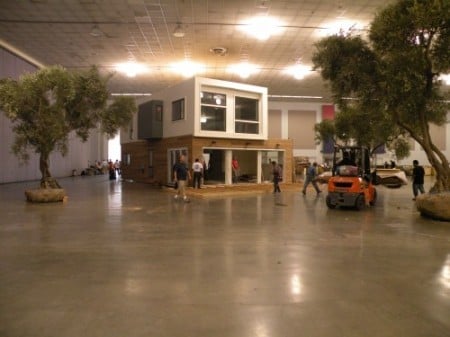 September 25, 2008
Californigreenication
Today marks the launch of West Coast Green, the three-day home show dedicated to sustainable home design and construction.
With Al Gore as the keynote speaker, West Coast Green is ready to go big in its third year. The three-day conference at the McEnery Center in San Jose will focus on residential green building, bringing together over 380 exhibitors and 100 experts who will present new products and ideas to an expected 14,000 attendees.
But the conference won't just be run-of-the-mill panels and product showcases.
Exhibit A: Instead of dolling up a house somewhere in town with green products and bussing people out to see it, the conference has plunked a 1,700 sq. ft. showhome built out of recycled shipping containers smack dab in the middle of the showroom floor. Built by the Lawrence Group, it was named "Harbinger House" by TV station Planet Green's resident cute cook Gregory Schaefer who says, "a harbinger is something which allows us to see the future, a foretelling, a symbolic event or bridge… the Harbinger House is a model of sustainable design that needs recognition for its forward thinking vision and creativity."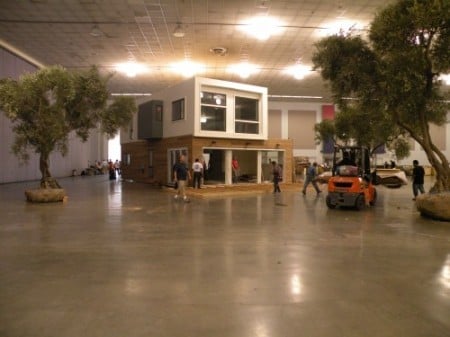 The Harbinger House—close to completion. You can see the tranformation from shipping containers to showhome here. 
Exhibit B: The convention itself is trying to practice what it preaches by making deliveries via biodiesel truck, serving food only on biodegradable cornstarch plates and utensils, and printing collateral with vegetable-based inks on recyclable paper.
Not part of the green building industry? No matter. The general public can join the convention on Homeowner Day, 9/27. (We assume eco-conscious apartment dwellers are welcome, too!) Extra bonus: that's the day that West Coast Green hosts its 'Build An Electric Vehicle' workshop, a half day class that will give you a primer on building on converting an electric vehicle – so you can get off that Tesla waiting list. The standout seminar on Thursday, 9/25, is on pitching your ideas for new green ventures-a few participants will be selected to pitch to real potential investors. And on Friday, 9/26, there's "Designing a Mars Community", a workshop run by experts from NASA's Jet Propulsion Laboratory who will be taking participants' ideas on designing a 100-person Martian community.
If all that thinking is starting to sound exhausting, there's always the Nap Room, which sounds like one of the best convention ideas-would CES ever offer up Reiki, face massage and guided meditation?
Convinced you need to attend? Register here!