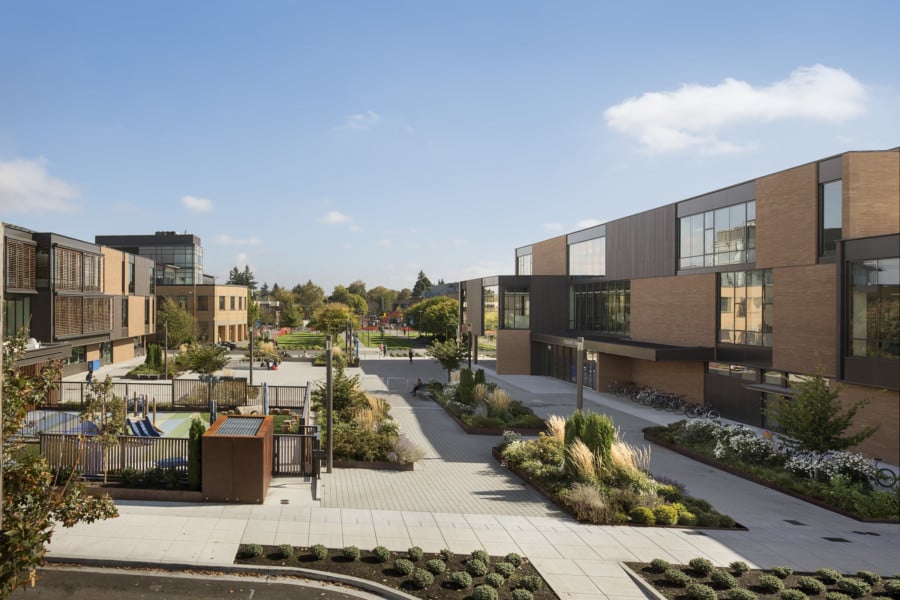 September 7, 2017
Can Designers Help Colleges Survive in the Age of Rising Tuitions?
A Q&A with Hacker Architects about the impact of design on higher education.
For the third year Metropolis' director of design innovation, Susan S. Szenasy, has been leading Think Tank, a series of discussions with industry leaders on key issues surrounding human-centered design. Recently, she visited the offices of Hacker Architects in Portland, Oregon to discuss the future of modern universities and colleges in response to diminishing public funding and rising costs of education. In addition to architecture, participants included experts from the fields of facilities planning, construction management, and higher-ed. What follows is an edited transcript of that conversation.
---
Susan S. Szenasy, director of design innovation, Metropolis (SSS): We're in Portland to discuss the role of the designer in higher education when tuitions are rising and colleges are competing for students. I think the city plays a large role in this discussion. In this city  the social environment is a robust one. How are schools in Portland dealing with these issues?
THE SUSTAINABLE, FLEXIBLE, EASY TO MAINTAIN CAMPUS
Chris Ramey, AIA, principal, CRC Facilities Planning LLC (CR): As the former university architect for the University of Oregon and now the head of my own facility planning consulting firm, I really believe designers should be proposing sustainable, easy-to-maintain, and flexible facilities to college campuses that bring about wellness in people and retain an emphasis on place-based learning. Questions that are important to deal with today are much more specific to place and to the students and faculty of a place like Portland. How do you design a place that emphasizes equity in the world? Designers can bring the data, leadership, and background to create better futures for campuses.
Mike Day, principal, DAY CPM Services (MD): From the perspective of my consulting firm, which provides instruction, program, and project management to schools, Portland is a great place to work with these questions because it's a very progressive city in the areas of corporate responsibility, which encompasses sustainability, social equity, and work-life balance. The city has attracted an entrepreneurial spirit that has allowed for collaboration between the educational, research, and medical sectors. From a philosophical standpoint, it's all about developing strong teams that work together, which translates into how we design schools. The generation of students now in college operate on a different level. Instead of workspaces or classrooms, how can we create learning environments that encourage students to engage with each other, the faculty, and the community at large?
Don Tuski, president, Pacific Northwest College of Art (DT): One of the trends in higher education is the move towards transparency in regard to what's happening inside the university and this leads to closer engagement with the community. The community is the new studio.
David Keltner, AIA, LEED AP, principal, Hacker (DK): One thing that all of us working in higher education, whether architects or educators, are experiencing is the fact that institutions are faced with budget cuts, forcing them to do more with less. This has direct implications on the programs and the kinds of spaces we're making. We're at a moment of real transition in how we think about teaching and I'm hoping that institutions take this as an opportunity to take risks.
STAYING RELEVANT AND BEING FLEXIBLE
MD: Portland Community College is actually working on a strategic master planning process that reassesses its identity as a college and looks at how it will provide educational services across their campuses. I think the main question here is how we stay relevant to young people who will be our future leaders. How do we create flexible work-spaces and learning spaces for faculty and students? How do we balance that with your budget?
Gabe Hunter-Bernstein, director of educational programs, Portland Community College Cascade (GHB): Speaking for Portland Community College, another design issue stems from the changing nature of faculty. The majority of our instructors are adjunct instructors who go from one college to another at very low incomes. What kind of office space do we now need to provide for this person to interact with students on campus?
SSS: To add to that complexity, Portland Community College is not just serving college students, but prospective college students. Gabe, can you describe this concept and how you are working with the community? It must have huge implications on the physical plan of a campus.
GHB: PCC has about 90,000 students; 90% of our students are on financial aid and struggle to pay even our much-lower tuition. We're addressing this through a number of programs. One is a partnership with Portland Public Schools on a middle-college program where the students from the high school across the street take classes at our Cascade campus. There, they're integrated in classes with college students and they begin to see themselves as such. The school district pays their tuition and many of them go on to prestigious colleges after the program.
We've also found that our students are clamoring for on-campus childcare. Being a community college, our student body is a bit different in this respect. The average student is in his or her 30's with a career, responsibilities, and family. Childcare is an extra expense that could keep students from attending college if they can't afford it, so in our new building, with the help of a state grant, we put in a childcare facility where Portland Public Schools Head Start program would provide free childcare for students who qualify. All of this has helped with the retention of our students.
SSS: It sounds to me like you're all understanding the word community really well. How do you begin to think about this shift in needs from multi-generational and technological perspectives?
DK: This up-and-coming generation of educators has completely different ideas about how they want to teach, which has more to do with connecting students to each other. It's not your classic lecture—it's more theatrical in some ways. You have to do more with less, so we're now seeing faculty having to teach 500 students while retaining the kind of intimacy and connection they would have in a smaller classroom setting.
One of the things that we've been trying to figure out is how we actually do both of these things effectively? We're experimenting with the kind of active learning classrooms where you're getting groups of students to work together more during class and share results.
SSS: You may have 500 people in the same class, but they're probably not even receiving a lecture in one room. They're probably watching a film or participating in some other instruction mode beforehand.
CR: Then the interactive learning piece comes from working with your peers in class based on the lecture they saw on YouTube. The idea is that there are groups of six to eight at a table working on the problem, but then an instructor can go between the 20 or so tables and work with smaller groups.
OUTCOMES-BASED EDUCATION
DT: Because of technology and social media students are mobile in their learning. They can look things up much quicker and fact check the professor in lecture which contributes to this shift that the professor is no longer an all-knowing entity. Higher education is slowly becoming more outcomes-based rather than time-based. The idea of a flipped classroom is just the beginning of that, but there's also an efficiency and sustainability required in higher education to collaborate with community partners and businesses in educational models outside of the campus like internships.
SSS: I want to follow up on what was just said and ask how are art and design schools specifically responding to this role of community partnership?
DT: Corporate America is hiring designers and artists to be strategic thinkers and disrupters. In art school, you solve problems in a very creative way. It makes perfect sense that companies seek out individuals who can bring creativity to strategic planning in ways that might not always be associated with a master's degree in business administration.
MD: As Don was saying, it's crucial to promote internship opportunities in college so students have an opportunity to engage in different corporate settings, whether it's working for an accounting firm or an architectural firm. Beyond asking how they can take their critical thinking and learning opportunities from the classroom into the corporate workplace, they will start to question how they can bring in those social values of the university, too.
SSS: The university itself is in a position of research and innovation for a lot of these social and environmental needs of the community. The community college especially seems to be looking at maker spaces. From what I've seen in universities and colleges in Boston, for example, is that that they're not just designed to allow experimentation with materials and processes. They have entrepreneurial programs. Is there anything like that in Portland?
INCUBATOR SPACES
DT: The University of Oregon has just built a multi-use facility in downtown Eugene called 924 Olive Street that combines a state-sponsored entrepreneurship program, the university's product design program, and a research company called Tyler Invention Greenhouse which focuses on green materials. They're bringing together these three groups and placing them in a 12,800 square-foot space to see what happens. Within the building, there is a maker space and several collaboration spaces for conferences and teaching. These types of incubator spaces are interesting because you don't know what kind of entrepreneur you are going to have, but they're working it through in an interesting way that doesn't require students to be in a traditional campus.
DK: Also, the University of Oregon School of Architecture and Allied Arts and Oregon State University's College of Forestry have actually collaborated with each other and the National Center for Advanced Wood Products Manufacturing and Design to promote research and advance wood technology in Oregon. Right now, Oregon is at the forefront of developing the kind of technology for high rise wood construction–that's a really interesting area of collaboration which will have positive impact on sustainability and the community.
SSS: I think that it has a much larger implication for the state because creating an industry today is not all computers. There's a lot of skilled labor that's involved. I think that might be a really interesting part of all of this. I'm really glad that Oregon is finally realizing that they are a resource of not only wood, but of the technology that is going to change the way we build sustainable high rises. There is something about this culture and this place that will make some really interesting initiatives through the massive change that's happening right now in higher education. It has been emphasized before, but we really need to say it again—place making is key to all of this. Contrary to what we've been led to believe that everybody is going to recede into their screens, we now talk about the need to be connected in order to learn from one another.
---
Panelists
Mike Day, principal, DAY CPM Services
Gabe Hunter-Bernstein, director of educational programs, Portland Community College Cascade
David Keltner, AIA, LEED AP, principal, Hacker
Chris Ramey, AIA, principal, CRC Facilities Planning LLC
Don Tuski, president, Pacific Northwest College of Art
Moderator
Susan S. Szenasy, director of design innovation, Metropolis
The Metropolis Think Tank series is presented in partnership with DuPont Surfaces, Sunbrella, and USGBC.