October 1, 2009
Can "Greenwich South" Revitalize the "Lower West Side"?
A new study proposes big and small improvements for a neglected corner of Lower Manhattan.
Image: courtesy Architecture Research Office
When, after 9/11, discussions began on rebuilding the World Trade Center site and its surroundings, it seemed likely that the area of Lower Manhattan south of Liberty Street would share in the money and attention appropriated for the development effort. At that time there was talk of revitalizing the area by building new schools and public space, and a vague plan (ultimately scuttled due to its estimated $2 billion price tag) to connect the neighborhood to Battery Park City by burying West Street.
Eight years later, after several contentious design competitions and much political wrangling, the Ground Zero site remains largely unbuilt. To its south, the area along Greenwich Street north of the Battery looks much as it did a decade ago–remarkably underdeveloped given its prime location for residences and its potential as an extension of Lower Manhattan tourist attractions.
The area in question falls west of the Financial District and south of TriBeCa, though–unusual in a city that loves its neighborhood sobriquets–the strip lacks its own particular tag. In fact, its relative anonymity might be the first target of the Downtown Alliance, which released a press statement this week announcing the completion of a plan for the blocks surrounding lower Greenwich Street. (The study refers to the area as "Greenwich South" and the aggregated neighborhoods along West Street as the "Lower West Side.") The Alliance, which advocates for residents and businesses in the area, commissioned the plan from Architecture Research Office (ARO) in the summer 2008. ARO brought on Open and Beyer Blinder Belle Architects (ironically, a firm best known for an unpopular series of master plans proposed early in the WTC planning process), and their illustrated "framework" features images from firms like Morphosis, Lewis.Tsurumaki.Lewis Architects, and WORKac.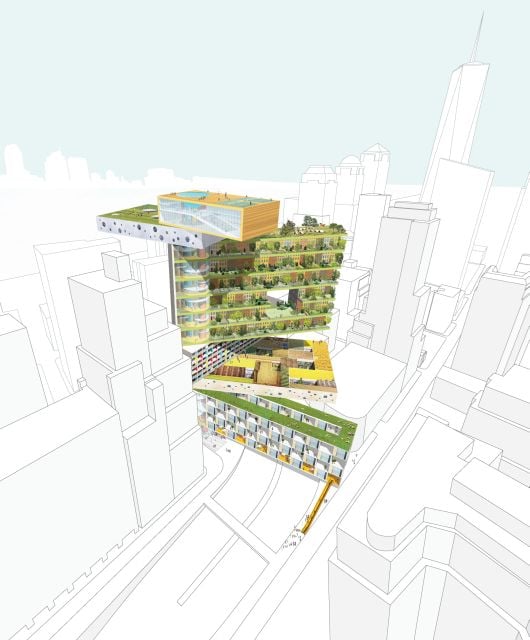 The illustrated "framework" includes images from Morphosis (above left), WORKac (above right), and Lewis.Tsurumaki.Lewis Architects (below). Click to view larger images.

Image: courtesy Lewis.Tsurumaki.Lewis Architects/Transsolar KlimaEngineering
The study, called the Greenwich South Strategic Framework (PDF), is billed by Downtown Alliance president Elizabeth Berger as "less prescriptive than evocative," a guiding philosophy for future neighborhood growth rather than a fully realizable master plan. The framework is ambitious in its scope, suggesting greater mixed-use development, increased density, and–perhaps, someday–development over the Battery Tunnel entrance.
But it's also necessarily incremental in its small-scale efforts. Increased signage and bike racks, improved open spaces, and temporary sidewalk art exhibitions are winning, in part, simply because they can be financed; this is the sort of planning that city agencies like DOP and DOT can, and do, accommodate. And it's what could make Greenwich South more attractive to both residents and tourists, and, ultimately, more profitable for the city.
Image: courtesy Lewis.Tsurumaki.Lewis Architects/Transsolar KlimaEngineering
For now, despite some small steps in the right direction, the project remains mostly a collection of polished images, which is the way it will stay without a mix of public funding and private initiative–both unlikely in the current economy. Whatever work is done in Lower Manhattan will begin small, though hopefully the project will proceed along the general "framework" suggested in the ARO plan. However, it's a laudable project, and one the city and public should get behind.
.
Addendum, 10/5/09: Craig Scott, of IwamotoScott Architecture–another of the firms that contributed to the Greenwich South design effort–writes in with a clarification. Although what is available on the Downtown Alliance Web site is, as George Beane writes above, "mostly a collection of polished images," Scott assures us that the designs are far more developed than that. IwamotoScott's tower design (below), for instance, incorporates a variety of sustainable strategies, including a gradient-aperture structural skin (for material efficiency and to reduce heat gain), a fiber-optic daylighting system, and an air-filtering terrarium floor in the building's atrium–while also re-opening Edgar Street (now covered by an MTA garage) and generally taking advantage of the site's prominence above the Brooklyn Battery Tunnel.
As long as we're embellishing this post, we also wanted to include a rendering of ARO's proposed public park and visitor's plaza over the Battery Tunnel entrance (below)–another key aspect of the Greenwich South plan that we just barely touched on before.
For more on this plan as it develops, keep an eye on www.downtownny.com/greenwichsouth.
.