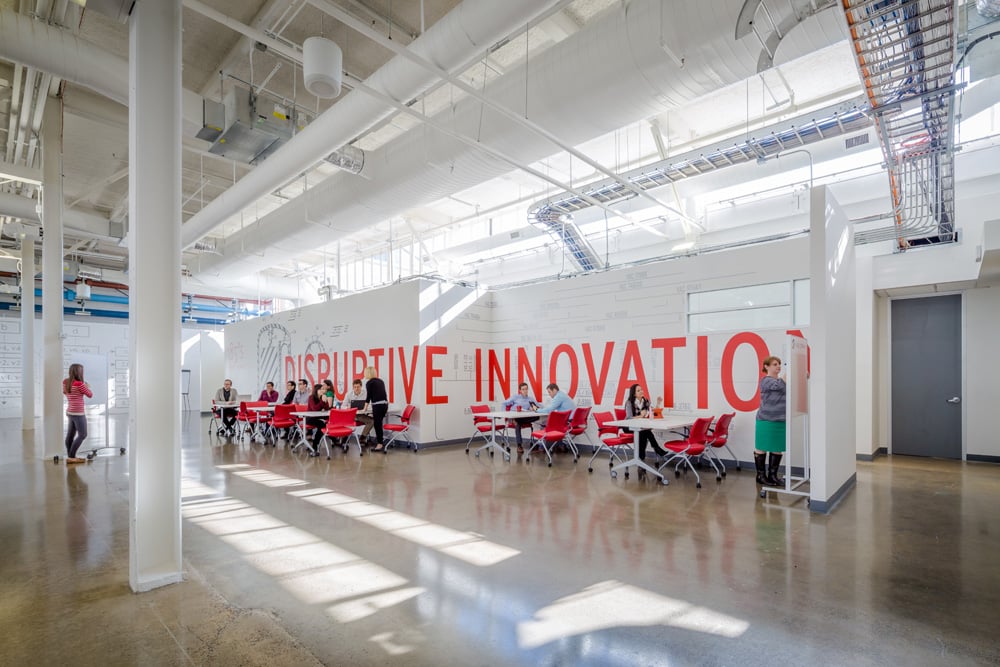 December 20, 2017
Where Design Meets Science
A Q&A with Gensler architects on designing for science and collaboration.
For the past three years, Metropolis's publisher and editor in chief, Susan S. Szenasy, has been moderating a series of discussions with industry leaders on key issues surrounding human-centered design. On April 19, in Houston, Szenasy discussed biotechnology research and entrepreneurship with architects from Gensler's Houston office, as well as the heads of the Texas Medical Center (TMC) and JLABS, about designing for science to facilitate collaboration between scientists, the public, and stakeholders. What follows is an edited transcript of the conversation prepared by S.T. White.
---
Susan S. Szenasy, director of design innovation, Metropolis (SSS): We just took a tour of the TMCx accelerator and JLABS @ TMC, which are both part of the Texas Medical Center Innovation Institute and opened in 2016. It's interesting how different they are.
William F. McKeon, president and CEO, Texas Medical Center (WM): Even though innovation happened in pockets throughout TMC, we needed a place where our scientists, researchers, and clinicians could create a platform of innovation for the entire medical city. JLABS @ TMC, which is part of Johnson & Johnson (J&J) Innovation, has 30,000 square feet of wet laboratory space with world-class technology and equipment. Our goal was to help people be as creative, healthy, and high-performing as possible. There are spaces for people to socialize and interact, so that moments of discovery are happening not only in the lab but throughout the building.
Lesley Stolz, PhD, head of JLABS California (LS): Also, for JLABS, we needed event space—a place where we could bring in the community. One of the reasons why J&J came to Houston is for its diversity. We wanted the scientific talent here to be able to communicate and interact with the public. Over the last few decades, we've learned that with more interaction, solutions get to patients faster.
David J. Calkins, FAIA, LEED AP, regional managing principal, Gensler (DJC): Working on both JLABS and TMCx was an unbelievably exciting opportunity for us to be involved in establishing this biosciences ecosystem in Houston for innovation. This is really about technology meeting people and how you help them be creative and innovative. So, that's where we started with the design.
Lisa Pope Westerman, RID, principal and design director, Gensler Houston (LPW): It isn't always the case that you get the chance to work with such amazing visionaries who want to create something truly life-changing, larger-than-life. At the onset of both of these projects, the bar was set very high to create spaces where everything could happen while connecting people in different ways. We began thinking about how to transition people from the outside world to these spaces. Specifically, in TMCx, there is a portal, which signifies to people that you are leaving the outside world and transcending into something that is very unique and special. And it's not just because of the design that truly transformational things happen here.
SSS: Lesley, can you talk about what inspired the creation of JLABS?
LS: My experience in academia was very siloed. The collaborative spirit disappeared for decades as people were focused on getting published in order to keep their laboratories and positions. At pharmaceutical companies, the culture was similar, where people focused on their projects and there was not much cross talk. At J&J, we acknowledged that 65 percent of our pipeline for pharmaceuticals was coming from outside the company. Things were being innovated and invented elsewhere. We wanted to encourage this and help bring solutions to patients faster, so we felt like we had to break down the silos and encourage cross-communication and collaboration. We decided to open our doors and create an environment like JLABS where small companies, sometimes with two or five employees, can rent a small space. As they add value, they can grow, but they can also interact with other companies. The space can hold up to 50 companies, and we look for different types of teams to join us from experienced people who have created several companies to brand-new people taking a chance after developing their postdoctoral research. We want to throw them all together in a mix so they can share their knowledge with each other to bring solutions to patients faster. There are no strings attached to J&J. We don't require them to make a deal. The idea behind that is that we will watch technologies move forward and help where we can as mentors and connectors. Some resident companies work on ideas that we aren't interested in, but perhaps we can connect them to other companies that might be interested.
SSS: The cynic in me is asking, "What does J&J get out of this?"
LS: We get a view into the world of all this great innovation. Also, because we are helping and advising them, a company might occasionally change direction after they talk to our scientists and realize what J&J is looking for. Ultimately, we would love to collaborate with our companies. It's great when a company's work fits into our pipeline. When that happens, we jump in and build the collaboration, but it's not required. We have confidentiality agreements with about half of the companies, and do deals with 20 percent.
WM: On a related note, when we recruit at TMC, people quickly ask, "Where is your innovation space?" We want to attract and retain the most talented scientists and researchers, many of whom are clinicians. This space keeps us competitive with Boston, Palo Alto, Singapore, and San Francisco. It's a huge recruiting and retention tool for these major institutions in finding the best people in the world.
SSS: I'd like to ask the designers, how did you approach the people using the building, the scientists?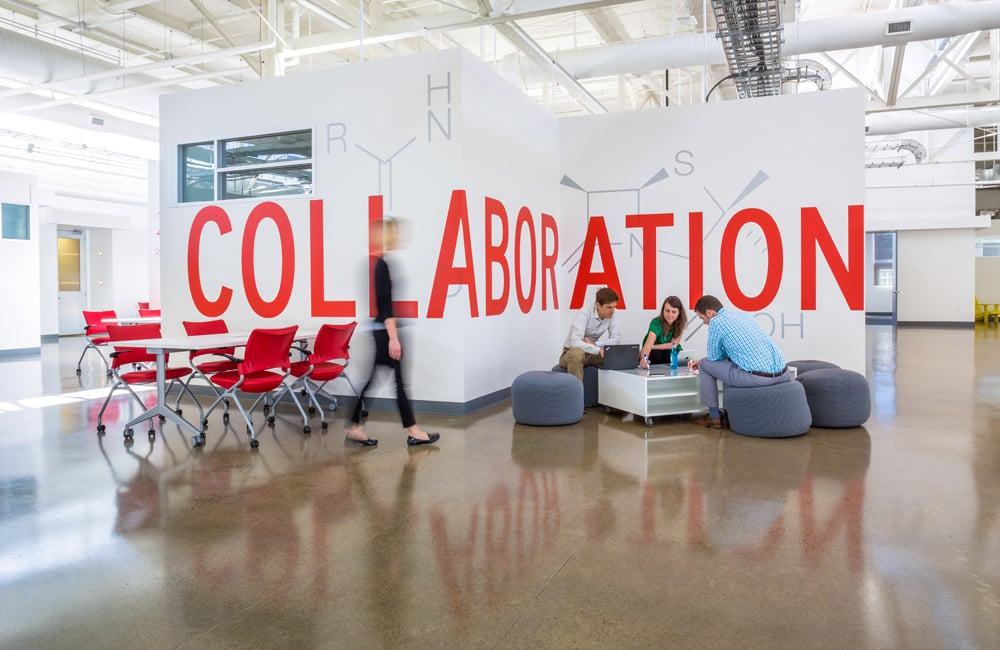 LPW: We have to think about all the individuals who are going to occupy these spaces—these living organisms, which have to be activated 24/7. Researchers are not typical people who go home at five o'clock. They have experiments on timers, and might have to stay all night or check in at two in the morning. There should also be event space to gather people, like for this talk or TED Talks, so the public has access to the scientific community as well. In this realm there are a lot of needs, from individual research that requires focus to larger, interactive events that facilitate communication.
LS: As scientists, we grow up inside dark labs. The offices can feel like a cave. We purposefully created spaces that disrupt that corporate feeling and inspire new ways of thinking, even if it's on an unconscious level. Some companies start as a two-person office, but soon they start talking to people in the next office or at the copy machine. All of a sudden, a group of 10 meets for lunch or has a weekly potluck, and that might lead to sharing their work and collaborating in a legal, formal manner. Some of that has to do simply with the design of the space because the proximity with new people can inspire relationships.
LPW: We intentionally created horizontal transparencies between the lab and public space, so you always know what is going on. Usually all the research is very secretive, but this is very transparent, honest, and true. It encourages conversations. SSS: What effects do you see from the culture of collaboration?
DJC: Collaboration is the key to success. As an example, when the computer and IT industry was taking off, many start-up companies were in Boston, where the attitude was to keep intellectual property close to the vest. If you worked for one company and I worked for another, we couldn't even be seen together. Some people rebelled and moved to California, where the ethos was entirely different. An ecosystem where people met after work to talk about their work left Boston in the dust and developed Silicon Valley into the success that it is today. Sharing ideas is a key to progressing as a society. That's what both of these spaces are about.
SSS: Can you talk more about how the design supports this mission?
LPW: We have to accommodate all the different users who will be in the space. The day-night concept from the hospitality world has also infiltrated all spaces we deal with, requiring all areas to be activated all the time, functioning beyond normal work hours. We can't be as prescriptive as we used to be, saying "This area is for focus and this is for collaboration." We have to build in flexibility, too, so that the space can be repositioned— constantly morphing and changing over time.
WM: Even if a space is well designed and works, people can get bored and want to try new things. It's important to be able to experiment in your space, allowing for things to constantly stay fresh. Investment happens each year, not just when a building is first built.
LPW: The word "experiment" is key as it relates to science and   design. In order to truly be innovative and think ahead, you have to be willing to experiment. There is no benchmarking or future-proofing. What may seem like a crazy idea now could become the norm five years from now, so it takes great clients like this who are willing to try new things.
DJC: We're keenly interested in the whole life cycle of ownership from the time we start programming the space to the time in which it is built. In order to do that, clients have to be interested in a long-term relationship, making incremental improvements over time to make sure it is functioning how it is supposed to.
WM: Melinda Richter, the head of JLABS, had a strong view about the design she wanted, and so did Lesley. If you ask for input from corporate, concepts get diluted, and we would be in a different room now. It takes strength and conviction to innovate.
LS: Absolutely. Someone has to be bold and say, "That's an interesting idea. Can we take it even further?"
WM: Like the old advertising adage that can also apply to architecture, "Listen to your clients carefully and ignore them completely." The strength of a good firm is that they're confident in themselves and, while listening to their client, they can also surprise them.
SSS: Are there any questions from the audience? Audience member: Can you talk about a time when bad design made it more difficult to do your job in science?
LS: There are so many times when bad design has made it more difficult, like having to get from one functional area to another, but not being able to do that because there are too many doors in the way or you have to carry things around with you. Even more important, actually, is when design makes you not want to come to work every day versus the design that gets you out of bed in the morning. I once worked in a building that felt like a prison. Once I was absorbed in my project, I felt OK. It makes a difference when you walk through the doors and think, "It's so cool in here!" Everyone feels that every day.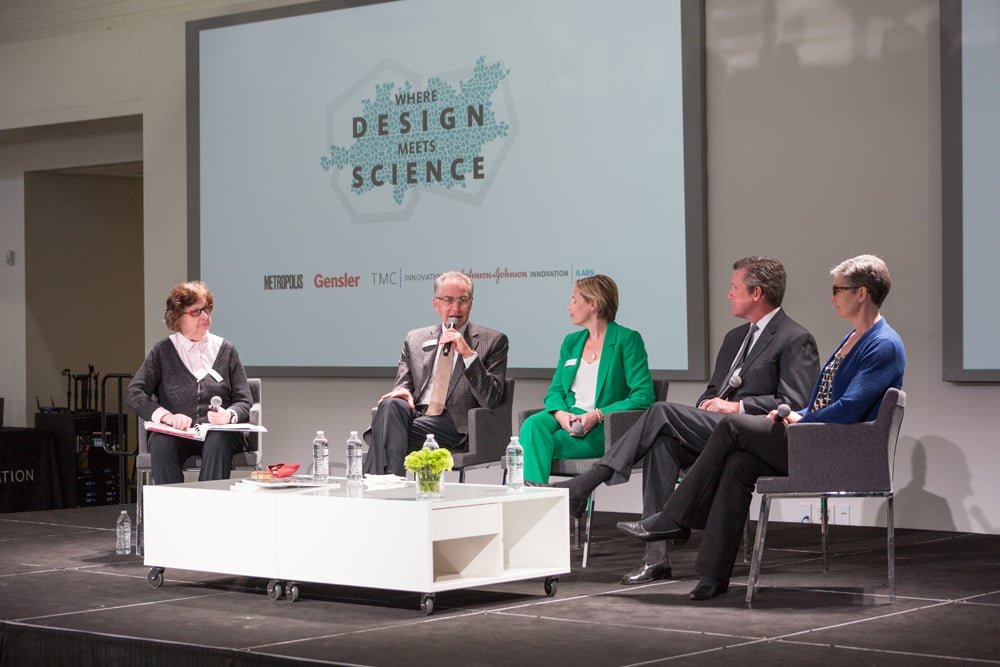 ---
Panelists:
David J. Calkins, FAIA, LEED AP, regional managing principal, Gensler Houston
William F. McKeon, president and CEO, Texas Medical Center
Lisa Pope Westerman, RID, principal and design director, Gensler Houston
Lesley Stolz, PhD, head of JLABS California
Moderator:
Susan S. Szenasy, director of design innovation, Metropolis magazine

The Metropolis Think Tank series is presented in partnership with Corian® Design, DXV/GROHE, Staples Business Advantage, Sunbrella Contract Fabrics, and XtremeInterior Architectural Solutions.