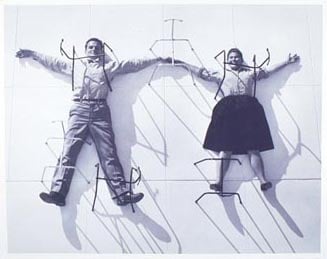 December 1, 2008
Designer Don Albinson dead at 86
More on the life of the man critical to Eames' success
Product designer Don Albinson, known as Charles Eames' "right hand man" who later became the Director of Design for Knoll furniture, died Monday, November 17 in Minneapolis, Minnesota. He was 86.
Don Albinson operating the drop-hammer mold used to stamp Eames' metal chair shells , 1948
(Photo courtesy Eames Office)
Although Albinson continued to lose physical mobility over the years (he suffered from severe rheumatoid arthritis), it did not affect his mental agility, nor his ability to write and self-publish his "Autophotobiography," a chronicle of his life as an industrial designer that also included his personal interest in photography.
As a student at Cranbrook Academy of Art, Albinson met Harry Bertoia, Charles Eames, and Eero Saarinen and prototyped the award winning Eames-Saarinen designs for the 1941 Organic Design in Home Furnishings competition at the Museum of Modern Art in New York. After Albinson's World War II service in the Army Air Corps, he joined the Eames Office in 1946 and became Eames' lead designer through 1959. During his years with Eames, Albinson was directly involved with the development and production of iconic Eames furniture designs such as the molded plywood screen, the dining chair with metal legs (DCM), the Aluminum Group Chair, and several other products on which he shared more than a dozen patents with Eames. (Albinson's thoughts on the creation of the classic Eames Lounge Chair can be found in the May 2006 Metropolis article, "Charles and Ray's Timeless Take.")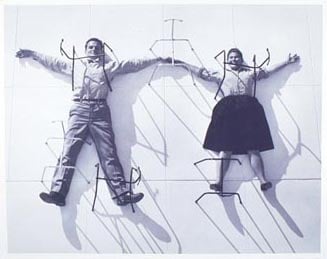 Photograph of Charles and Ray Eames by Albinson (circa 1949) at the Eames House. Albinson helped with the construction of the house in addition to his design responsibilities at the Eames office.
(Photos courtesy Department of Special Collections, Stanford University Libraries, unless otherwise noted)
After making significant contributions to the Eames furniture line, Albinson opened his own design firm in Los Angeles and taught at UCLA. An offer from Knoll made Albinson the Director of Design for the company in 1964. His hands on, pragmatic approach with Knoll created production efficiencies and new manufacturing techniques which remain in use today. Albinson worked with Knoll designers Don Pettit, Max Pearson, Bill Stephens, Richard Shultz, and others to bring their designs into production. His own Knoll design, a stackable chair made of cast aluminum and molded polypropylene (1965) was so successful at the time that many in the company speculated that sales of the Albinson chair helped sustain Knoll during a slow period.
 Albinson's stacking chair and dolly for Knoll (1964)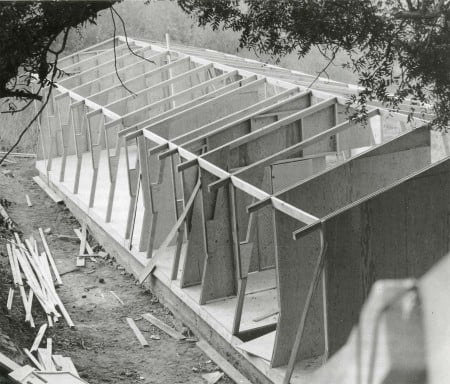 The Albinson residence under construction in 1946. A prefab house that Albinson co-designed with an architect in the Sherman Oaks area of Los Angeles. Albinson later designed a house in 1970 for his family in Coopersburg, Pennsylvania near the Knoll facility in East Greenville.
Albinson left Knoll in 1971, and worked with large contract furniture companies like Steelcase and Haworth. His most successful designs were office seating manufactured by Westinghouse during the early 1970s. His patented design for the chairs generated forty-five million dollars in sales.
Westinghouse ¼ scale models (in foreground) and full scale prototypes. Production was introduced in 1974 and became Albinson's best selling designs.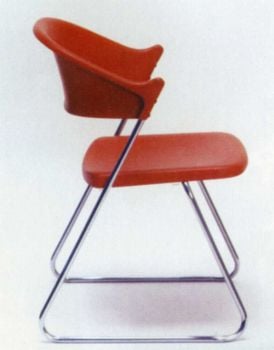 The "Albi" chair for Fixtures Furniture Company. A stackable chair in continuous production since 1987.
Designers and Eames biographers, John and Marilyn Neuhart, remember, "Don was a friend…a willing and enthusiastic consultant during our work on the [Eames] Connections exhibition in 1976 and through the research for our three books on the [Eames] office. We knew he knew it all—and we mercilessly pumped out of him his expertise in the subject he loved most—how things get made. His knowledge of industrial processes was immense and to listen to his lucid and beautifully expressed explanations in his own particular brand of techno prose-poetry was a rare experience. So patient was he, so honest, and so generous. We miss knowing that he is there, waiting for the next question."
In 1977 the Allentown (Pennsylvania) Art Museum featured an exhibition of Albinson's furniture designs. In 2005 he donated his design archive to the Special Collections Department at Stanford University.