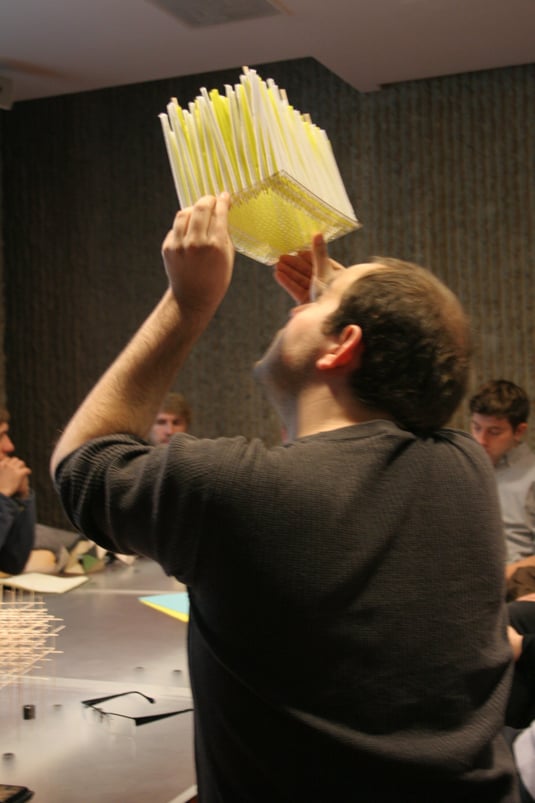 June 20, 2012
Designing and Building a Pavilion: IV
Raven Hardinson presents fabric options to the class. Shown from left to right: David Bench, Rob Bundy, Nick Hunt, John Lacey and Veer Nanavatty. Our seminar of 13 students met with professor Brennan Buck every Monday from 11:30 am to1:30 pm. During our first meetings, team members presented ideas (precedents, affect, tactility, and siting). In […]
Raven Hardinson presents fabric options to the class. Shown from left to right: David Bench, Rob Bundy, Nick Hunt, John Lacey and Veer Nanavatty.
Our seminar of 13 students met with professor Brennan Buck every Monday from 11:30 am to1:30 pm. During our first meetings, team members presented ideas (precedents, affect, tactility, and siting). In the next two weeks, teams of two presented swatches — physical and digital models of a system with the flexibility and strength to meet our goals. The swatches allowed us to test our priorities and brainstorm effective approaches with interpretive freedom. With a conference table full of models and sketches and a projector full of images, we gradually narrowed the project down to three strategies. We referred to these strategies as fabric, aggregation, and extrusion.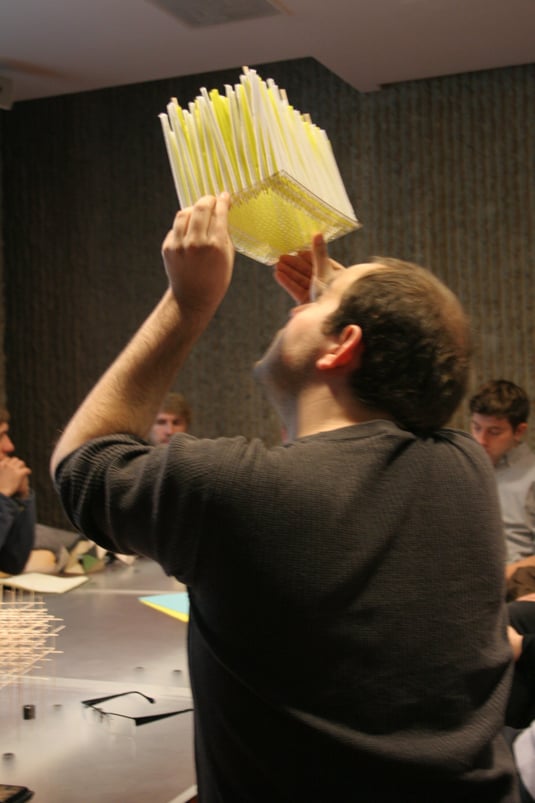 Eric Zahn exploring an aggregation and affect model.
We refined the three conceptual ideas and reorganized our small groups each week until each student held stock in each approach. The fabric scheme examined the operability, flexibility, and translucency of textile as an interpretation of the previous festival tent. The aggregation scheme held out the possibility of standardized units that would combine with infinite flexibility for program and affect. We frequently referred to this idea as "the cloud" because most of the aggregated components were used to shed water 15 ft. above ground. The extrusion strategy explored standard stock extrusions, primarily aluminum and paper tubes, as well as custom tubes made from flat stock material. This method of construction held potential for visual play and systematic flexibility.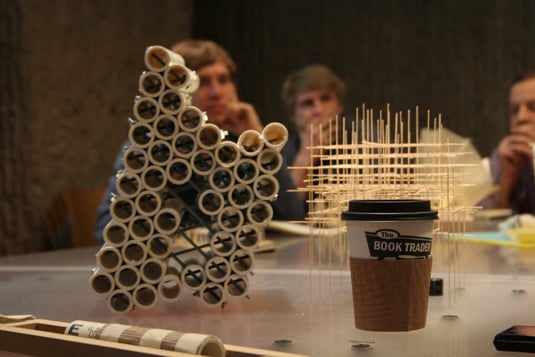 Study models
Midway through the semester we presented our findings to a jury of critics. We were fortunate to benefit from the design and fabrication experience of Andrew Thurlow, John Eberhart, Josh Rowley, Taylor Dansby, and Evan Sabatelli. As presented and discussed, each scheme included a more developed swatch, but none of them represented a complete proposal. The critics helped us understand the strengths and weaknesses of each scheme as it is taken into full design and construction. With their advice and caution we, as a team, decided to dedicate our full attention to the extrusion strategy: a dynamic structure capable of varying visual density and direction.  Here we go!

Studies of fabric, cloud and extrusion models.
Amy Mielke is enrolled in the MArch II program at Yale and is expected to graduate in Spring 2013.  She worked in New York for seven years with Carlos Zapata Studio and a+i design. Since returning to graduate school, she has found the pavilion an opportunity to apply the experience of shop drawings and fabrication expectations with intensive material research, conceptual development, and advanced computational methods of drawing and construction.
This post is part of a series on Designing and Building a Pavilion.