November 9, 2017
Designing for Social Equity: People, Place and Socioeconomic Progress Across Chicago
A Q&A with CannonDesign on architecture and social equity.
For the past three years Metropolis's publisher and editor in chief, Susan S. Szenasy, has been moderating a series of discussions with industry leaders on important issues surrounding human-centered design. On March 15, 2017 at CannonDesign in Chicago, she engaged a panel of local leaders in architecture, city planning, and public policy on designing for social equity and how socially-minded designers can address inequality and forge connections among a diverse citizenry. What follows is an edited transcript of the conversation prepared by James Boice.
---
Susan S. Szenasy, publisher/editor in chief, Metropolis magazine (SSS): Chicago is known for its architecture—and also its divisions, be they racial, economic or generational. We all have to work toward bettering where we live, and certainly Chicago is doing that. What areas are now most important to address in your city?
Alden Loury, director of research and evaluation, Metropolitan Planning Council (AL): The tale of two cities is a thing that's often mentioned here, and it's very true. The central business district is booming, which is a real success story for Chicago. But farther south and west you see the same problems you've seen since the 1960's—poverty, racial segregation.
Paula Worthington, Ph.D., senior lecturer at U of Chicago Harris School of Public Policy and former senior research economist at the Federal Reserve Bank of Chicago (PW): Chicago's built environment now reflects choices city officials have made over a long period of time. The city has had a complex history of ethnic tensions. Citizens are seeing the evidence of that today in the location and scale of things like our expressways and public housing sites. Targeted investment helps correct that somewhat, though prioritization is a challenge: officials sometimes fight about who should be first in line. But the city does have a lot of opportunity because it has a healthy philanthropic sector.
SSS: And of course, the poster child for how that philanthropic sector can revitalize great parts of Chicago through public space is Millennium Park. Edward, you were deeply involved with that.
Edward Uhlir, FAIA, co-chair board member at City Parks Alliance (EU): The mayor refused to provide public funds for Millennium Park, so the donor community was crucial, not only to its construction but also to its design. The mayor supported a plan that looked like the Beaux Arts center, but the donors wanted something contemporary, like Frank Gehry. In the end, they came up with $220 million dollars, which overruled the mayor and got us Gehry. Its success has really influenced similar initiatives, like the 606—which is green trail space converted from an old elevated rail bed—and investment in the riverfront. It also made Chicago a home for contemporary architecture again.
SSS: Similar public-private partnerships are happening in other cities, too. Tim, what are your thoughts about ways in which CannonDesign can make a difference with architecture?
Timothy Swanson, LEED AP, Chicago office practice leader, CannonDesign (TS): Designers have a responsibility to impact the greater good. Our practice focuses on how people work, their wellness or their education. The building becomes the point of intersection for all the different threads of a life, which means it has a responsibility to provide these things. At Malcolm X College, we just completed a building that was about empowering and generating a partnership with the city for a whole generation of people trying to make better lives for themselves. If we continue to meet that layer of dignity, then we can start using design as a tool for changing what in many places has become a recursive narrative of chronic poverty, poor education, and other social ills.
SSS: One of the interesting things I hear architects say these days is that their work doesn't end at the wall of the building, it goes beyond it.
TS: That's exactly right. In fact, our work is starting to resemble how architects worked a long time ago. The great cathedrals in Europe, the great temples across the world came from communities coming together. Design served as the heart of community.
SSS: Of course, back then structures were built to praise God. Now it's to praise money, which means we have to find meaning elsewhere: humanity and each other. The Boys and Girls Club has been doing exactly that in Chicago for 115 years. Mimi, tell us how your organization is staying current and connected with the city today.
Mimi Le Clair, president and CEO, Boys & Girls Club of Chicago (ML): Our Legacy clubs are structures specifically built to be a Boys and Girls Club. Many of them are underused, so they sit virtually empty. We wanted to use them to enhance the community, which in turn would help our kids—but we didn't know how to do it. So it's been helpful to work with designers who ask the right questions, like, why wouldn't we open them to other folks in the neighborhood beyond our members, so they can come in and use the WiFi? Or use them to provide job training programs?
SSS: Job training has never been more important, especially in our evolving economy. Paula, what is your research revealing about what is needed to fuel that effectively?
PW: For adult workers whose professions don't provide employment opportunities anymore, it's harder and harder to identify successful programs that can help them acquire new skills to change occupations. That's a very challenging space. We don't have a structure to provide that. We have to think about how to pay for it. Big capital projects like Millennium Park can access capital from philanthropic and corporate sectors, but the same can't be said for ongoing investments in the communities.
TS: Design House here in Chicago is an organization that realizes that people with skills in this city don't need to radically change to survive. For example, if I've been a metal worker for 40 years, I don't necessarily need to learn how to code to exist in the modern world. They identify industrial and manufacturing talent throughout the city and pair it up with designers. While we are training the next generation to pivot and identify how they fit in, we can also celebrate the craftsmanship that exists—and then appoint it.
SSS: As Detroit has shown us, urban green land has revitalized some terribly run-down areas by cleaning up the unused spaces and using them for nutrition to benefit the local community. What is the Chicago idea about urban farming and how it can help?
EU: It's happening here on a small scale, but it's ramping up. The Neighbors' Place owns 100 neighborhood sites, mostly on the West and South sides. Some of the sites are quite large. Polyhouses are constructed, there's training available for the local residents, some of the produce is given to the community or sold to restaurants, which generates income. With all the vacant sites available in the West and South sides, urban farming is a great opportunity, because people in those neighborhoods are facing massive challenges. Gangs are a big problem. We need to deal with that right away. But what is the solution?
SSS: That's a really important question. I throw it to Mimi whose organization is on the front lines of this issue.
ML: Our children are confronted daily with violence, and they are suffering. So the Boys and Girls Club is taking a more proactive approach rather than reactive one, for example by teaching violence evasion skills and bringing in counselors and working more closely with the police, so they're seen as mentors as opposed to a threat.
SSS: Alan, where do you suggest is a good place to start for folks in these communities that are looking for answers and trying to build a place of hope?
AL: We have a very vibrant community college system with a ton of resources, but it remains incredibly underutilized. The mayor instituted a policy where if you had a B-average in high school you get free tuition. That's a great idea which needs to be expanded. For people who finished high school many years ago or got a GED and never really saw anything beyond that for themselves, the community college system can be the way they reinvigorate their possibilities, to see that there are things they can think about doing that they haven't thought about before.
SSS: Like what?
EU: The parks district is now giving communities more opportunity to get involved by helping raise money for neighborhood initiatives like playgrounds. Sweat equity, it's called. We're providing more equitable distribution of funds than we ever have. Also, we have a huge facilities infrastructure in Chicago, which gets expensive. So we're increasingly making arrangements with organizations like the Boys and Girls Club to lease those facilities, and it's been beneficial for all.
PW: Community-level assets that enable positive interactions among people are very important. Waterways, for instance, are going to have to be reimagined. They were originally built for industry, so their design urged you to turn your back to the water. That's isolating. Now we have the opportunity to rebuild in a way that makes you turn towards the water. Because when you start doing that, we find you start interacting with other people more: you walk your dog there and meet other dog walkers, or your kids play with other people's kids and you meet those parents. It builds community.
SSS: That's great because there's a need for people in a city to be in touch with one another, especially those of different ethnicities, incomes or even ages. Tim, how can these relationships be bolstered by what or where you build?
TS: Designers have an imperative to meet people where they are, and to celebrate them by understanding everyone has an equal responsibility to contribute to a bigger urban collective. The design work we do is about making this a city for all.
SSS: Chicago is one of the most exciting American cities and has the potential to also be one of the most inclusive. How does that potential get realized?
AL: When it comes to underserved communities we often talk about their deficits and challenges. But there's power in those communities, there's cultural currency there that's very strong. There's history, and there are people who really care about where they live, whether they are active in trying to fight battles or active in local groups or churches. People interact with one another to a great degree there. My hope is that we tap into that, learn from it and use it to help the city's future.
SSS: Edward, where's the future for Chicago?
EU: It's in the rivers. Those spaces along the rivers touch all of these economic areas, all ethnicities and ages. There's a potential to really bring the city together through the river system.
SSS: I'm so glad that our waterways and our shorelines are finally becoming recognized as a resource for health and well-being, rather than exploitation for profit. What's your hope for the city, Paula?
PW: That we treat the natural environment well, that we are responsible stewards and investors in the physical environment—as is our obligation to the future generations.
TS: We can't ignore the things that have separated us for so long. Chicago is a design powerhouse, and I'm excited to see how that will permeate into the rest of the city, how designers will take the tool they've been given and talents they have and put them into the hands of those trying to better their community and their city.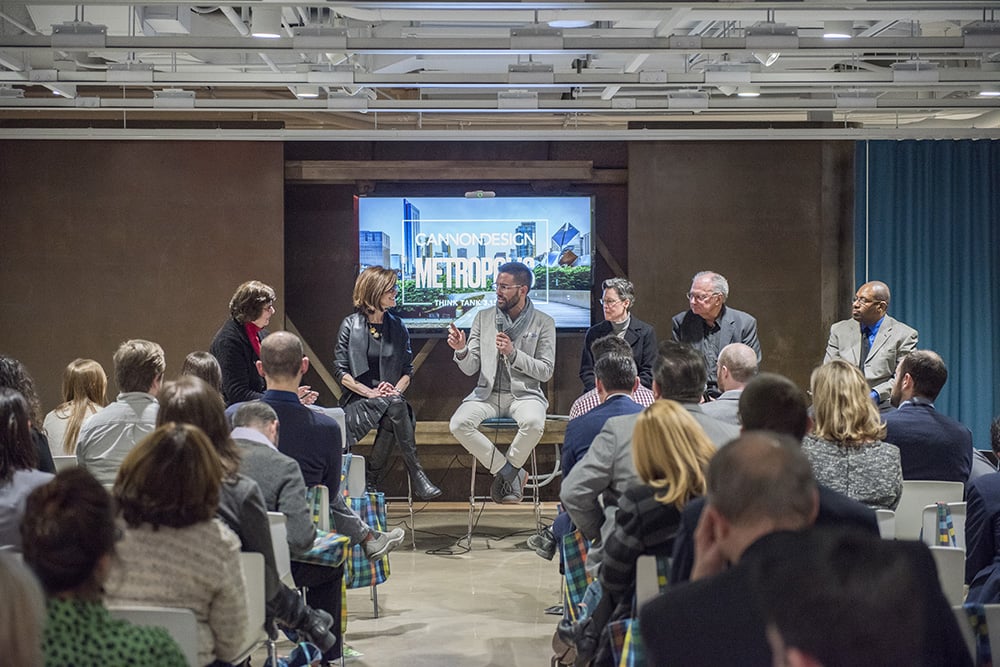 ---
Panelists included:
Mimi LeClair, president and CEO, Boys & Girls Club of Chicago
Alden Loury, director of research and evaluation, Metropolitan Planning Council
Timothy Swanson, LEED AP, Chicago office practice leader, CannonDesign
Edward Uhlir, FAIA, Uhlir Consulting, LLC and co-chair board member at City Parks Alliance
Paula Worthington, Ph.D., senior lecturer at U of Chicago Harris School of Public Policy and former senior research economist at the Federal Reserve Bank of Chicago
Moderator:
Susan S. Szenasy, director of design innovation, Metropolis magazine
The Metropolis Think Tank series is presented in partnership with DuPont Surfaces, DXV/GROHE, KI, Sunbrella Contract Fabrics, Teknion.