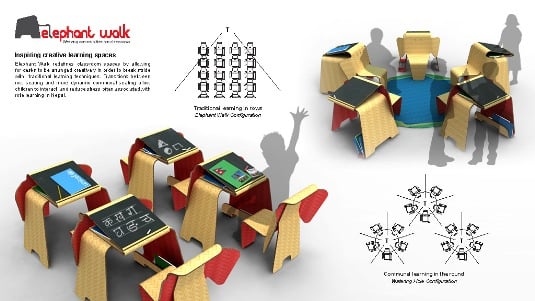 January 7, 2011
Elephants in the Classroom
Some design concepts never stop making sense. Elephants are always an extraordinarily good fit for children's products – they are large, kind-hearted creatures, with just the right eccentric features to make them instantly loveable. And for Indian and Nepali children, elephants are omnipresent in their mythology and folktales, where they have a much deeper cultural […]
Some design concepts never stop making sense. Elephants are always an extraordinarily good fit for children's products – they are large, kind-hearted creatures, with just the right eccentric features to make them instantly loveable. And for Indian and Nepali children, elephants are omnipresent in their mythology and folktales, where they have a much deeper cultural significance, not just as playful companions but also as models of good behavior.
So Stephen Pennington seems to have hit upon just the right idea for his Elephant Walk Desk, a classroom furniture solution that has just been selected as a finalist in the INDEX: Design Challenge 2010. The challenge, developed by Dutch non-profit INDEX and UNICEF, invited students to send in concepts for education in developing countries and disaster-affected areas. Pennington responded with an elephant-shaped desk intended for Nepali schools, where classroom furniture – if it is available – tends to be generally uninspiring. The head of the elephant is a desk top that doubles as a chalk board, and there is an abundance of nooks and folds for kids to stow their stuff. The feature I like best is that one elephant's trunk forms the seat of the elephant in front of it – there's something irresistible about the image of a child sitting on an elephant's trunk.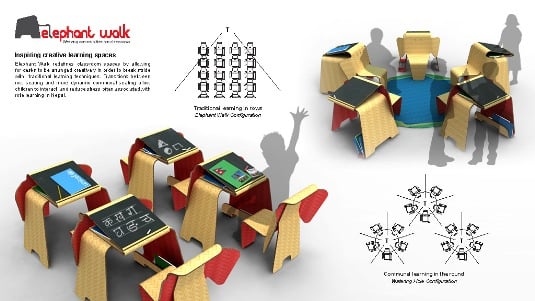 Of course, the first thing Pennington's design reminded me of was the Eames elephants. In 1945, the Eameses prototyped two toy elephants out of bent birch plywood, demonstrating the capabilities of the new technique they'd developed. The two prototypes were displayed at MoMA, but were never mass-produced, until Vitra re-introduced them to commemorate the 100th birthday of Charles Eames. Apart from the general resemblance, there was something about how Pennington described the arrangement of his furniture – "Elephant Walk Configuration" and "Watering Hole configuration" – that seemed to echo this lovely short film made by Eames Demetrios:
The biggest difference between the Elephant Walk Desk and the Eames elephant is the material. Pennington's design uses plywood's new-age, eco-friendlier incarnation — bamboo mat board. The board, made from woven slivers of bamboo and set into shape while the glue is still wet, has proven quite popular in India. The process can provide employment to artisans, and the final product is remarkably inexpensive and durable. The only caveat is the non-biodegradable resin used to bond the bamboo — the design optimistically specifies a "soy-based resin," but that technology is still in the future.
That detail will no doubt be ironed out in the next phase of the process, where INDEX will pair their finalists with experienced business developers, producers and investors to help incubate the ideas. The Elephant Walk Desk richly deserves to be developed into a full-fledged solution. As someone who spent several years in Indian classrooms filled with boxy furniture designed primarily to discipline children, I heartily welcome this low-cost solution that, in the true spirit of Charles Eames, aims to bring back some of the joy in learning.
In our December 2010 issue, Paul Makovsky reviewed Marilyn Neuhart's two-volume magnum opus, The Story of Eames Furniture. We also devoted a large part of our January 2005 issue to considering a future for design in the spirit of the Eameses.