August 30, 2019
Employees Are Looking for Choice; Their Workplace Should Give It to Them
A recent Think Tank panel dwelled on aspects of flexibility and choice, two key factors in keeping employees happy.
---
With the imminent arrival of Amazon's HQ2 in the Washington, D.C., area, local IT companies are scrambling to implement workplace strategies that can prevent employee flight. These strategies were the focus of a recent Metropolis Think Tank conversation at HOK's local office. Moderated by Metropolis managing editor Lila Allen, the panel dwelled on aspects of flexibility and choice, two key factors in keeping employees happy.
At the outset of the panel, designer Stephen Beacham identified crossover trends that blend elements from the hospitality, residential, and commercial sectors, the idea being that workers have choice in using the spaces that are right for them. In some places, flexibility means customized furniture solutions that allow for heads-down, quiet work within an otherwise open floor plan. In other contexts, it's less about reconfiguring space than reframing working habits. "For a lot of our clients, we're finding that we're in a fusion period, where it's not just about one way of working," said Beacham, HOK's director of design for interiors. "There are multiple generations and working styles to accommodate, so we have 'corporate-ality' and 'resi-mercial.'"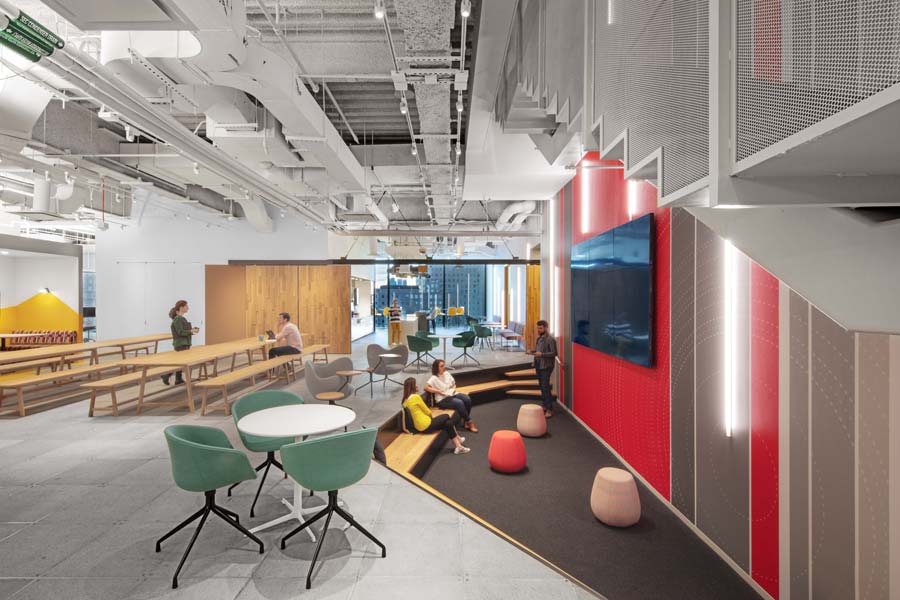 These different demographics and lifestyles converge to form what Beacham called "agile" work environments. He cited as an example HOK's work for Wells Fargo at the latter's new technology center in Charlotte, North Carolina. Caroline Pelley, the design and space standards lead for Wells Fargo, highlighted the project's active street-level storefront and offices that offer a twist on the usual open layout. "What we're doing in Charlotte is supporting agile work through workplace neighborhood choice," said Pelley. "Every individual is assigned into a neighborhood, with personal storage and artifacts, but there are no assigned seats at all."
The spatial design also carries with it an HR implication: it encourages a sense of ownership among members of a neighborhood who can customize their respective areas. Perhaps the biggest change in this office is a reduction of storage space, Pelley said. "Unassigned offices have zero storage. We're retooling how we're providing space, and reinvesting those dollars in finishes, tactile elements, and biophilia that we're providing in those spaces. And in tech, so people can virtually collaborate."
Panelist Michele Kolbinsky, Freddie Mac's director of corporate resources, put forward a question that everyone with a stake in office design should be asking: "How do we integrate brand, community, choice, physiological, and psychological comfort in our environments?" Part of the answer lies in the fusion of multiple building sectors: "We looked at education and hospitality. With education, it's about the 'me' and the 'we' space, and how students work together in universities," Kolbinsky explained. "We translate that into a flexible employee environment that covers their experience from the start of their workday to the end."
In Beacham's thinking, customized solutions that blend aspects of more traditional office environments with those more akin to hospitality reflect a growing desire among employees for inspired workspaces. "Understanding what the core of hospitality is, which is escapism, means providing a type of environment you don't normally have … and bringing in things that are unexpected," he said. "Corporate work tends to be very catalogue-based: here are five choices, choose one. Hospitality tends to be very bespoke: to really create a unique environment, you have to look beyond the world of the normal." 
As businesses compete for an energized workforce accustomed to a variety of office choices afforded by tech and co-working companies, they're pushing to provide the kinds of unique environments Beacham references. As the panel showed, investing in office improvements can forestall employee departures for perceived greener pastures. The companies that will successfully attract future employees and retain current ones must begin by deploying tailored environments that emphasize personal choice and flexibility—meeting the demands of an increasingly selective clientele.
You may also enjoy "Redefining Fitness: How WELL v2 Is Driving More Inclusive Interiors."
Would you like to comment on this article? Send your thoughts to: [email protected]