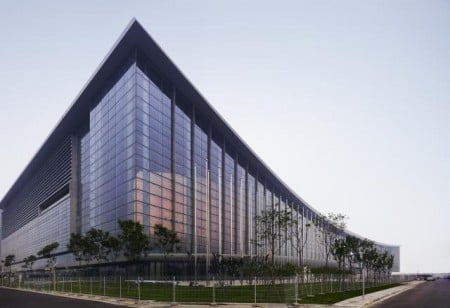 August 20, 2008
Forget Going for the Gold, Go for the Green
A closer look at RMJM's Beijing Olympic Green Convention Center
The Beijing Olympic Green Convention Center
(Photography: H.G. Esch/Courtesy RMJM)
In preparation for the Olympics, the media facility at the Beijing Olympic Green Convention Center (BOGCC) won a gold medal of its own: becoming the largest media center in Olympic history. It operates 24 hours a day, 7 days a week, and serves more than 20,000 accredited journalists, photographers and broadcasters in 150,000 square meters of copper-clad and glass-encased space.  Designed by the UK-based RMJM, the multi-purpose complex includes the Main Press Center, the International Broadcasting Center, and (just a few) hotels to shelter visiting media. It also boasts two sports halls: one for fencing competitions and the other for pentathlon pistol shooting events.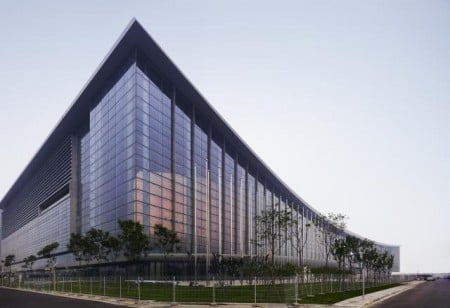 The glass facade provides film crews and photographers views of other Olympic buildings including the 'Bird's Nest'.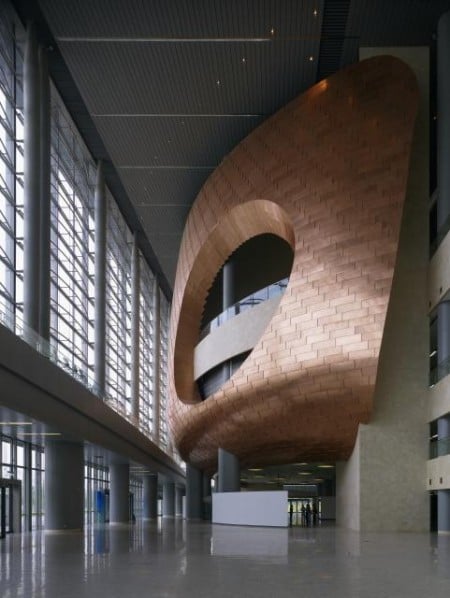 The copper-clad auditorium in BOGCC's main concourse
The BOGCC is one of many architectural forays that RMJM, based out of Edinburgh, has made onto Chinese ground. The firm has existing projects in a total of 46 Chinese cities that cover a wide range of international recognition. This includes the China Merchants Bank's headquarters tower in Shanghai, as well as properties in "some second tier cities," such as the lesser-known Huawei Research and Development Park in Nanjing.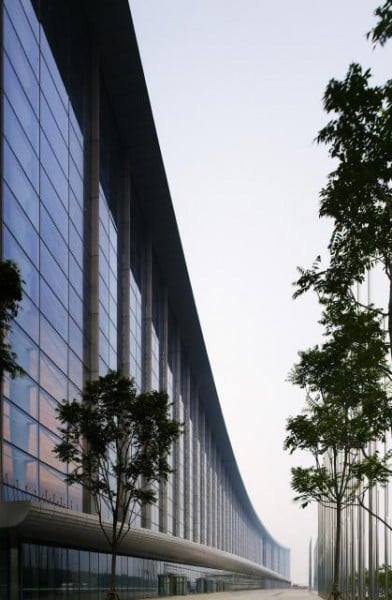 BOGCC's façade spans 400 meters (equivalent to 4 football fields)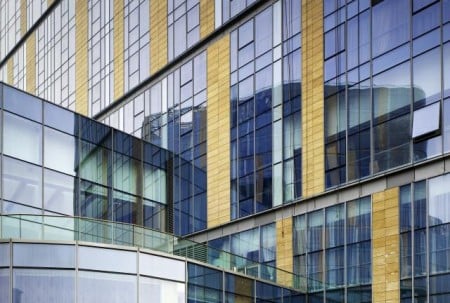 But considering its current residence in the global eye and alignment with current green trends, Beijing's BOGCC may take the cake as RMJM's crowning achievement abroad. With environmental and financial sustainability both of equal concern, the building covers all the right bases. Green features include an ice storage cooling system, "free air cooling" ventilation in the public foyers of the convention center, and rainwater collection on the roof for irrigating the landscape. 
Sustainable financial features of the building involve adaptive re-use of the building post-Olympics. The building's second life will begin shortly after the close of the Olympic and Paralympic Games. And in place of the 20,000 journalists currently swarming the place?  The enormous structure will be retrofitted and reopened in 2009 as China's National Convention Center with additional space for offices, retail, service apartments, and two hotels.  Now that's really bringing the green to financial sustainability.
The inspiration for the center's roof derives from the Chinese pagoda.