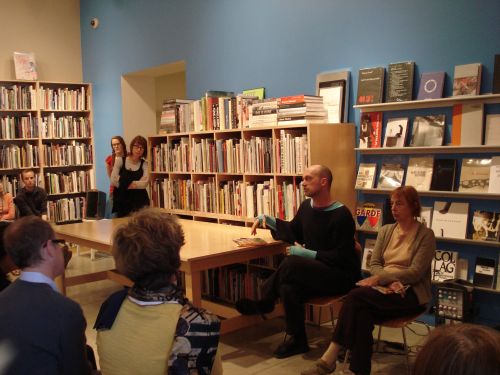 April 4, 2008
Fritz Strikes Again
Last weekend in the concrete courtyard outside MOCA's Pacific Design Center outpost in West Hollywood, there was nary a blade of grass in sight. It was the perfect setting to celebrate the release of architect and provacateur Fritz Haeg's new book, Edible Estates:Attack on the Front Lawn, documenting his efforts to get us to rethink […]
Last weekend in the concrete courtyard outside MOCA's Pacific Design Center outpost in West Hollywood, there was nary a blade of grass in sight. It was the perfect setting to celebrate the release of architect and provacateur Fritz Haeg's new book, Edible Estates:Attack on the Front Lawn, documenting his efforts to get us to rethink the traditional front lawn. What if we rooted up all that water-guzzling grass and planted edible fruits and vegetables? If we got lucky we might end up with something like the bounty of fruit that awaited guests–but the piles of loquats, grapefruits, and oranges weren't there to be peeled and eaten. Instead, members of another radical gardening group (hooray for activist art!), Fallen Fruit, led a group jam-making project, making the event feel as messy and wonderful as one of Fritz's famous Sundown Salons.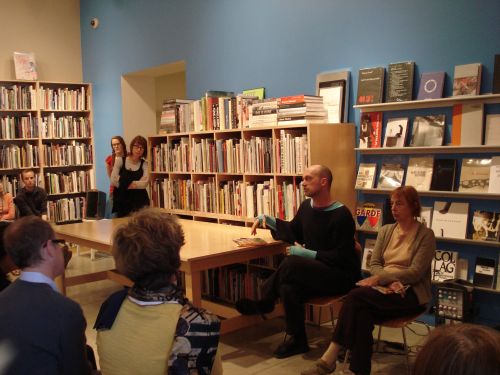 Fritz Haeg speaks
The readings were just as spontaneous. Michael Foti, whose Lakewood house was the site of the first Edible Estates installation, was supposed to come and read from his funny, truthful blog, which is reprinted in the book, but he never showed up. Instead, designer Robbie Herbst, who painted the Edible Estate sign (which made its way to three locales before being stolen at the fourth, in New Jersey) was enlisted as a last minute replacement. Matias Viegener, one of the founders of Fallen Fruit, and Lesley Stern, who wrote one of the book's essays, also read.
After the lively Q&A, the audience of artists, architects, activists, and gardeners went back outside for snacks and took home free jars of freshly-made jam.
A member of the Fallen Fruit Project
Next up for Fritz, a garden at the Chelsea Elliot on 10th and 26th St., associated with the Highline project in New York City.