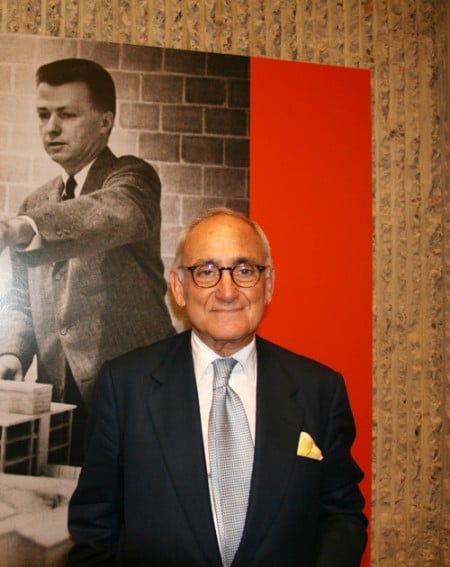 November 11, 2008
From A&A to R&R
The insiders' take on Yale University's newest addition and renovation
Illustration for Metropolis by Ellie Clayman
Last weekend, Yale University's students, alumni, faculty, and the design community gathered in New Haven, CT, to celebrate the rededication and renaming of Paul Rudolph's 1963 Art & Architecture Building (now called Paul Rudolph Hall) in addition to its new Arts Complex neighbor designed by Charles Gwathmey. During the historic two-day event filled with lectures, exhibitions, and panel discussions, many former students were excited to see their old stomping ground turned upside down and cleaned to a sparkle-the dingy grey walls were restored to their original grey and everyone loved the "paprika" orange carpet. The excitement surrounding the restoration of Paul Rudolph Hall overshadowed the skepticism of its sterile counterpart. Metropolis caught up with a few of the attendees to gather their thoughts on the renovated and restored modernist landmark and its slick new neighbor.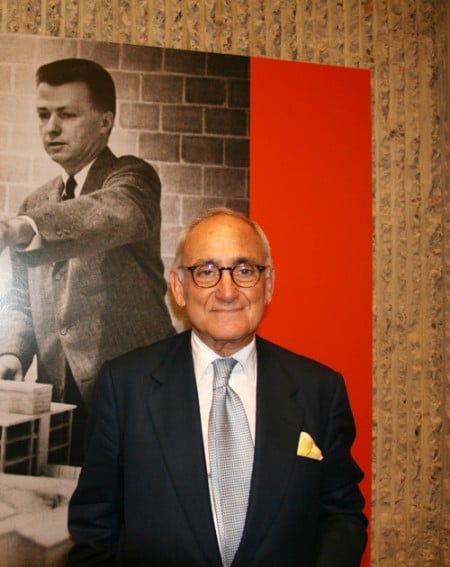 Yale School of Architecture Dean Robert Stern standing with a portrait of Paul
Rudolph
"There are no favorite parts to this project. What is so impressive is how Charles added the new to the old and that the renewed building looks better now than it even looked in 1963. It's amazing. It's a building for architects to study over and over."-Robert Stern, Dean

Paul Rudolph (left) speaking to a younger Robert Stern (far right) and his colleagues, 1962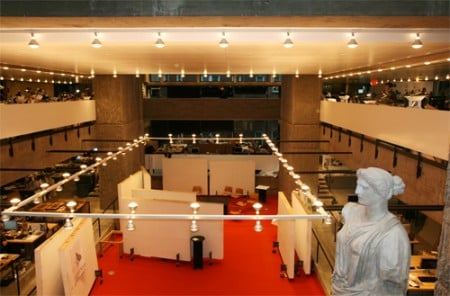 View from the 5th floor looking down the to the 4th floor 
"Since the A+A was renovated, the quality of light has improved noticeably. The new windows-which seem less reflective and much larger-have transformed my perception of the space. The overall character and quality of light in the building is now vivid, clear and dramatic. The previous light fixtures were suspended fluorescent strips. They were very heavy, ugly, and cast an ominous greenish-yellow hue, and architecture students don't need any help looking sickly. The new fixtures are arranged around the perimeter of interior spaces, emitting a clean, white light directly onto the jagged grey walls while illuminating the (shockingly) bright orange carpet. I'm quite fond of Rudolph's orange-and-grey color scheme, and it's nice to see it restored to full contrast. The building makes everyone feel and look much better than before. In time, perhaps architects' spirits will be lifted, making way for a whole generation of designers who dare to wear colors other than black."–Brook Denison, faculty and former student

Janet Ho (left) and Ayumi Sugiyama (right) get comfortable in the new lounge area on the 7th floor. This new resting spot connects Rudolph Hall with the Loria Center.

The restored stairwell with new openings which allow people to peer through to the floors below at each landing.  
"This renovation has given the A&A a noticeably brighter appearance. Throughout, the corduroy concrete looks whiter than ever. The new large window panels are actually squeaky clean. New soffits and finishes pick up and reflect light adding to the blinding luminosity. The paprika carpet… well that's certainly brighter! Or maybe it's just me, since I'm accustomed to the former weathered and grungy A&A."-Ayumi Sugiyama, former student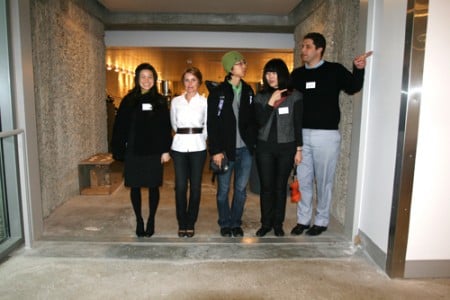 Former architecture students, Ayumi Sugiyama, Sandra Ardnt, Christopher Lee, and Brook Denison (from left to right), stand at a threshold between Rudolph Hall and the new Loria Center.  
"I'm afraid to step over the line. It's just something I'm not used to. There's supposed to be a wall here, but now…?"-Janet Ho

Current 3rd year student, Seher Erogan sitting in her 7th floor studio
"[My favorite space] is an exterior building on the roof terrace. They put these…[lights] underneath the railings, and at night when you go [out] it's not dark. It's a really nice effect and you can actually walk up to the second level of the terrace. It's a great place to be. It used to be dark, you would trip, and you wouldn't actually get to enjoy the terraces. Now it's a really nice communal space. It's a very simple move, but it makes a big difference."-Seher Erogan, current 3rd year graduate architecture student

7th Floor Terrace with outdoor furniture design by Frank Gehry for Heller.

Stern (left) and Goyle Amornivivat (right)  
"..my favorite part of the building is…the balcony on the top – the outdoor space – looks to Yale, rather than away from it. Before, on the seventh floor, we used to all hang out and it looked away from Yale so we felt kind of isolated. Now I think we're more included in the University."-Goyle Amornivivat, former student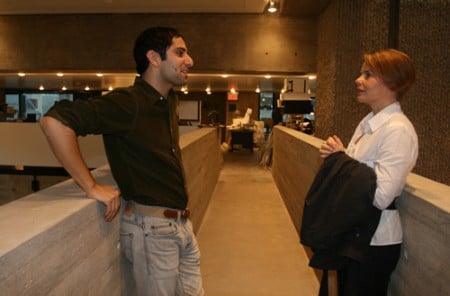 Former students, Rustum Mehta (left) and Sandra Arndt (right) standing on the new 5th floor bridge. 
"I like this bridge a lot more than what was here before because it's actually a bridge. It's also very narrow and it feels a little bit dangerous-it really feels like it's going over something rather than just being kind of an extension of the floor…"-Rustum Mehta, former student

The newly renovated shop is now an open floor plan as opposed to the former compartmentalized rooms

Joseph Smith admiring the 5-axis robotic arm
"The basement's…It's all open, free and clear, lots of space, a lot nicer and fancier than before."-Joseph Smith, former student

Ian Gold at the closing reception party in the Architecture Gallery
"I really like the carpet…the paprika carpets were perfect restoration of the original building. Paprika!"-Ian Gold, visitor

Dean Sakamoto (left) and Ayumi Sugiyama Right 
"[My favorite part is the ] air conditioning. No really this party, the second best is air conditioning, and then the orange carpet."-Dean Sakamoto, Director of Exhibitions

Former elevator shafts in Rudolph Hall are now laser cutter rooms. Current elevators are accessed through the Arts Complex.

Jonathan Toews and Chris Kitterman 
"The thing that strikes me most about coming back to a building that I was very familiar with was that it turns out that everybody's familiarity is about a specific way of navigating the building, and now that's all turned upside down even thought the building, for the most part, is the same. Like the way you come in, the way you go up and down, and all the secret passages now that are opened up aren't so secret. There are a lot of these, like, cutaway views that you couldn't get before, like a hole in the wall of the other building it's like this dream sequence, basically. It's like looking at yourself working. It's surreal."-Johnathan Toews, former student