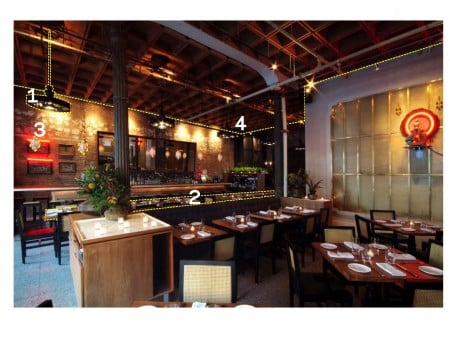 October 28, 2008
From the Mouth of AvroKO
A walkthrough the designers' newest interior
AvroKO, the New York City design firm that earned its star pairing tailor-made objects with peculiar salvaged goods, has opened its second owned-and-operated restaurant on Manhattan's famed Bowery. Dedicated fittingly-or dubiously, depending on whom you ask-to colonialism, "Double Crown," says the press release, "is inspired by the new aesthetics and cuisines born of the 'in-betweenness' created when two disparate cultures meet." Certainly, it's an apt echo of the breakneck gentrification that has swept the Street of Forgotten Men. Button-down 19th-century British iconography couples with bright South Asian, Indian, and Chinese textures for a 5,300-square-foot space that feels more traditional than AvroKO's first restaurant, Public (which recently received a Michelin star), but maintains the firm's idiosyncratic mash-up of old and new. Below, three of AvroKO's principals take us through the main dining room's key features: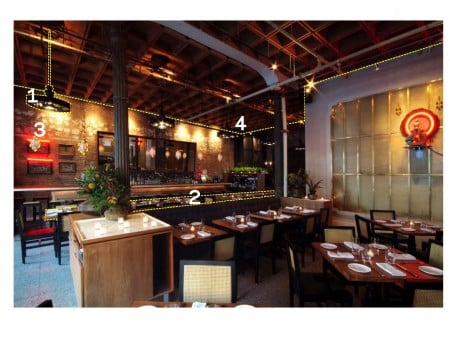 1. Found: The painted steel ceiling lights were salvaged from a Manhattan antiques shop and rigged to freshly designed ceiling fans for improved air circulation. "We had the ceiling height to pull it off," Kristina O'Neal says, "and we were seeing similar treatments in churches and public spaces in India and Asia."
2. Custom: All the furniture, including this white-oak communal table in front of the bar, was made from scratch. "We were building and finishing alongside the craftsmen for a good deal of the project," Adam Farmerie says. "We went through tons of iterations to get just the right feel and proportions."
3. Found: AvroKO stumbled on these seven hand-carved soapstone lights in an Udaipur, India, market. Each was later outfitted with an intricate, brass fixture.
4. Custom: The classic coffered ceiling is re-imagined in teak, a ubiquitous material in southeast Asia. "We had craftsmen on site for three weeks to construct each individual coffer like a piece of furniture," Greg Bradshaw says. "Then it took another couple weeks to install and build the entire ceiling and wax it."