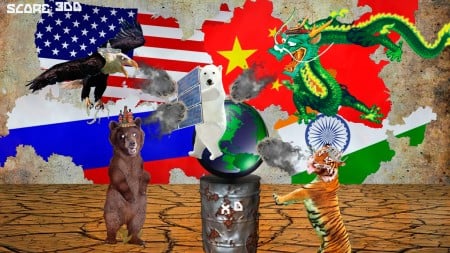 January 8, 2009
Gaming to Save the World
Take some time to play with a solar panel, a polar bear, and Dick Cheney's SUV
Are you not quite through with playing World of Warcraft? Well, take a break from that fantasy to join another in Gas Zappers. This series of online games by artist Kenneth Tin-Kin Hung draws upon classic videogame themes set to a storyboard of the mounting dangers and the repercussions of real world climate issues. Although not the MMORPG (Massively Multiplayer Online Role-Playing Game for the non-gamers in the room) nor the heavy animation that you may be partial to, how could one resist the hero polar bear trying to get home on melting icebergs by dodging and attacking the oil barrels, collecting Nobel Peace Prizes, avoiding Dick Cheney's SUV, and meeting the Evil Oil Emperor (guess who).
A.N.W.R.
Take the Polar Bear back to his own home in Arctic National Wildlife Refuge (ANWR)
(All images from Gas Zappers site)
Hung received a Media Arts Fellowship, funded by the Rockefeller Foundation, to develop Gas Zappers. A video version of the work was shown in the 2008 Sundance Film Festival and the game is on view at an exhibition at The University of California, Berkeley Art Museum and Pacific Film Archive running through February 8.
Through the parody of characters and simplification of the complex environmental issues at hand, the games embody the cultural and historic significance of our current state of affairs and yet it stays true to its intent "to challenge and illuminate the simplistic notion of quick fixes to environmental issue." Ultimately, the games successfully bring social and environmental issues into the realm of gaming.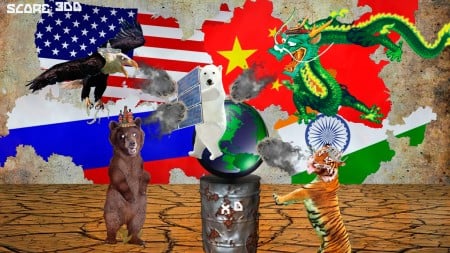 Four CO2UNTRIES
Use the solar panel to defend the earth! Block the greenhouse gas from the top four CO2 emissions countries- China, United States, Russia and India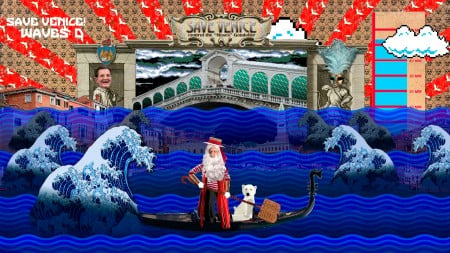 Save Venice
IPCC Chairman Rajendra Pachauri is dressed as an undercover "Moses" gondolier at Venice, Italy. Help him save the sinking city by deterring the tsunami.
So after a 12 hour World of Warcraft stint, take a break, grab an organic beer, and enter a world of photovoltaic shield-wielding polar bears and fight the evil bloodsucking oil drilling empire. If only it we're so easy.