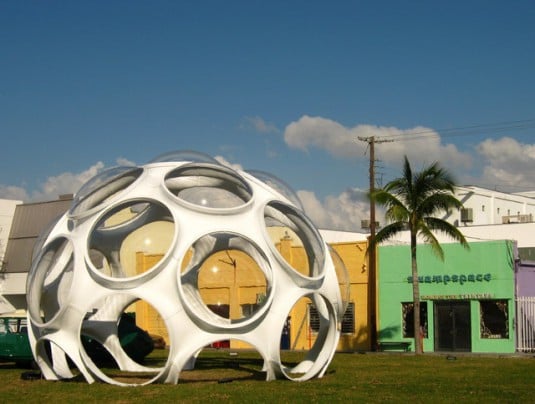 December 6, 2011
Gimme Shelter
It is to be expected that an event that combines top art and design galleries and the wealthy crowd that attends it, would have a high index of partying, schmoozing, late nights, debauchery, and chronic overstimulation that result in a temporary state of attention deficit disorder. I am speaking of the ArtBasel/DesignMiami cultural "all-you-can-eat-buffet " […]
It is to be expected that an event that combines top art and design galleries and the wealthy crowd that attends it, would have a high index of partying, schmoozing, late nights, debauchery, and chronic overstimulation that result in a temporary state of attention deficit disorder. I am speaking of the ArtBasel/DesignMiami cultural "all-you-can-eat-buffet " that took place this last week at Miami Beach. But luckily, amidst the abundance of shows, talks, and other displays of distracting and senseless corporate tie-ins, we found some relief in installations that offered a chance to experience a certain quiet introspection that is more conducive to the assimilation of art and design.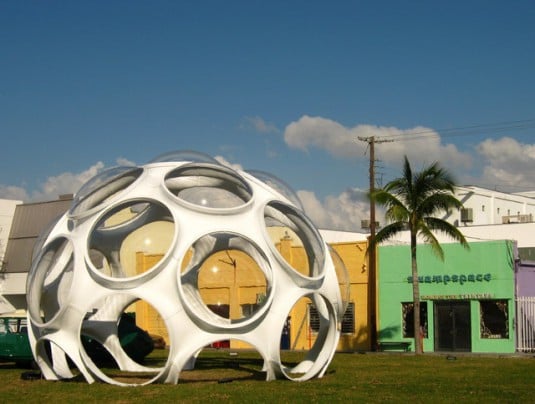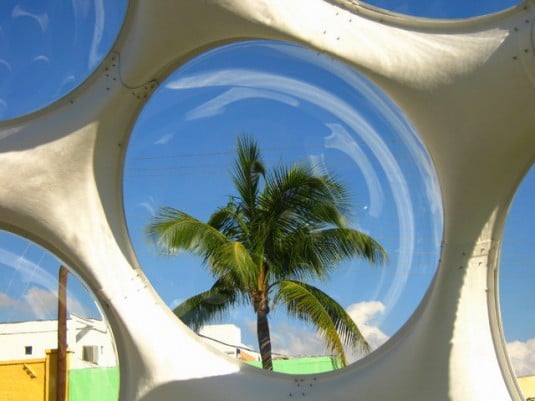 "Geodese", Buckminster Fuller
Sitting peacefully on an empty lot, next to a busy highway fly- over, Buckminster Fuller's Geodese, is one of 3 prototypes  developed in 1961 by the visionary engineer as a new dwelling option. The 24-foot dome is now part of the Craig Robbins Collection and is, for the time being, installed in what will become a pedestrian plaza in the Miami Design District. Standing out in this unusual setting, at times unexpectedly framing a palm tree or against the back drop of colorful architecture, its still futuristic flair betrays the fact that it was designed 50 years ago. It is as inspiring as inviting. "The dome is a perfect fusion of science, engineering, architecture and art in pursuit of accomplishing more with less — a mantra I follow on my own work as well," says local "starchitect" Chad Oppenheim. Standing inside the aptly named "Fly's Eye Dome"  and looking up to a December blue Miami sky, you can't but have hope for the future.

"Portable Chapel", Luis Pons
Just East of the Geodese, safely tucked in the Buena Vista Building, another inviting structure draws us in for a moment of stillness and balance. Designed by Luis Pons and part of the exhibit, "Inventory/Soul Does Matter" showcasing Miami designers, the "Portable Chapel" (on view til December 19) is the  prototype of a prefab meditation room. As wine-rooms, home theaters, spas, and gyms become regular parts of the residential program, this project brings into the mix a space conducive to the slowing down of our fast paced lives. "The translucent fabric panels  define the cocoon space within the structure, filtering the light and creating an environment that is pure of distractions. It enables a connection with our inner selves that is in sync with the essence of the exhibit's theme," explains the show's curator Thais Fontenelle. Echoing a feeling described by all who experience the installation, HeSaLight lightning expert and marketer Karina Rasmussem chimes in: "There's an interesting contrast between the perceived exterior physicality and the serenity one feels inside. We immediately relax."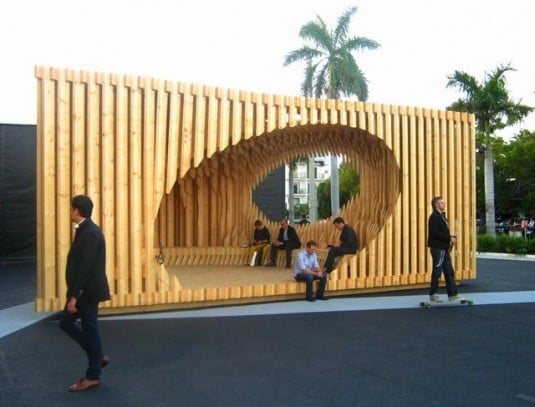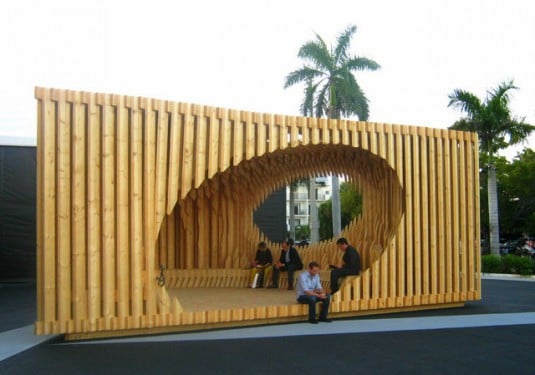 Craig Robbins being interviewed inside David Adjaye's "Genesis"
A sheltering cocoon feel is also present at "Genesis" by David Adjaye, but here of a more communal nature. Named Design Miami's 2011 Designer of the Year, Adjaye was inspired by the forum aspect of the fairs, and thus his creation is aimed at making a space that favors dialogue. Carved out of hundreds of spaced out vertical pine planks, a cave like living room is created, with a  horizontal surrounding plank serving as a sofa. Located by the entrance to the DesignMiami tent, and close to the sidewalk, "Genesis" is at once public and intimate, showing the designer's masterful employment of scale.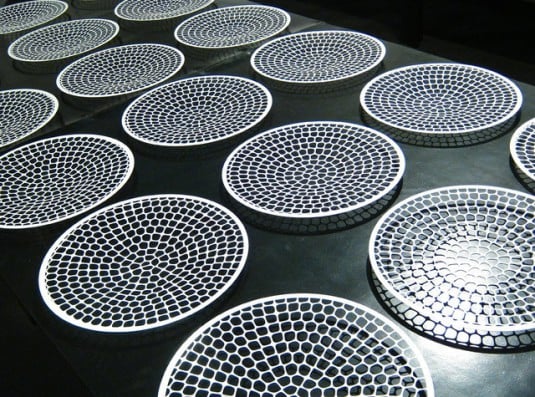 "Fruit Plates", H. Lalvani
It's hard to assimilate and connect with all that such fairs offer, but these projects give us a chance to re-group and pace ourselves, establishing new angles of appreciation. "DesignMiami offers a chance to see the evolution of Modern to Contemporary," comments Craig Robbins, collector and the fair's creator. It is juxtaposing visions like Fuller and Adjaye, while taking a deep, calming breath at Luis Pons light nest, and thinking of the future sheltering possibilities that Haresh Lalvani might brings us. Shown here by Moss, Lalvani's "fruit plates" go beyond a simple utilitarian artifact, to be indications of what new architectures could come. As the designer himself says, "the fundamental idea of form, space, structure and process is one."
Paul Clemence is an award-winning photographer whose work is part of many collections, including the Mies van der Rohe's Archives and house by MoMa, New York.  He exhibits  both in the US and on the international fine art circuit, from classic B & W prints to large scale photo installations. A published author, his work can also be seen in major design and lifestyle publications. His "Architecture Photography" Facebook page (www.facebook.com/archi.photo) receives over half a million hits monthly.