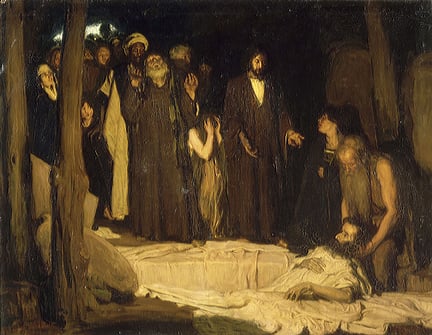 February 2, 2012
Henry Ossawa Tanner, Painter (1859-1937)
"We never speak of Tanner in terms of racial difference…The United States is very different from the French way of considering Tanner," says Sylvie Patry, "conservateur en chef" of painting at the Musee d'Orsay in Paris, France. She's in Philadelphia for the opening of "Henry Ossawa Tanner: Modern Spirit" at the Pennsylvania Academy of the […]
"We never speak of Tanner in terms of racial difference…The United States is very different from the French way of considering Tanner," says Sylvie Patry, "conservateur en chef" of painting at the Musee d'Orsay in Paris, France. She's in Philadelphia for the opening of "Henry Ossawa Tanner: Modern Spirit" at the Pennsylvania Academy of the Fine Arts (PAFA-Jan. 28-April 15, 2012).
Patry viewed the paintings quietly by herself then turned to say, "It's a re-discovery." Recently conserved, the painted haze of the ages lifted to reveal a mystical luminosity inherent in Tanner's work. Patry explained that at the Musee d'Orsay his famous "Resurrection of Lazarus," for example, was pinned high up on the wall packed with other works. The Pennsylvania Academy of the Fine Arts, on the other hand, has given the painting breathing room, a chance for you to become absorbed, intimately, at eye level.
Press with notepads, cameras, and tape recorders milled around before opening day as a conservator touched up some obvious scratches, possibly inflicted on the paintings during cross-Atlantic transport. Somebody gasped, "Are you allowed to do that?" Everyone laughed. The conservator said nothing, dipped his thin brush into a paint tin and went about his own meticulous business.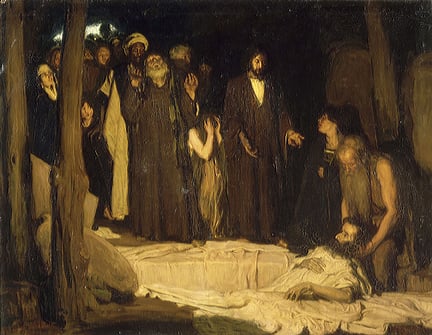 Tanner's "Resurrection of Lazarus," though internationally acclaimed at the time, now makes its first appearance on these shores since it was completed in France in 1897.
Tanner himself was a student at PAFA from 1879-1885. In a sense, this "Modern Spirit" show represents a poignant, posthumous return from a life of self-exile. Do we have sufficient wisdom and understanding, enough perspective in the year 2012 to fathom what his entire journey represents?
Patry says she and her French colleagues are much more interested in "the relationship between American Artists and the French tradition, French context…rather than the position of Tanner as an African American painter." That kind of ready acceptance by the French pertained in Tanner's time as well – no wonder he was an ex-patriot who lived most of his professional life in France. Like many ex-pats, whether artists, writers or musicians, he sought to place himself in the midst of the best practitioners and to be away from blatant, harmful racial bias. In turn, young American painters sought his generous counsel – but had to travel to France to find him.
Exhibit design here employs a stage set of Moorish and Frank Furness-inspired archways reflective of those seen in Tanner's own work. This three dimensional manifestation of his paintings generates narrative transitions while giving you a physical sense of spatial compression and release. Lighting design strategies also play on Tanner's command of theatrical effects though high, general illumination in the galleries dilutes the impact. One of his most famous paintings, "Daniel in the Lion's Den,"  I was pained to see, is missing though represented in an intriguing apparition via photography and focused lighting. PAFA curators hold out hope that the show may somehow prompt a reappearance of the famed work.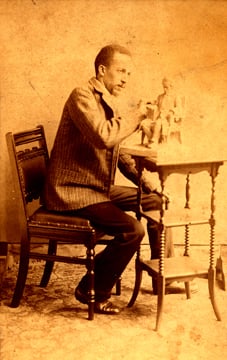 Tanner sculpting
Robert Cozzolino, senior curator and curator of Modern Art at PAFA, commands the second floor of this thoughtful exhibit. "After Tanner," his portion of the show, has to do with contemporary work sprung from the sturdy artistic platform built by Tanner.
I must say, as you arrive at the second floor landing, if you put any of these works side by side with Tanner's you would be hard pressed to see any stylistic or graphic connection whatsoever. Fortunately, there was no attempt to make artificial pairings. As you move between floors of the spacious Hamilton Building you realize there must be something much deeper about Tanner's life as an artist that set this all in motion.
Cozzolino mentions that Tanner was, for all the acclaim, in the shadows in the United States, seen as a talented, black acolyte of Thomas Eakins more than an accomplished artist in his own right. Cozzolino speaks with sharp insight into how these exhibited contemporary African American artists "After Tanner" rushed through the door Tanner opened – decades before they were even born.
There is a skillful, graphic and emotional range of interpretations of the black experience here:
Willie Cole takes large sheets of plywood and burns them repeatedly with an iron into Warhol-like repetitions. Patterning is obvious yet the charred, triangular stamps are uneven. This haunting display may remind you of the ritual scarification of African tribes or a slave owner's branding of his human property – or of someone stubbing out a lit cigarette into someone else's flesh. Needless to say, it sears into ones memory.
"Branded Irons" Willie Cole
Raymond Saunders presents "Jack Johnson," an adept and powerful work. His large oil painting of early 20th century boxer  goes back awhile and is familiar. It conveys something of the life force of an exceptional athlete, smiling confidently. Then, suddenly, you realize – a champion boxer without arms? What's that supposed to mean?
Faith Ringgold, who has produced a new children's book on Tanner, depicts the possibly apocryphal childhood scene Tanner described. He was walking in the Fairmount Park in Philadelphia with his father and came upon a man with an easel painting a picture of a tree.  At that moment, Tanner knew he wanted to become an artist.
Glenn Ligon has very leaden, Jasper Johns looking pieces and references a classic essay by James Baldwin entitled "Stranger in the Village." Baldwin wrote about his time secluded in a remote Swiss village where he experienced genuine hatred and benign curiosity from people who had never seen a black man in person before. From great geographic distance he drew some hard-won conclusions…
"The time has come to realize that the interracial drama acted out on the American continent has not only created a new black man, it has created a new white man, too. No road whatever will lead Americans back to the simplicity of this European village where white men still have the luxury of looking on me as a stranger. I am not, really, a stranger any longer for any American alive…This world is white no longer, and it will never be white again."
"View of the Seine" by Henry Ossawa Tanner
Henry Ossawa Tanner continued to visit the United States but never came home to live again.
I see an art exhibit here that speaks to the modern, outsider experience, regardless of your backstory. I see eloquent, artistic interpretations giving hopeful voice to and transcending silent suffering. Do you see what I see?
Joseph G. Brin is an architect, fine artist and teacher based in Philadelphia, PA. He is writing a graphic novel on Al Capone to be published on Kindle. Brin is also collaborating with Jordan Gil, exhibit designer, on a new project harnessing the power of art and strategic design for a bully-free Philadelphia called "B. Free." (http://bfreephiladelphia.wordpress.com). Brin's fine art rowing poster site is at: www.brushstrokesrowing.com/gallery
Twitter: @AncientGlass
LINKS:
Pennsyvania Academy of the Fine Arts:
http://www.pafa.org/Museum/Exhibitions/Currently-On-View/Henry-Ossawa-Tanner-Modern-Spirit/879/
Faith Ringgold, Artist:
http://www.faithringgold.com/
Fairmount Park:
https://metropolismag.com/13866