November 18, 2019
Our Expectations of Public Space Need to Be Raised
A recent panel at HMC Architects' Los Angeles office highlighted efforts to improve public-sector design.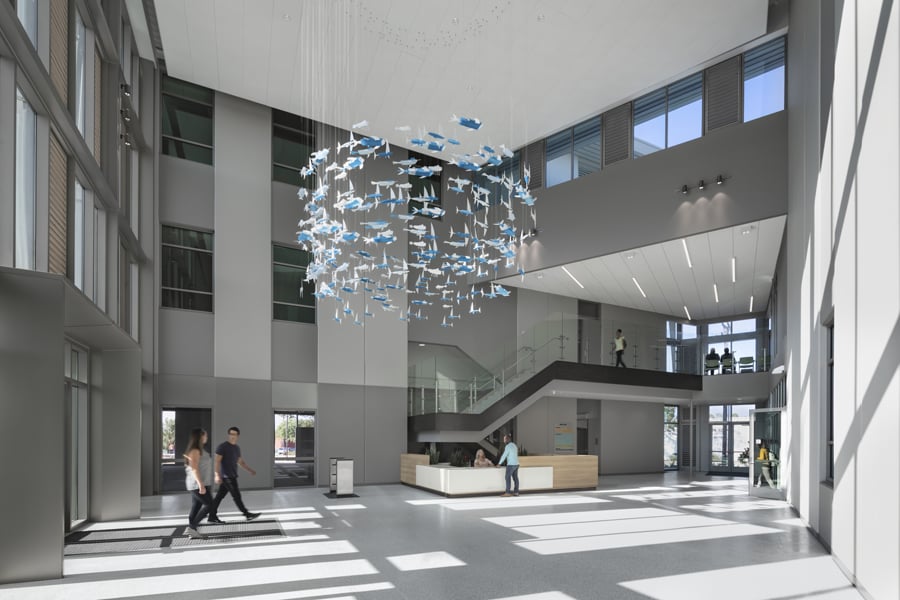 ---
We've all been there: stewing in the grim waiting room of a municipal agency, squirming in uncomfortable seats, ticket impatiently in hand and desperately hoping our number will be called next. It could be the DMV or the Department of Buildings, but wherever "it" is, it's likely to be outdated and unwelcoming. These effects are much more acute for the public-sector employees who, on top of the stress of their work, must endure these less-than-pleasant spaces day in and day out.
In short, "the workplaces that we as citizens need to be the most efficient for us tend to be the ones we ignore the most from a design perspective." So said Avinash Rajagopal, Metropolis editor in chief, at a recent Think Tank panel at HMC Architects' Los Angeles offshoot. The conversation, which Rajagopal moderated, went beyond case studies in confronting the challenges that face designers working in the public sector.
Sergio A. Lechuga, senior project designer for interiors at HMC Architects, kicked off the discussion by highlighting the main constraint: scrutiny of the public purse strings. " Though we may be designing efficient, high-quality spaces that are very cost-effective, it's the perception of how much money we are spending in this area [that matters]," Lechuga said. Designers, he added, have to walk a tightrope between providing quality environments and curbing costs. (Public spaces shouldn't look too nice, lest they spark debate about the proper disbursement of taxpayer dollars.)
Even so, reasonable expectations of public spaces need to be raised, argued Gary Lai, principal and director of sustainability at AHBE/MIG. He suggested that emphasizing government's leading role in sustainability over individual private actors might stir up public pride and desires. For example, "we know that people's connection to nature is very important," especially in already stressful jobs, and we also know that "in the big scheme of things, landscape is very inexpensive to put in." Public health in this sense is more than worth the extra expense.
When it opens on Earth Day 2020, Santa Monica's new City Services Building will offer an excellent test case for these ideas, said Amelia Doyle Feichtner, the city's senior design manager. Getting municipal facilities technologically up-to-date is crucial, as is breaking down hierarchical barriers between city staff and residents. Feichtner is particularly excited about the building's light-filled, flexible environment. "' You're only working if I see you' is an antiquated management style," she said.
Developments in public-sector design like this are promising, but the panelists agreed that change has to be incremental. "You can't teach [people] how to run before they know how to walk," Lechuga concluded. " Part of that is also convincing them that while we may be reducing their personal square footage, their footprint, we're giving them other valuable spaces." Baby steps, in other words.
---
The Think Tank discussions were held on September 18 and 19, 2019, in Los Angeles. The conversations were presented in partnership with DXV/Grohe and Versteel.