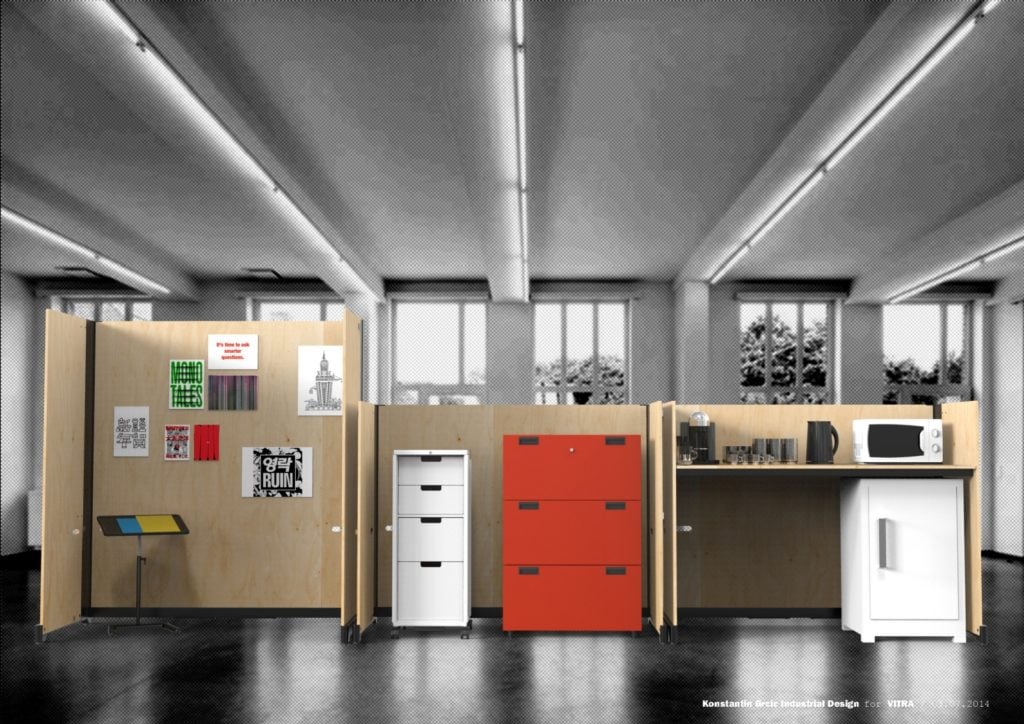 April 15, 2016
How to "Hack" Workplace Design
Susan S. Szenasy leads a panel discussion on how to "hack" workplace design and the importance of hacking in the architecture and design industry.

The Hack line developed by Konstantin Grcic with Vitra is designed to be easily reconfigured, facilitating offices in which team size or team needs change quickly.
Image Courtesy Vitra
---
​On the evening of March 24th, Metropolis publisher and editor in chief, Susan S. Szenasy, arrived at the iconic, postmodern Lipstick Building to moderate and lead the State of Design: Where We Work panel, hosted by Meadows Office Interiors in their Manhattan showroom. The panelists—Kelly Funk, senior workplace strategist, IA Interior Architects; Adrian Parra, director of marketing for North America, Vitra; and Randall A. Whinnery III, senior director of design, Fidelity Real Estate Co.—tackled the topic of office design, specifically, how to "hack" workplace design.
Szenasy kicked off the panel by posing the question of what "hacking" means. For Parra, hacking involves both a critical skepticism of entrenched systems and a masterful understanding of them; these qualities allow the hacker to see systems as something that can be changed, so they can then go about disrupting them. Whinnery sees hacking as, simply, giving the users control of their environments, "not leaving it to the professionals to decide for them."
Design hacking is seizing the chance to remake and reshuffle a configuration into something new, so that the users can creatively overcome the limitations of a system. This circumvention was something Konstantin Grcic witnessed firsthand when, commissioned by Swiss furniture brand Vitra, he traveled to the West coast and toured a variety of tech companies and start-ups. When he saw people working on chipboard work desks, held up by concrete blocks, and doors held up by A-frame sawhorses, he realized these groups needed extremely agile, changeable products. As a result, he created the product line Hack.
Publisher and editor in chief Susan S. Szenasy with panelists Kelly Funk, Adrian Parra, and Randall A. Whinnery at the Meadows Office Interiors showroom for the State of Design: Where We Work discussion on hacking design.
Photography by Madeline Kennedy
---
Hack is meant to be adjustable in all senses of the word. It is a raw product line that can adapt to the needs of the workplace readily, to enable workers to easily hack the design of their space—a necessary quality when you consider the range of employees within a larger company. As Whinnery notes, flexibility provides for changes to happen immediately, while hackability provides the potential for a change to occur.
These changes encompass all realms of design, from controlling lights, to heating and cooling, to the configuration of office desks set up as a bullpen one day and then a pinwheel the next. Recently, office furniture has been focused on adjustable height desks, with sit-to-stand options. But, Kelly Funk argued we need to look past this one product. "Ergonomics is basically designing for everybody's individual needs. Ergonomics is not just about posture, but about allowing the environment to support the disabilities we all have. [It's] not just the sit stand desks, which solve some disabilities, but not all of them. We need to move toward an environment where we're providing the furniture solutions to accommodate all the capabilities or disabilities people have," Funk explained.
Beyond just accommodating certain behaviors and disabilities, the panelists agreed that design should aim to hack behavior. As Whinnery put it: "We want our users to be themselves, but we're also trying to hack how they're working and moving through the space. […]We're providing furniture such as soft seating, but then also finding the balance between good ergonomics and promoting movement in the workplace."
An in-progress image of a workspace lab designed to incorporate ancillary spaces, and meet the needs of a wide variety of employees.
Image Courtesy Fidelity Real Estate Co.
---
Kelly Funk and her firm, IA Interior Architects, have used the idea of hacking behaviors "hack their own processes." They're transitioning away from analog and looking to virtual reality (VR) to make design decisions earlier and better. IA is learning from the agile processes used within the tech companies they design for, and using those processes to become more nimble in their own work.
By the end of the panel, it was clear that flexibility in both products and spaces, is key to supporting individual needs and celebrating diverse ways of working. As all of the panelists acknowledged, the amount of office square footage per person is shrinking more and more, and in turn, causing design hacking to become more valuable now than ever before. Szenasy noted, "We turned [the] shrinking space [of offices] into a virtue. This disaster turned into something that gives humanity agency."
"We turned shrinking space [of offices] into a virtue. This disaster turned into something to give humanity agency" – @szenasy #wherewework

— Metropolis Magazine (@MetropolisMag) March 24, 2016
---
This was the first in a series of 4 conversations that tackle all aspects of designing for business, workspaces, and people. In the next six months, look for announcements of topics and times from Meadows and Metropolis.