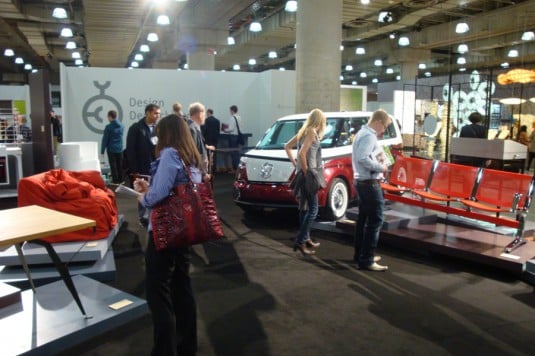 May 15, 2011
ICFF 2011 by Nationality
On the first day of the International Contemporary Furniture Fair, I decided to go for a little globetrot – a task made easy by the fact that so many exhibitors this year were grouped by country. As I stepped out of Spain and into Japan, strolled through Austria toward Germany, I was struck by just […]
On the first day of the International Contemporary Furniture Fair, I decided to go for a little globetrot – a task made easy by the fact that so many exhibitors this year were grouped by country. As I stepped out of Spain and into Japan, strolled through Austria toward Germany, I was struck by just how definitive geography still is in our supposedly globalized world, both in terms of business and creative output.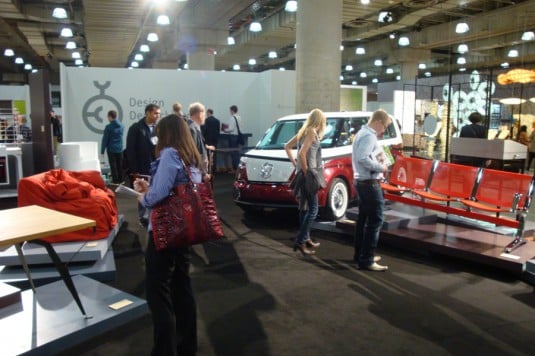 In their press release for the Design Deutschland 2011 exhibit, the German Design Council promised a "Cool, no-frills aesthetic" and "Modernist Materials." While there was plenty of both in the good old Bauhaus tradition, what struck me in their little island of rationalism was the playful work by young design talent. Thomas Schnur's five-legged rubber table is functionally suspect – it shakes dangerously when even the lightest object is placed on its red top – but I fell for its wobbly charm. The other stand-out was the perelin lamp series by Markus Becker, which liberates the lamp entirely from luminaires by fashioning twirls and moebius strips out of photoluminescent strips. Deutschland might like to think that it is no-frills, but the Volkswagen van concept parked in the exhibit glinted cheekily with plenty of chrome detailing.
Markus Becker's perelin lamp, unlit.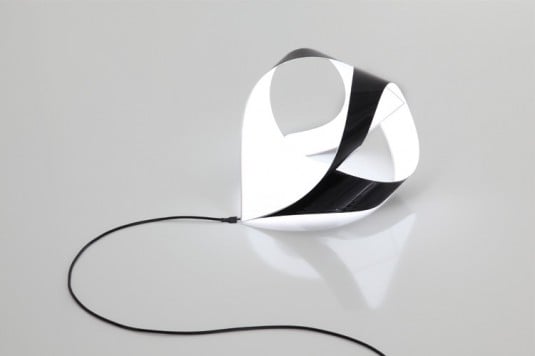 A lit perelin lamp.
Thomas Schnur's Rubber Table.
At the outset, it seemed like the only thing that united the Spaniards at ICFF was the white-and-red branding, "Spain at ICFF 2011." Studio Lladro, under the irreverent hand of Jaime Hayon, presented their Metropolis collection (which we featured here.) Contrast that with the spare minimalism of Santa & Cole lighting, or the exquisite sustainable cashmere textiles by Teixidors, hand-woven as therapy by people with learning difficulties. Nanimarquina was also there, displaying not just the rug designed by the Bouroullecs, but also talking proudly of the school they help run in India for the children of their artisans. I walked away thinking that if there was a hallmark of Spanish design, it was a penchant for risk-taking, and a very big heart.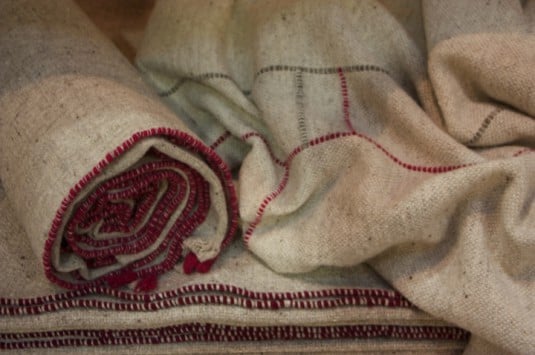 Handwoven Teixidors textiles.
Lladro's Metropolis collection.
Japan by Design had enough stereotype to satisfy the most ardent Japanophile, and not all of it was to the advantage of a nation that was once a design powerhouse. But I ignored the miniature zen gardens and the profusion of origami-inspired products to discover Ply Project. The idea is so simple – simple cuts make a plywood sheet entirely flexible. Add a layer of foam, and you have a chair seat bendy enough to be rolled up and carried around!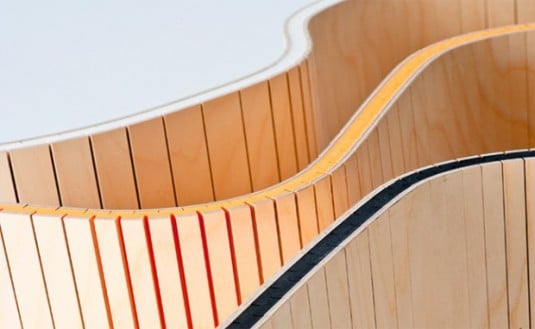 The Ply Project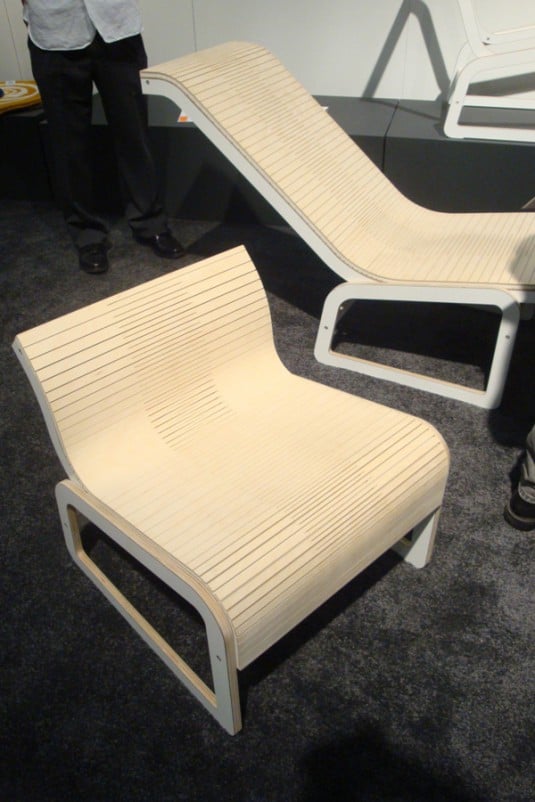 The Austrian contingent was a little white box of luxury – Josef Hoffman silverware by Wiener Silber Manufactur cheek-and-jowl with Adolf Loos glassware for Lobmeyr. Great Britain brought re-invented traditions – We know the twisty Plumen lamp very well by now, but I found a lot of stuff at the University of Northumbria exhibit that looked like it should belong to an Edwardian naturalist with a fascination for the absurd. (Furniture miniatures in bell jars, anyone?)
Some countries were conspicuous by their absence at ICFF 2011: the Italians and the Danes, for instance. Other national groups are organizing events today:  Turkish designers working in the US will speak at 6pm at the American Turkish Society about "Design as a Cultural Link." The theme for tomorrow's Metropolis at ICFF 2011 Annual Conference is "Local Talent, Global Markets." Most of the national exhibits at ICFF are put together by promoters, and it would be fanciful to read much curatorial effort into what is essentially a short-lived association for a trade fair. But there is obviously still a lot to be said for the power of local design cultures.