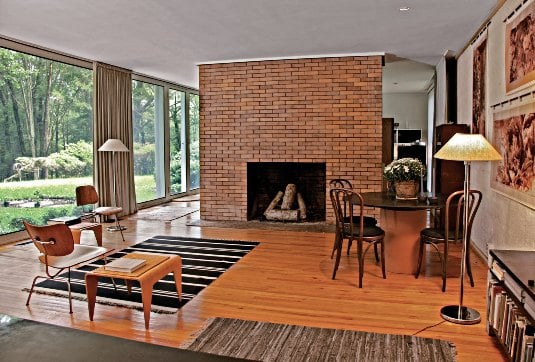 October 29, 2010
It Started With the Booth House
The Glass House's forgotten older brother re-enters the architecture world thanks to a real estate advertisement. The Booth House, Phillip Johnson's first commissioned home, was recently put on the market by Sirkka Damora, an architect and editor who lived there for fifty five years with her husband Robert, a renowned architectural photographer. So thank you […]
The Glass House's forgotten older brother re-enters the architecture world thanks to a real estate advertisement. The Booth House, Phillip Johnson's first commissioned home, was recently put on the market by Sirkka Damora, an architect and editor who lived there for fifty five years with her husband Robert, a renowned architectural photographer. So thank you William Raveis Real Estate for reminding the world of its impact.
In 1946, when the house was built, the Damoras cared not for Johnson's name, (he wasn't famous yet), but rather for his enthusiasm of using new materials and technologies like concrete blocks, steel beams and plate glass to promote affordability and modern living. As architects they were excited to see how such functionalist Bauhausian ideas could be implanted into American architecture to create a new aesthetic.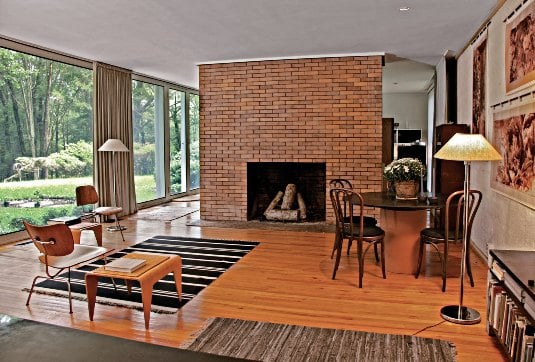 Johnson's aesthetic here, which can be summed up in material precision- an assertive brick fireplace is surrounded by glass walls evoking immateriality- in successfully uniting nature and space, and in an open floor plan, was intriguing to the Damoras. The Booth House was not only the first American taste of Bauhausian ideas, but represented the archetypal modern home. 
 So why was this modern archetype forgotten? Why do we see the Booth house, and in its rectilinear design recall the aesthetic of Mies' Farnsworth house or the Glass House, when it was built before either of the two?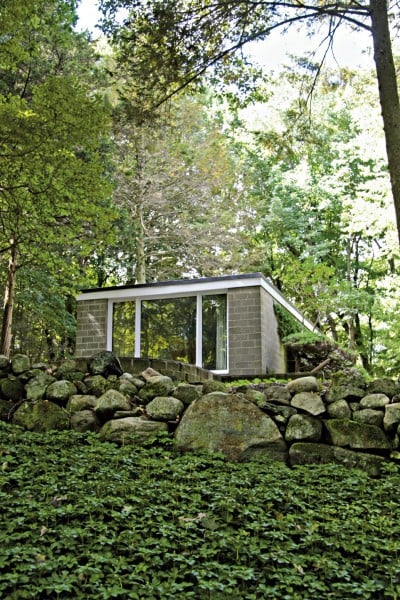 One could argue that it was Johnson's first attempt at the Glass House- an iteration in his process- from which he chose many stylistic components but refined them and recontextualized them to create a space which separates shelter from temple of living. Perhaps the archetype of the Booth House fell off the radar because Johnson made it better just three years later with his masterpiece.
But is it fair to discount its contribution? The Booth House may not be temple-like, but it deserves appreciation in its functionality and also it the way that it has profoundly influenced one of America's greatest buildings. The Glass House may be a better model for the type of functional modern design that is both simplified and cultivated, but the Booth House… could be yours.
For the staggering price of two million dollars, one can purchase this home that not only brought Bauhausian ideas to American architecture but arguably was the prototype for one of the most famous residences in America.  
In our 2008 cover story on the Glass House, Vincent Scully, Robert A. M. Stern,Richard Meier, Terence Riley, and several others shared their memories of the iconic residence.